NOZONE - Hollywood is Over
DVD review: The Atrocity Exhibition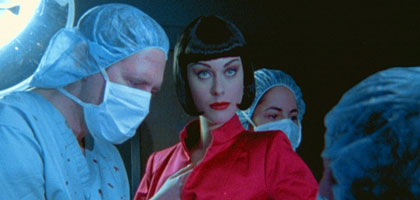 Tim Lucas enjoys what is probably the best J.G.Ballard adaptation yet made
Jonathan Weiss; USA 2000; Reel 23/Filmfreak Distributie/ Region 0; 100 minutes; Aspect ratio: 4:3 PAL; Features: audio commentaries by author J.G. Ballard and Weiss
A black 1950s sedan with big fins idles on a vacant airstrip. A man emerges from the vehicle, shouts the anguished non sequitur "Marilyn Monroe" and breaks into a run; he is pursued by the drone of looming, unseen helicopters. The camera follows his forward motion until he somehow returns to his point of departure and he collapses against the car, vomiting across its hood. To watch this curiously exhilarating sequence in Jonathan Weiss' uncompromised adaptation of J.G. Ballard's 1970 novel The Atrocity Exhibition is like discovering where film truly stands, or could, 40 years beyond Antonioni and Godard, 30 past Roeg, 20 after Greenaway. Weiss' film is 21st-century cinema, an innovative yet accurate representation of a book that's now more than 30 years old, and heady proof that Hollywood Is Over (if you want it).
Made over a nearly ten-year period on a modest, undisclosed budget, The Atrocity Exhibition has had a release pattern almost as oblique as the chapters in Ballard's controversial, non-narrative novel. It debuted as a work in progress at the 1998 Rotterdam film festival, later resurfaced at the 1999 Slamdance festival with a running time of 103 minutes, then was voluntarily cut to 90 minutes as Weiss searched for a distributor that never rode to his rescue. Completely bypassing theatrical release, it has now become the elegantly packaged first release of Reel 23, a subsidiary of the Dutch DVD label Filmfreak Distributie. In the process, it has been restored to its original running time, despite an alarming 80-minute time listing on its sleeve.
The film opens with a brief stills-illustrated prologue, suggested to Weiss by Ballard himself, which prefaces the coming puzzle by introducing it as an examination of the work of Dr Travers (Victor Slezak), a supposedly brilliant psychiatrist whose offbeat theories are interpreted as signs of nervous collapse and undetected mental illness. It is never made clear what set Travers off, but the icons of his shattered mindscape (the atomic bomb, the victims of Hiroshima, Marilyn Monroe, JFK at the moment of his assassination) all relate to "events that did not make sense when they happened" and suggest a world equally mired in psychosis. Travers (or Talbot, Travis, or Traven, as he
is also called) is shown obsessing over wounds and the mysteries of geometry, art and architecture, and making lists of wildly unrelated items that nevertheless strike kindred chords; it is as though he is desperately searching for an egress secreted in the angle between two walls. Finding a companion in plastic-surgery patient Karen Novotny (Anna Juvander), or more likely imagining one, he attempts to defuse the horror of past events by devising alternative scenarios like "the conceptual sex death of Che Guevara", and turning Ronald Reagan into a grinning accessory to back-seat intercourse. He also endeavours to halt the flow of time by tracing Karen's shadows onto the walls of his apartment, leaving ghostly impressions not unlike those left on walls by nuclear explosions; and he develops an interest in visiting crash sites and staging car crashes - perhaps with the aim of jolting himself to another place, a new level of consciousness.
Ballard's work isn't new to being filmed, of course, but compared to Spielberg's Empire of the Sun or Cronenberg's Crash, The Atrocity Exhibition is unique in refusing to meet its source material only half-way. Working in colour and black and white, mixing dramatic and documentary footage, Weiss gives his film a jigsaw texture comparable to the book, and he never flinches from the documentary material demanded by the text: often abrasive and disturbing images of plastic surgery, war atrocities, film stars, fornication, automobile impact tests performed on human corpses, modern art, the assassination of JFK. Only the inclusion of news footage of the Challenger space-shuttle disaster during the chapter of the film devoted to the subject of death in space removes The Atrocity Exhibition from the era in which the novel was written. Indeed, Weiss' evocation of Ballard's wryly scientific, geometric world is so complete, it's almost possible to watch the entire film without realising it was shot in New York; appropriately, the sole shot betraying that fact offers a glimpse of an imminent disaster area, the World Trade Center.Reel 23's slip-case packaging includes a black-and-white enclosure offering a short essay by the director, biogs, and tiny replicas of two faxes from Ballard commending the film ("a poetic masterpiece"); it unfolds into a poster. The standard ratio transfer presents the feature accurately, with some grain and one or two blemished shots; and the 2.0 surround mix is provocative - full of tyre screeches, jet engines and media sound bites. The first audio commentary has Weiss in conversation with Ballard, who is forthcoming about his intentions with the novel, citing his search for meaning in the wake of his wife's early death as one of its inducements. The track is gripping, but Ballard suddenly tires of hearing himself talk and cuts it off at the 80-minute mark. Weiss' solo track about the film's production is articulate and no less interesting. Listening to his story, one is struck by the idea that Weiss and Juvander (a married couple at the time of shooting) were living analogues of Travers and Novotny, engaged in an exercise to better understand something incomprehensible through the effort of recreating it. After one viewing and two commentaries, the viewer is plunged into a similar process, working to make sense of the pieces presented, and formulating theories about how everything fits together and to what purpose.