Limbo
USA/Germany 1999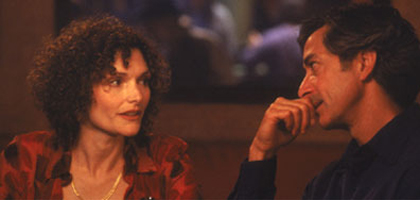 Reviewed by Philip Kemp
Synopsis
Our synopses give away the plot in full, including surprise twists.
Port Henry, Alaska, the present. Joe Gastineau works as a handyman at a guest lodge run by Frankie and Lou. An ex-fisherman, Joe quit 25 years ago when his boat sank, drowning two of his friends. At a party he meets singer Donna De Angelo, and helps her move into a flat at the Golden Nugget saloon, her new place of work.
When Frankie and Lou persuade Joe to go out fishing, he rediscovers his joy in the job. He and Donna become lovers, arousing her teenage daughter Noelle's jealousy. Joe's half-brother Bobby, who runs a charter business, asks Joe to help him crew a boat up the coast to meet clients. Joe invites Donna and Noelle along for the ride.
En route, Bobby confesses his clients are drug dealers. They show up and shoot Bobby; Joe, Donna and Noelle escape to a nearby island. They take refuge in a hut. Noelle finds a diary left by a previous owner and starts reading from it; as the narrative grows more doom-laden, Donna realises Noelle, now feverish, is making it up. Jack Johansson, a pilot from Port Henry, arrives in a small seaplane. He admits he's working for the drug dealers, but promises to fetch help. Soon, a larger plane approaches. The three await rescue or death.
Review
John Sayles is one of the most politically tuned-in of American independents. But the downside to his social awareness can be a tendency to didacticism, where the narrative moves predictably towards closure. Not this time, though. Limbo is Sayles' most unexpected film to date: not so much in its themes, which connect with his previous work, as in the shape of the story and the way it's resolved - or rather, in the way it isn't resolved. Limbo, as Sayles defines it, is "a condition of unknowable outcome", and this is exactly the point he leads us to.
Locations are crucial to Sayles' work, and he has always explored cultural territory far from his own New Jersey roots. With Limbo he veers northwards to Alaska, which he presents as frontier territory. Not a frontier in the adventurous, uncharted sense of the Old West, but a last-resort frontier for washed-up characters who have wearily arrived here with their disillusionments in tow. Most of them take a perverse pride in living in such a God-awful place. A running gag involves the regulars of the local saloon swapping ghoulish tales of drownings and fatal freezings.
For the first half of the film we're in familiar Sayles terrain. As in City of Hope or Lone Star he evokes a community with its feuds and social cross-currents, often via his signature shot: a long unbroken take meandering from group to group, picking up phrases and showing how all these people connect up. But midway Sayles works a switch on us, lifting his three main characters out of this busy environment and dropping them into isolated jeopardy to play out a tight psychological drama.
Each of the trio carries weighty emotional baggage. Ex-fisherman Joe Gastineau is haunted by an accident where he caused the death of two friends; torch singer Donna De Angelo is the survivor of a string of transient relationships; her teenage daughter Noelle has taken to self-mutilation in response to her insecure lifestyle. Trapped on an island, and with the Alaskan winter closing in, the three are forced into close interdependence, exacerbating the fears and tensions between them. It's still a community, but shrunk down, distilled and intensified, all its edges sharpened.
They're joined by a ghost: the diary of a young girl who once lived on the island with her parents. Noelle finds the diary, reads aloud from it and starts using it as a weapon, rewriting it as she goes to mirror her own situation and get back at her mother. This set-up recalls Sayles' 1994 film The Secret of Roan Inish, where a family also wind up on an offshore island haunted by past presences. But that was far lighter in tone; Limbo introduces a harsh, unsettling note that's new in his work. Though the three confront their demons, we're left with no assurance that they'll find redemption.
As ever, Sayles gives his actors plenty to chew on. David Strathairn hits the exact note of wary gentleness, and Mary Elizabeth Mastrantonio's taut, ravaged beauty has never been better used. Haskell Wexler makes the Alaskan wilderness look at once alluring and forbidding; a shot of icy mist drifting over wooded hills has a Japanese delicacy. Over two hours long, the pace occasionally drags. Certain characters and elements - such as Noelle's crush on Joe - feel underdeveloped, almost as if the film had been boiled down from a longish novel. But when, as here, a film-maker strikes out on a daring new track, the odd minor imperfection goes with the territory.
Credits
Director

John Sayles

Producer

Maggie Renzi

Screenplay

John Sayles

Director of Photography

Haskell Wexler

Editor

John Sayles

Production Designer

Gemma Jackson

Music

Mason Daring

™Global Entertainment Productions GmbH & Co. Medien KG

Production Companies

Screen Gems presents
a Green/Renzi production

Associate Producer

Sarah Connors

Production Co-ordinator

Dawn Todd

NY Production Office Manager

Melissa Rubin

Unit Production Managers

Deborah Cass
Maggie Renzi

Location Manager

Carla Raij

Post-production Supervisor

Keri Kravitz

2nd Unit Director

Sandy McLeod

Assistant Directors

John Powditch
Brian O'Kelley

Script Supervisor

Sandy McLeod

Casting

Lizzie Martinez
Additional:
Laura Rosenthal
Marcia DeBonis

2nd Unit Director of Photography

Larry Goldin

Camera/Steadicam Operator

P. Scott Sakamoto

Aerial Camera Operator

Doug Holgate

Digital Effects

Computer Film Company

Associate Editor

Plummy Tucker

Art Director

Keith Neely

Set Designer

Marco Rubeo

Set Decorator

Brian Kasch

Costume Designer

Shay Cunliffe

Make-up Supervisor

Lori Hicks

Hair Supervisor

Aaron F. Quarles

Main Titles Design

Imaginary Forces

Opticals

Pacific Title/Mirage

Featured Guitarist

Duke Levine

Orchestrations

Shane Koss
Dana Brayton

Music Supervisors

Lynn Geller
Susan Jacobs

Music Editor

Patrick Mullins

Music Recording

Dave Shacter

Score Mixer

Michael Golub

Soundtrack

"You Never Can Tell" aka "C'est La Vie" by Chuck Berry, performed by Mary Elizabeth Mastrantonio; "Better Off without You" by Marshall Chapman, Dennis Walker, Fontaine Brown, performed by Mary Elizabeth Mastrantonio; "Pas Salé" arranged by Jimmy MacDonell, performed by Loup Garou; "(Lookin' for) The Heart of Saturday Night" by Tom Waits, performed by Mary Elizabeth Mastrantonio; "Dimming of the Day" by Richard Thompson, performed by Mary Elizabeth Mastrantonio; "Loving You Is Hell Enough for Me" by John Sayles, Mason Daring, performed by Rust Farm (Chris Moore & John McGann) with Marshal Wood, Timothy Jackson; "Attack of the Mutant Guitars" by Duke Levine, performed by Duke Levine, Tom West, Paul Bryan, Doug Plavin; "Georgy Porgy" by Duke Levine, Mason Daring, performed by Duke Levine; "Lift Me Up" by/performed by Bruce Springsteen

Sound Mixer

Judy Karp

Re-recording Mixer

Michael Barry

Supervising Sound Editor

Philip Stockton

Dialogue Editor

Nicholas Renbeck

Sound Effects Editors

Lewis Goldstein
Sean Garnhart

ADR

Editor:
Hal Levinsohn

Foley

Supervisor:
Kam Chan
Artist:
Marko Costanzo
Mixer:
Matthew Haasch
Editors:
Jac Rubenstein
Frank Kern

Boat Co-ordinator

Andy Spear
Cast
Mary Elizabeth Mastrantonio
Donna De Angelo

David Strathairn

Joe Gastineau

Vanessa Martinez

Noelle De Angelo

Kris Kristofferson

Smilin' Jack Johansson

Casey Siemaszko

Bobby Gastineau

Kathryn Grody

Frankie

Rita Taggart

Lou

Leo Burmester

Harmon King

Michael Laskin

Albright

Herminio Ramos

Ricky

Dawn McInturff

Audrey

Tom Biss

Baines

Jimmy McDonell

Randy Mason

Märit Carlson-Van Dort

Stacy

Monica Brandner

Corky

Maria Gladziszewski

Denise

Dan Rinner

X-Man

Stephen James Lang

Vic

Ron Clarke

cruise director

Charlotte Carroll

loan officer

Joaqlin Estus

teacher

Andy Spear

Dave Hunsaker
bad guys

Certificate

15

Distributor

Columbia Tristar Films (UK)

11,410 feet

126 minutes 47 seconds

Dolby/SDDS

Colour by
CFI