Summer of Sam
USA 1999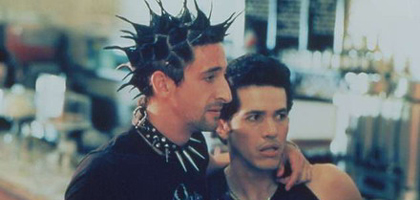 Reviewed by Geoffrey Macnab
Synopsis
Our synopses give away the plot in full, including surprise twists.
New York City, the summer of 1977. Bronx married couple Vinny and Dionna dance at a nightclub; Vinny sneaks off to have sex with Dionna's cousin just near where serial killer 'Son of Sam' is about to kill another couple. On his way home with Dionna, Vinny sees the victims and thinks Sam may be stalking him. Ritchie, Vinny's best friend, has embraced punk rock; the local Italian-American guys think he's a freak. Ritchie's stepfather tells him to move into the garage. He strikes up a relationship with Ruby, one of Vinny's former girlfriends. Vinny claims to love Dionna, but continues to cheat on her.
The police ask local gangster Luigi for help in catching Sam. The city is sweltering and a lynch-mob mentality is developing. Learning he's a dancer in a gay porn club as well as a punk, the local guys decide Ritchie must be Sam. They try to get Vinny to help them catch him. Meanwhile, Vinny's marriage is breaking up. Dionna moves out of the apartment. Full of self-pity and high on drugs, Vinny betrays Ritchie to the neighbourhood thugs who beat him up. Ritchie's stepfather rescues him, telling the thugs that the real Sam, David Berkowitz, has already been caught by the police.
Review
Summer of Sam, set in New York during the heatwave of 1977 when serial killer David Berkowitz was terrorising the city, has been largely misrepresented by the press. A New York Times article in June quoted relatives of Berkowitz's victims railing against its director Spike Lee. "He feels that murder is entertainment," said one. Berkowitz himself, now serving six consecutive life sentences, expressed his disappointment that the film was raking up "what is best forgotten."
Berkowitz, however, is only a minor player in the movie he helped inspire: Summer of Sam could just as well have been called Summer of Reggie (while Berkowitz was on his killing spree, baseball player Reggie Jackson helped the Yankees win the World Series) or Scenes from an Italian-American Marriage. Lee's real interest is in the relationships between members of a close-knit neighbourhood in the Bronx. With tensions aggravated by the sweaty weather and the fear of a serial killer in their midst, it's a community which is close to boiling point - similar to the Bedford-Stuyvesant neighbourhood in Do the Right Thing. Lee captures brilliantly the creeping sense of paranoia that affected the city and the strange, macabre thrill of having its own serial killer. (To avoid Sam, who reportedly favours brunettes, women begin dying their hair blond or wearing wigs.) With such craziness in the air, it doesn't even seem incongruous when the killer begins to think a black labrador is talking to him, enjoining him to "kill, kill, kill."
The film begins and ends with veteran journalist Jimmy Breslin speaking directly to camera about "the summer of Sam". His presence at once evokes the metropolis we know from Weegee photographs and gritty cop dramas, and creates a strange kind of nostalgia. In Summer of Sam, as in Martin Scorsese's Bringing Out the Dead (set in the early 90s), we're seeing a New York which no longer exists. Mayor Giuliani may have cleaned up crime (homicides are now at their lowest since 1961, Breslin tells us) but he has also taken the heart out of the city. But Summer of Sam also fits loosely into the serial-killer genre, a line which stretches from M (1931) to Se7en. Several plot points even rekindle memories of Hitchcock's The Lodger (1926): as the lynch-mob mentality gets out of control, an innocent man is targeted simply because he doesn't fit in.
Lee, who adapted an original screenplay by Victor Colicchio and Michael Imperioli, isn't above playing up the Italian-American stereotypes. Family loyalty and religious guilt figure as prominently here as they do in Scorsese's movies. Well over two hours long, Summer of Sam isn't taut, either. It is an ensemble piece full of flamboyant minor characters (Tony Olives, Joey T), all of them played beautifully but none developed in any great depth. Ben Gazzara's patriarchal mobster has one big scene in a restaurant, but is barely glimpsed after that; Bebe Neuwirth (Vinny's boss) and Patti Lupone (Ritchie's mother) seem similarly underused.
Lee's focus is more on Vinny's crumbling marriage to Dionna and his friendship with Ritchie. Mumbling, cursing, intensely physical, John Leguizamo's Vinny comes across like a diminutive version of Brando's Stanley Kowalski. Adrien Brody is equally striking as the punk who wanders round New York "sounding like a British fag," and looking as if he has just escaped from Carnaby Street. Berkowitz then is only there to provide the historical context for what turns out to be one of Lee's very best films - a sprawling, brilliantly acted character study which touches on love, friendship and betrayal, while also managing to recreate the last days of disco without a note of self-parody.
Credits
Director

Spike Lee

Producers

Spike Lee
Jon Kilik

Screenplay

Victor Colicchio
Michael Imperioli
Spike Lee

Writer

Spike Lee

Director of Photography

Ellen Kuras

Editor

Barry Alexander Brown

Production Designer

Thérèse Deprez

Music/Score Conductor

Terence Blanchard

™Touchstone Pictures

Production Companies

Touchstone Pictures presents a Forty Acres and a Mule Filmworks production

Executive Producers

Michael Imperioli
Jeri Carroll-Colicchio

Production Supervisor

Jay Cannold

Production Co-ordinator

Betty Chin

40 Acres Liaison

Earl Smith

Production Manager

Jon Kilik

Location Supervisor

Greg Routt

Location Department Co-ordinators

Oronde E. Giddings
Natalie Arango

Location Consultant

Al Valentine

Post-production Supervisor

Miles Ferguson

Assistant Directors

Mike Ellis
Tracey Hinds
Roger McDonald Lee
Michael Pinkney

Script Supervisor

Andrea Greer

Casting

Aisha Coley
Associate Director:
Karen Gilman

Creative Consultant

Black Nexxus Inc

Camera Operators

Jeffery J. Tufano
Additional:
Peter Fernberger
Richard Eliano
Pat Capone
Steve Drellich

Steadicam Operator

Larry McConkey

Visual Effects/Animation

Rhythm & Hues Studios
Visual Effects Producer:
Chad Merriam
Visual Effects Supervisor:
Todd Shifflett
CG Supervisor:
Betsy Asher Hall
Compositing Supervisor:
Betsy Paterson

Special Effects Co-ordinator

Steve Kirschoff

Graphic Designer

Donald Robinson

Associate Editor

Allyson C. Johnson

Art Director

Nicholas Lundy

Set Decorator

Diane Lederman

Costume Designer

Ruth E. Carter

Wardrobe Supervisors

Michael Tavares
Darlene Jackson

Wardrobe Co-ordinator

Monica Kitchen

Key Make-up

Anita Gibson

Make-up Artist

Joseph Campayno

Key Hairstylists

Michelle Johnson
Leonard Drake

Hairstylist

Anthony Gueli

Main/End Title Design

Balsmeyer & Everett, Inc

Musicians

Trumpet Solos:
Terence Blanchard
Piano:
Edward Simon
Oboe:
John Anderson
Clarinet:
Nick Rodwell
Bass Clarinet:
Anthony Pike
Bassoon:
Julie Andrews
Horns:
John Pigneguy
Hugh Seenan
Paul Gardham
Richard Bissill
Trumpets:
Maurice Murphy
Andy Crowley
Trombones:
Peter Davies
Richard Edwards
Tuba:
Steve Wick
Percussion:
Steve Henderson
Frank Ricotti
Gary Kettel
Violins:
Wilf Gibson
Roger Garland
Peter Oxer
Rebecca Hirsch
Perry Montague-Mason
Patrick Kiernan
Boguslav Kostecki
Emlyn Singleton
Manon Derome
Gillian Findlay
Mike McMenemy
John Bradbury
Eddie Roberts
Vaughn Armon
James McLeod
Benedict Cruft
Dermot Crehan
Simon Fischer
Steve Levine
Warren Zielinski
Everton Nelson
Mark Berrow
Cathy Thompson
Antonia Fuchs
Mike De Saulles
Jonathan Strange
Julian Leaper
Gillian Cohen
Violas:
Peter Lale
George Robertson
Ivo van der Werff
Elizabeth Watson
Katie Wilkinson
Andrew Parker
Gustav Clarkson
Catherine Bradshaw
Justin Ward
Bruce White
Don McVay
Bill Benham
Celli:
Anthony Pleeth
Anthony Lewis
Martin Loveday
Cathy Giles
Helen Liebmann
Paul Kegg
David Daniels
Frank Schaefer
Mick Sterling
Jonathan Tunnell
Double Basses:
Mike Brittain
Paul Cullington
Robin McGee
Mary Scully
Paul Morgan
Simon Benson

Orchestral Leader

Gavyn Wright

Music Supervisor

Alex Steyermark

Music Co-ordinator

Linda Cohen

Executive in Charge of Music for Buena Vista Motion Pictures Group

Kathy Nelson

Music Editors

Maisie Weissman
Lori Slomka

Score Recorder/Mixer

Geoff Foster

Second Engineers

Ricky Graham
Peter Mills

Soundtrack

"Summertime Blues" by Eddie Cochran, Jerry Capehart, performed by The Who; "Fernando", "Dancing Queen" by Benny Andersson, Stig Andersson, Björn Ulvaeus, performed by Abba; "Boogie Nights" by Rod Temperton, performed by Heatwave; "There But for the Grace of God Go I" by Kevin Nance, August Darnell, performed by Machine; "Let No Man Put Asunder" by Bruce Gray, Bruce Hawes, performed by First Choice; "Fooled around and Fell in Love" by/performed by Elvin Bishop; "Running Away" by Ron Ayers, Edwin Birdsong, performed by Ron Ayers; "Come Rain or Come Shine" by Johnny Mercer, Harold Arlen, performed by Mike Starr and The Terence Blanchard Group; "Psycho Killer" by David Byrne, Chris Frantz, Martina Weymouth, performed by Talking Heads; "Galaxy" by Sylvester Allen, Harold R. Brown, Morris Dickerson, Leroy Jordan, Charles Miller, Lee Oskar, Howard Scott, Jerry Goldstein, performed by War; "Everybody Dance" by Bernard Edwards, Nile Gregory Rodgers, performed by Chic; "Don't Go Breaking My Heart" by Ann Orson, Blanche Carte, performed by Elton John and Kiki Dee; "Let's All Chant" by Michael Zager, Alvin Fields, performed by Michael Zager Band; "Love Is the Message" by Kenneth Gamble, Leon Huff, performed by MFSB; "Skull Grenade" by Curtis Gove, James Baggs, John Michael Brown, Damian Branica, Lorne Behrman, performed by L.E.S. Stitches; "Dance with Me" by Peter Brown, Robert Rans, performed by Peter Brown; "Best of My Love" by Maurice White, Albert Phillip McKay, performed by The Emotions; "Hello from the Gutters" by George Tabb, Michael Harper, Evan Cohen, performed by Adrien Brody, Jennifer Esposito, Jessica Galbreath, Darielle Gilad, George Tabb, Michael Harper, Evan Cohen; "La Vie en rose" by Louiguy, Edith Piaf, Mack David, performed by Grace Jones; "Got to Give It Up" by/performed by Marvin Gaye; "Short Shorts" by Bob Gaudio, Bill Crandall, Bill Dalton, Tom Austin; "It's Ecstasy When You Lay Down Next to Me" by Ekundayo Paris, Nelson Pigford, performed by Barry White; "Baba O'Riley", "Won't Get Fooled Again" by Pete Townshend, performed by The Who; "Don't Leave Me This Way" by Kenneth Gamble, Leon Huff, Cary Gilbert, performed by Thelma Houston; "Theme from New York, New York" by Fred Ebb, John Kander, performed by Frank Sinatra

Choreography

Otis Sallid

Choreographic Co-ordinator

Raymond Mapps

Dance Instructor

Paul Pellicoro

Sound Design

Blake Leyh

Sound Mixer

Rolf Pardula

Re-recording Mixer

Tom Fleischman

Supervising Sound Editor

Kevin Lee

Dialogue Editors

Kimberly McCord
Hal Levinsohn
Harry Bowles
Jack Rubenstein

Sound Effects Editor

Glenfield Payne

ADR

Engineer:
David Boulton
Supervising Editor:
Kenton Jakub
Editor:
Gina Alfano

Foley

Artist:
Marko Costanzo
Engineer:
George Lara
Supervising Editor:
Ben Cheah
Editors:
Andrew Kris
Tim O'Shea
Jennifer Ralston

Technical Adviser

Richard Paul

Guitar Consultant

Tristan Avakian

Stunt Co-ordinator

Jeff Ward
Cast
John Leguizamo
Vinny

Adrien Brody

Ritchie

Mira Sorvino

Dionna

Jennifer Esposito

Ruby

Anthony LaPaglia

Detective Lou Petrocelli

Bebe Neuwirth

Gloria

Patti Lupone

Helen

Ben Gazzara

Luigi

John Savage

Simon

Michael Badalucco

David Berkowitz, Son of Sam

Michael Rispoli

Joey T

Mike Starr

Eddie

Roger Guenveur Smith

Detective Curt Atwater

Saverio Guerra

Woodstock

Brian Tarantino

Bobby Del Fiore

Arthur Nascarella

Mario

Ken Garito

Brian

Al Palagonia

Anthony

Joe Lisi

Tony Olives

James Reno

crony

Jimmy Breslin

himself

Spike Lee

John Jeffries

Lucia Grillo

Chiara

Nelson Vasquez

Officer Cruz

Darielle Gilad

Debbie Cadabra

Michael Harper

Raygun

Jessica Galbreath

Fire

Evan Cohen

Bite

George Tabb

Spider

Michael Imperioli

Midnight

Victor Colicchio

Chickie

Peter Maloney

Detective Timothy Dowd

Christopher Wynkoop

Sam Carr

John Turturro

voice of Harvey the Black Dog

Ernie Anastos

Jim Jensen
anchormen

Melba Tolliver

anchorwoman

Phil Rizuto

Yankee broadcaster

Reggie Jackson

himself

Danielle Burgio

Lisa France
girls in parked car

Peter Epstein

Chuckie

Jill Stokesberry

Rose

Joseph Lyle Taylor

Ron

Kim Director

Dee

Bill Raymond

Father Cadilli

Mildrid Clinton

Emelise Aleandri
Italian women at murder site

Michael Sorvino

bowler at diner

Phil Campanella

2nd bowler at diner

William H. Burns

Ernest Mingione
officers

Frank Fortunato

doorman

Dan Zappin

Simon's male friend

Murielle Cohen

Christina Kolbe
Simon's female friends

Charlotte Colavin

neighbour

Clayton Barber

punk

Joie Lee

Bed Stuy woman interviewed

Rome Neal

Mark Breland
Bed Stuy men interviewed

Susan Batson

Bed Stuy woman interviewed

Evander Holyfield

man in riot

Toneda Laiwan

Dot, Atwater's girlfriend

Janet Paparazzo

Jodi Michelle Pynn
young women shot by Son of Sam

Jennifer S. Badger

woman victim

Jeff Derocker

man in car

Nick Oddo

husband

Damian Achilles

wounded man

Joanne Lamstein

woman in car

Gabriel Barre

Johnny Nasso

Norman Douglass

stunt driver

Tara McNamee

woman victim
L.E.S. Stitches band

John Michael Brown

singer

Damian Branica

bassist

Lorne Behrman

Curtis Gove
guitarists

James Baggs

drummer

Rozie Bacchi

Brian's girlfriend

Grace DeSena

Joe T's girlfriend

Zoe Bournelis

Anthony's girlfriend

Ashleigh Closs

princess

Frank Cadillac

Patty aka Man with Weird Eyes

Daniel J. Courtenay

guitar store owner

Michael Prozzo

Rocco

Kathryn Hudd

Rocco's girlfriend

Antonio Torres

man pulled from car

Pamela Wehner

lady at block party

Dionna Colicchio

Victoria Galasso
Danielle Tutelian
girls at block party

Mario Macaluso

Italian chef

Andrew Lasky

Officer Cruz's partner

Richard Paul

detective with decoy dummy

Ray Carlson

crime scene cop

Alexander J. Vega

bouncer

Steven Croft

limo driver

Mary Jo Todaro

Jacqueline Margolis
ladies in window

Iris Alten

lady in car window

Valerie Mazzonelli

lady with dog

Hal Sherman

arresting detective

Nicholas Brown

young Detective Petrocelli

Certificate

18

Distributor

Downtown Pictures

12,790 feet

142 minutes 7 seconds

Dolby digital/Digital DTS sound/SDDS

In Colour
Prints by
Technicolor