Tyson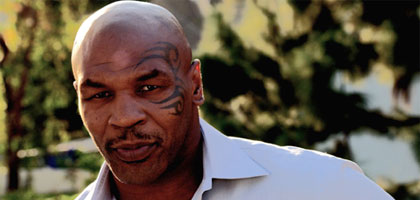 Synopsis
Our synopses give away the plot in full, including surprise twists.
In interviews and archive footage, we hear how Mike Tyson was rescued from a life of minor criminality by trainer Cus D'Amato, who later officially adopted the boxer. Tyson won his first 19 professional fights and became the youngest ever heavyweight champion of the world. He married then divorced actress Robin Givens. After two years as undisputed champion, Tyson lost his title to the unfancied James 'Buster' Douglas. Two years later, Tyson was convicted of raping Desiree Washington and imprisoned. During his time in jail, he converted to Islam. After his release he made a comeback but was eventually defeated in controversial circumstances by Evander Holyfield, famously biting his opponent's ear. Tyson filed for bankruptcy in 2003, and finally retired in 2005 after losing two fights to journeymen opponents.
Review
"It's like a Greek tragedy. The only problem is that I'm the subject," Mike Tyson reputedly told James Toback when he first saw this film. There is a classical structure to the narrative: a kid from mean streets, with few prospects, a life of criminality already under way, is talent-spotted by a grizzled boxing trainer; he becomes the youngest world champion ever; then it all disintegrates into hedonism, profligacy and violence. Yet in the end the structure of the story is psychoanalytic as much as tragic (after all, it wasn't for nothing that Freud turned to Sophocles and Aeschylus for analogues of his discoveries). A familiar enough narrative arc, but what makes it even more remarkable and even more Freudian) is that it happens again. Tyson struggles back to the top of the heavyweight game before once again succumbing to ill-discipline and self-destruction. A textbook case of the compulsion to repeat.
Tyson's life was shaped by absent fathers and father surrogates. He was rescued from rudderless street survivalism by the trainer who ended up adopting him, Cus D'Amato; his subsequent fall from grace was precipitated in part by D'Amato's death. The Tyson that emerges in Toback's gripping film is very much like the subject of psychoanalysis, a talking head coaxed by the director (in the role of the offscreen analyst) into reliving all the triumphs and traumas. The film consists only of archive footage and Tyson - a ringside commentator on his own life - talking. There are no experts, no supposedly neutral judgements, only Tyson trying to make sense of the double tragedy of his life. It makes for a claustrophobic experience, amped up by the way in which Toback occasionally multi-tracks Tyson's voice and splits the screen, creating the impression of a divided man, sometimes chillingly self-aware, sometimes a mystery to himself.
Tyson's story is sufficiently forgotten now that it is capable of thrilling and horrifying us as if for the first time: the astonishingly quick rise to world champion, the run of viciously efficient victories, the high-profile debacle of his marriage to Robin Givens (Tyson sitting stock still on a chatshow couch while the actress vilifies him), the rape conviction and resulting prison sentence, the conversion to Islam, the biting of Evander Holyfield's ear... Tyson provides a newly intimate perspective on these half-remembered images.
Sports stars of this magnitude cannot but be the objects of collective fantasy and projection, and even though his is an individual story - and we can be under no illusions after watching Tyson that there is no lonelier sport than boxing - Tyson's is also the story of a culture and a time. Just compare Tyson with Muhammad Ali (whose own myth was examined and re-presented in When We Were Kings and Ali). With his poetry, physical and verbal, Ali was the boxer for the age of Black Power, the Panthers, Malcolm X, Sly Stone and James Brown; Tyson's pitbull brutality, meanwhile, was the fight analogue of the every-man-for-himself ethos of Reaganomics and the will-to-power pugilism of rap. His slogan was 'Refuse to Lose' (a phrase that would be central to Public Enemy's epochal Welcome to the Terrordome): the aim was to overcome Nemesis by force of will alone, and in his pomp Tyson looked like iron will embodied. He came out of his corner like a starved attack dog, clubbing opponents into oblivion in a matter of moments. Nothing was wasted; there was no grandstanding or showboating.
Partly that was because Tyson felt he had no time to waste - for physical as well as existential reasons. He had suffered from a respiratory disorder since childhood and knew that he would struggle if fights went the full distance. The rapidity and intensity of his victories belied the precision of his attacks. We learn that it wasn't a question of sheer physical force alone. D'Amato (a "master of anatomy", according to Joyce Carol Oates) taught him where on the body to hit to cause maximum damage. In the fight footage, Tyson always looks short by comparison with his opponents - "at five feet 11 inches," Oates wrote in a 1986 essay, "he is short for a heavyweight and strikes the eye as shorter still; his 222 1/4-pound body is so sculpted in muscle it looks foreshortened, brutally compact." Yet he always turned that compactness to his advantage, making the taller men look like ponderous Harryhausen statues.
Listening to him speak, you're continually struck by the contrast between Tyson the fighting machine and Tyson the talker. His voice is a gentle lisp, devoid of swagger, suggestive of an unusual sensitivity. It sits just as oddly with Tyson's older face and its Queequeg tattoos as it did with his earlier fighting frame. It becomes obvious, though, that the hypermuscular body Tyson developed was in part an exo-skeleton constructed to protect that sensitive core. Remembering the time he first realised that no one would ever be able to be beat him up again, Tyson stalls - "Oh, I can't even say it," - pauses for a long moment before saying, "Because I would fuckin' kill 'em." The film's rhythm is governed by Tyson's unstable relationship to language, by his switches in and out of articulacy. Sometimes his tongue is as quick as his fists once were. His hilarious takedown of Don King - a 'wretched slimy reptilian motherfucker' - is as swift and savage as any of his combinations in the ring. Elsewhere, the words elude him, or he evades them. Yet, exactly as psychoanalysis taught us to expect, the ellipses, the sentences that lead nowhere and the 'wrong' choice of word tell us even more than the moments of transparent lucidity. The unconscious speaks, and James Toback demonstrates an extraordinary facility for hearing and recording it.
Credits
Directed by

James Toback

Produced by

James Toback
Damon Bingham

Director of Photography

Larry McConkey

Editor

Aaron Yanes

Music

Salaam Remi