Film of the Month: The Beaches of Agnès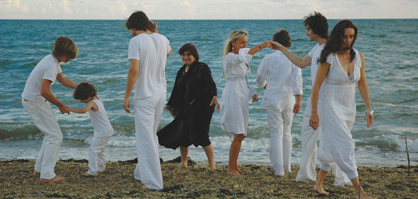 Eighty-one this year, Agnès Varda looks back on a life that took her from the French New Wave to hippie-era Los Angeles and beyond, in a self-portrait that's as rich and full as any autobiography, says Jonathan Romney
Over the last decade, Agnès Varda has reinvented herself spectacularly, most recently as a flamboyant installation artist with her exhibition 'L'Ile et elle' filling the ample space of Paris's Fondation Cartier in 2006. Earlier she found a new lease of life as a digital film-maker, eagerly seizing on the first-person possibilities of the camcorder in her 2000 documentary The Gleaners and I – an essay on the economic and artistic activity of foraging and recycling, of which 'L'Ile et elle' itself proved a triumphant example. Among that exhibition's acts of gleaning is the object in which Varda stands at the end of The Beaches of Agnès – a hut constructed from a discarded print of one of her films. Thus Varda can mean it both literally and figuratively when she concludes that she inhabits cinema.
Varda has always lived in, and thought through, photographic images, either moving or still – as she demonstrates in this memoir, another display of the gleaner's art which recycles a great mass of those images in a sprawling montage incorporating clips from her films, home footage from over six decades and a wide selection of her still photographs. Not least, The Beaches of Agnès offers a reminder of Varda's often overlooked prowess as a still photographer, notably in her striking stage images from the early years of the Avignon Festival, and her reportage from China and Cuba in 1957 and 1962 respectively.
Varda is first seen on a beach, playfully demonstrating the film's leitmotif of memory as the act of walking backwards. Seizing on the idea of artistic creation and mnemonic re-creation as a sort of 'second childhood', Varda enjoys herself with a sort of fanciful role-playing that you can't imagine many auteurs of her years indulging in, for fear of losing dignity. No such qualms for Varda, who goofs about in whimsical tableaux: mocking up the office of her company Ciné-Tamaris on a beach in the middle of a Paris street; parading as a talking potato at the Venice Biennale.
Varda is very much her own creation, and always has been: an embodiment of modern French artistic identity, she is actually Belgian-born, half-Greek and partly self-invented (she changed her name from Arlette at the age of 18). Her most wilful disguise is, you might say, herself: as she puts it, "I'm playing the role of a little old lady… plump and talkative, telling the story of her life." Through this performance, Varda frames an undeniably heartfelt and emotionally direct film, and one that is all the more affecting because distanced through the subject's wry self-awareness. It is this distancing, from the start, that allows Varda to be so intensely personal: notably in some of her statements to camera or to an unseen interlocutor (her daughter Rosalie Varda), and in a particularly moving moment at a vernissage of her Avignon photos, mourning her lost theatrical friends before concluding, as her eyes fill with tears, "All the dead lead me back to Jacques" – Demy, that is, director of The Umbrellas of Cherbourg and her husband for nearly 30 years until his death in 1990.
At the start, Varda insists that while she is talking about herself, other people are her main interest. Like all good showbiz memoirs, The Beaches of Agnès namedrops with gusto, but there's no denying the variety and sheer oddity of the people who have counted in Varda's life. Among the big names, we find the expected likes of Godard, Resnais and Chris Marker (who supposedly interviews Varda in the guise of a cartoon cat), as well as artists including Robert Rauschenberg, Bill Viola and Alexander Calder. Even less probable acquaintances from Varda's Los Angeles days include Harrison Ford, Jim Morrison and – oddest of all – Hollywood soft-porn auteur Zalman King.
But Varda is not only concerned with the famous: she is also movingly reunited with the children of the Mediterranean port of Sète, now elderly adults, who appeared in her first film La Pointe-courte (1955). The life is so rich that you can't help wondering what a written Varda autobiography might be like. Yet it is superfluous to regret the lack of a conventional literary memoir, since The Beaches of Agnès can itself be seen as a sophisticated audiovisual intervention into the French literary genre of autoportrait, from Montaigne onwards. The musing on an evocative litany of Belgian resorts ("Knokke-le-Zout, Blankenberg, Ostend, Mariakerke…") no doubt knowingly echoes Proust's fascination with seaside names. And the film surely belongs to that strain of memoirs that track the self's evolution through the experience of language and art: Proust again, of course, but also Sartre's Les Mots, the work of Michel Leiris, et al.
Varda's career itself represents a crammed micro-history of modern French bohemianism: from post-student flânerie in Corsica, through the advent of the nouvelle vague, through the political activism of the 1960s and 70s… She may have missed May 1968 in Paris, but she was chronicling radicalism elsewhere: immersing herself in Californian hippie culture and photographing the ascendant Black Panther movement. Varda's role as feminist film-maker, and as feminist being, is reasserted with pride: One Sings, the Other Doesn't (1976) might have been her 'official' feminist film, but using images of Sandrine Bonnaire to counterpoint memories of her own militancy, Varda also highlights the ferocious engagement of her 1985 film Vagabonde (Sans toit ni loi).
Such conviction and a sense of continuously replenished energy counteract what might otherwise seem whimsical, hippie-ish affability. Some of Varda's installations and one-off 'events' are not without New Age-y dippiness, yet The Beaches of Agnès records a tenacious pursuit of the self, and displays the subject's acute awareness of a long life's never-finished work of mourning, especially in her tender but unsentimental recollections of Demy. The honesty, perhaps understandably, goes only so far, Varda somewhat frustrating us in her discretion about the couple's relationship. She admits that, at the time of the illness which killed Demy in 1990, a veil was drawn over the fact that he had Aids. Yet you can't help wishing that she had withdrawn her own veil over the new moral landscape that both discovered in California, especially given her documenting of hippie eroticism in Lions Love (1969), in which Warhol superstar Viva lives it up à trois with the creators of Hair.
For all its melancholy and its profound awareness of mortality, The Beaches of Agnès is one of the jolliest, more life-affirming self-portraits in recent cinema. This is life remembered and re-enacted as a larky charade, but it is no less serious for that. At once a game of free association and an organised 'installation' of the artist's life, the film has its correlation in a large, multi-panelled photo of the actor Gérard Philippe that we see pieced together at Varda's Avignon exhibition. Varda loves the 'puzzle' aspect of things, the English subtitles tell us, but the French word puzzle means simply 'jigsaw', and what Varda pieces together in her film lacks the English word's ominous connotations of mystery. What she is engaged in here is the more strictly ludic pursuit of jigsaw construction – a pursuit that proves as pleasurable for the viewer as it clearly is for Varda herself.
See also: