DVD review: The Howl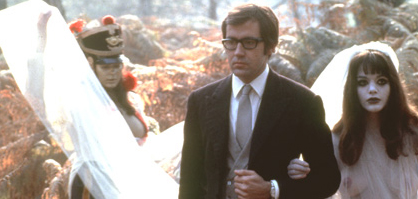 Tim Lucas admires the revolutionary electricity and formal adandon of Tinto Brass' 1968 'The Howl'
The Howl (L'Urlo); Tinto Brass; Italy 1968; Cult Epics; Aspect ratio: 1.85:1; extras: English audio commentary by Brass, trailers, photo gallery
Today, Milanese director Tinto Brass tends to be either reviled as the man who made Caligula and Salon Kitty or appreciated by cultists who see him as Italy's answer to Russ Meyer, albeit with more posterior than anterior interests. However, there is a third Tinto Brass, the young maverick whose early work includes what might be classified as a 'Swinging London' trilogy. The American label Cult Epics is currently in the process of issuing these overlooked gems, all shot at least partly in London, starting with Deadly Sweet (1967), an inventive Pop Art giallo starring Jean-Louis Trintignant and Ewa Aulin, and recently continuing with The Howl (1968), a delirious underground newspaper of a movie featuring Tina Aumont and Gigi Proietti. The series will conclude later this year with Attraction (1970), known in Italy as Nerosubianco ('Blackonwhite') and given a brief US release under the frankly incredible title, The Artful Penetration of Barbara. Each of these films is a great sopping sponge of the cultural influences of their times, but also original enough to have influenced other film-makers. Deadly Sweet, for example, mimics Godard's Made in USA and Antonioni's Blowup, yet its arty approach to the Italian thriller now seems the direct link between those film-makers and Dario Argento's globally successful debut, The Bird with the Crystal Plumage.
In his audio commentary, Brass tells a remarkable story of how he persuaded Dino de Laurentiis to produce The Howl by writing what amounted to a political manifesto rather than a screen treatment, declaring: "The time has come to blow up the screen!" His intention, he says, was to make a liberated film that would capture the bucking electrical energy of the times, not 'about' 1968 but 'of' 1968 – the year when the idealism of Flower Power came nose to nose with political consciousness, Hippie to Yippie. Aumont stars as Anita Annigoni, a young activist arrested at a demonstration, who arouses her boyfriend Berto (Nino Segurini) to the point of a marriage proposal with a lurid account of how she was raped by the police (illustrated in newsreel black-and-white). On her wedding day, Anita realises she is trading one form of prison for another and leaves Berto at the altar, joining a new companion named Coso (Proietti) for a surreal series of non-sequitur adventures.
In a parody of a prison escape picture, Coso (in jail stripes) and Anita hitch a ride from the couple she and Berto would have become, and end up urinating on their windscreen in farewell. A double-decker bus ride steers them into Magical Mystery Tour land, then they visit a Fellini-esque "Sperm Hotel" where each room is devoted to a different fetish; they meet a Pasolinian pelt-wearing philosopher who lives with his naked family in a tree (where they literally trap and feed on human visitors); and later end up in a war-torn village where new and newsreel footage is shuffled with shots from Rossellini's Paisà. At one point, Aumont and Proietti run through a location previously used in Deadly Sweet, which allows Brass to shanghai a celebrity cameo, insert a self-referential image, and reprise the funniest lines in Alain Robbe-Grillet's Trans-Europ-Express ("Who was that?" "It was Trintignant!") all at the same stroke.
As the improvised story moves from place to place, era to era, cinematic style to style, some characters are serially killed and reborn (Tino Scotti alone appears as a bus driver, janitor, cop and "intellectual") and there is a certain Pirandellian denuding of theatrical illusion throughout, such as when Proietti, shot by soldiers, applies his own blood make-up to his face and chest before falling down, temporarily dead.
The Howl, which takes its title from Allen Ginsberg's 1956 poem, shared with its namesake a streak of controversy and many charges of obscenity, one of which led to a four-year ban in Italy (not the eight proposed by Brass' commentary) and the suppression of a two-minute orgiastic sequence set inside the aforementioned hotel.
Cult Epics' DVD is sadly irregular in appearance, often looking as if it came from a washed-out tape source, but it does restore all of the previously hard-to-see footage, including insert shots of female genitalia and male masturbation just brief enough to feel pointedly rude. Brass provides a somewhat thickly spoken but accessible commentary, name-checking the likes of Rousseau, Rimbaud, Bosch and Mao Tse-tung along the way, and rather foolishly asserts that this obtuse film's political content was the real reason for its past suppression.
Of the three films in this series, The Howl is the hardest to like: the political content weighs it down, as does the absence of any kind of personal imperative other than not wishing to be oppressed or tied down. Aumont (whom Brass recalls as the most beautiful woman he ever saw) is an attractive but gloomy heroine, and perhaps because the film is not about the search for romance, Proietti has no opportunity to spark chemistry. These battered, meandering characters may never find the freedom they seek, but Brass does, seizing with both hands a fleeting moment when freedom was the biggest bang the movies could offer.