Film of the month: The Kids Are All Right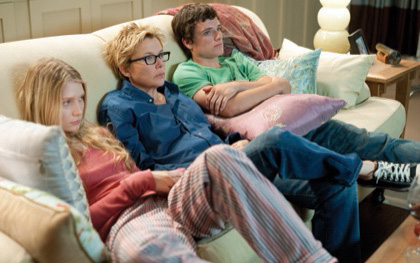 Lisa Cholodenko's 'The Kids Are All Right' puts the complications of the 'alternative family' under the microscope with a rare mixture of wit, intelligence, laidback naturalism and sexual frankness, says Sophie Mayer
The Kids Are All Right arrives in the UK on a wave of acclaim and controversy from the US, where the film first created a buzz at Sundance for its breezy and unconventionally light-hearted approach to the touchy political topic of lesbian parenting. A rare instance of a comedy that's both intelligent and sexy, The Kids Are All Right pits writer-director Lisa Cholodenko, previously best known for the angst of High Art (1998), against Nicole Holofcener for the crown of the new (female) Woody Allen. Both directors returned to the big screen in 2010 after half a decade away, marking a red-letter year for women in US cinema.
Like Holofcener's Please Give, The Kids Are All Right is concerned with the anxious relationship between two generations of 'kids': 60s and 70s liberals adjusting to parenthood, and their adolescent children. Here both generations seek to balance family togetherness and individual freedom, to a soundtrack that pairs Joni Mitchell and David Bowie with contemporary bands (Deerhoof, CSS) who have inherited their quest for sexual and artistic freedom. Cholodenko's film asks whether what's true in music can also be true in families. While moms Nic (Annette Bening) and Jules (Julianne Moore) spice up their relationship with gay porn, noughties teens Joni (Mia Wasikowska) and Laser (Josh Hutcherson) search for (themselves in) their sperm-donor father Paul (Mark Ruffalo), and work out their emerging sexualities. (In Laser's case, this involves a toe-curling scene where Jules catches him watching said porn with a friend.)
Over the last decade, US studios have tended to fight shy of such inflammatory subject-matter, possibly in deference to the growth of the moral majority under Bush (religious right-owned multiplex chains dropping Brokeback Mountain, for example). This has left a gap in the market for sharply scripted, precision-acted, socially engaged and politically challenging drama and comedy – a gap promptly filled by the premium subscription channels HBO and Showtime. With The Kids Are All Right, Cholodenko – who has directing credits on The L Word (Showtime), Six Feet Under (HBO) and Hung (HBO) – signals the redirection of the political and aesthetic energy of quality television back to the big screen – along with the radical idea, fostered by the long runs of shows such as Sex and the City, The L Word and Weeds, that there is a considerable audience for smart, unsentimental, sexually frank female-centred stories.
The Kids Are All Right is no worthy TV movie, however. Like Cholodenko's 2002 feature Laurel Canyon (in which bisexual mother Frances McDormand ends up in bed with her son's fiancée), it has a loose-limbed observational naturalism. Whereas her celebrated first short Dinner Party mined comedy from the contrast of characters' interior monologues with their onscreen actions, Cholodenko's formal conceit here is the lack of one: at times the scenes, scripted by Cholodenko and her co-writer Stuart Blumberg, are so awkwardly natural, or naturally awkward, as to seem improvised or even documentary. Cholodenko intensifies this laidback naturalism by creating wonderful grain in both image and performance, through close-ups that alight equally on anxiety as it disrupts the preternatural perfection of Mia Wasikowska, and the tan lines, wrinkles, crows' feet and age spots that characterise – give character to – Annette Bening, Julianne Moore and Mark Ruffalo. The sharp contrast to the smooth, hairless bodies seen in the gay porn video offers an implicit criticism of mainstream Hollywood cinema's similarly consumerist gloss. By contrast, The Kids Are All Right connects with the audience by creating laughter not from a gross-out disgust at the body, but through an awareness of the comic nature of sex and desire.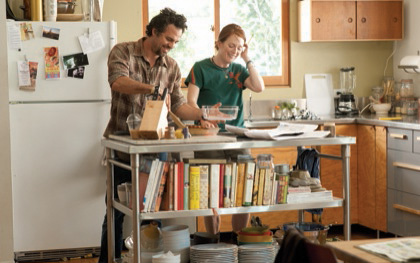 Annette Bening has been tipped for an Oscar for her performance as Nic, her razor-sharp tongue uttering the film's punchiest lines. And it's hard to imagine any actress other than Julianne Moore pulling off Jules' sex scenes: first with Nic, involving gay porn and an awkwardly positioned remote control; and later with the couple's erstwhile sperm donor Paul, who has swept into the family's lives – to Nic's consternation, and Jules' fascination. Going bra-less as well as jobless, not-quite-architect turned almost-landscape gardener Jules is clearly still a child of the summer of love. Lanky, freckled, sweaty, with her musical laugh, Moore makes Jules the most attractive and grounded character in the film. Her open-mouthed amusement when she undoes Paul's pants undermines the charming claim in Kevin Smith's 1996 Chasing Amy – for a long time indie cinema's last word on lesbian sexuality – that what lesbians are really looking for is a "serious deep dicking".
Cholodenko wittily displaces Georgia O'Keeffe-style clichés of female fecundity on to Paul and the baskets of gleaming tomatoes he grows on his organic farm and serves at his folksy restaurant, WYSIWYG. 'What you see is what you get' could also describe Paul himself, who wears his desire on his dirty T-shirt sleeve. An agent provocateur bursting into the bourgeois family, in a long tradition from Pasolini's Theorem to Ozon's Sitcom, Paul encourages Joni to defy Nic's ban on motorbikes and claim her own space, while offering Jules the erotic and romantic immediacy that has fallen away in her relationship with Nic. Yet the film follows neither the conventional thriller template that would sadistically punish Jules for her infraction, nor the chick-flick standard whereby she would escape her staid marriage for independence and sexual rejuvenation. Jules desires the freedom Paul represents, but although Paul's bike leathers and sexual appetite mark him as the classic anti-hero of American counterculture, he's far from an easy rider. As in You Can Count on Me (2000), Ruffalo shades his footloose character with insecurity; when Paul falls hopelessly in love with Jules (reversing expectations), he reveals the loneliness inherent in the freedom from convention and commitment associated with 60s sexual radicalism.
That this freedom is a euphemistic exercise of white male privilege is made clear in Paul's behaviour to his co-worker and sexual partner Tanya, whom he doesn't even deign to dump when he hooks up with Jules. As Jules and Joni are (differently) seduced by Paul, they subtly mirror his behaviour: Jules sacks her gardener Luis for no reason, while Joni plants an unwelcome kiss on her best friend Jai. All three of the mistreated characters are people of colour, and in all three cases the mistreatment is shocking. Jules' casual aside to Nic as they arrive for dinner at Paul's – that she thinks Luis has a drug problem – subtly marks the film's swing in sympathy away from Jules', and Paul's, escapism.
At the climactic dinner party, when Nic accepts Paul as her daughter's father through their shared appreciation of Joni Mitchell, her choice of 'All I Want' for out-of-tune karaoke suggests that Paul's pursuit of individual pleasure has won everyone over. At first, the viewer is drawn to Paul's strained reaction to her singing, but careful cutaways shift the focus to the excruciated but adoring gazes of Jules, Joni and Laser on Nic, loving her because of her love for them. As the scene turns, so too does the film – away from Paul's temptations towards a heartfelt reconciliation. The kids are all right not because their family offers a conservative reversion to sitcom archetype, but because it's a constantly reinvented site of sustaining togetherness. When Jules delivers her eye-poppingly frank confession to the whole family, or Joni is overwhelmed by the once-desirable solitude of her college dorm and runs after her mothers and brother, the film joyfully allows us to embrace, rather than escape, the wonderful, awkward embarrassment of familial love.
Lisa Cholodenko talks about the conception of 'The Kids Are All Right' on page 49 of the November 2010 issue of 'Sight & Sound'
See also
Lonesome cowboys: Ang Lee talks to Roger Clarke about Brokeback Mountain (January 2006)
Queer and present danger: B. ruby Rich recalls the New Queer Cinema of 1992 (March 2000)
High Art reviewed by Leslie Felperin (April 1999)
Sitcom reviewed by Jonathan Romney (January 1999)