Film review: Tyrannosaur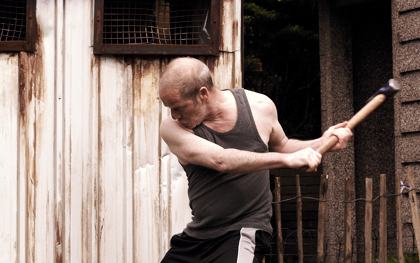 Boasting vivid performances from Peter Mullan and Olivia Colman, Paddy Considine's sober, composed treatment of masculine violence and self-destruction marks an auspicious debut feature, says Trevor Johnston
When Peter Mullan's troubled, boozy widower walks past a winter-bare tree opposite his Leeds council house, actor-turned-director Paddy Considine frames his path in an angled shot which gives us pause to ponder: that leafless tree is surely more than a tree. A symbol of endurance and renewal, perhaps? That certainly fits Considine's story of damaged individuals toughing it out in the hope of better days ahead.
Moments later, Mullan reaches the backyard ruins of the shed where his dog Bluey used to sleep. Bluey we've already seen kicked to death by his master in the opening scene, after Mullan is riled to incandescent, inexplicable and stupid anger by some minor slight in a betting shop. Hence the tumbledown remnants of the shed stand as an ongoing metaphor for the character's uncontrolled destructive and self-destructive urges; and as the ever-excellent Mullan seethes in the midst of the wreckage, his tightly drawn face tells us all we need to know about this guy's bleak backstory.
Clearly then, there's a bit more ambition on view here than in the usual British realist handheld nosey around other people's misfortunes, and while the subject-matter's determinedly raw and confrontational, the treatment is sober and composed – deliberate widescreen framing setting the visual agenda rather than some mobile camera trailing the performers.
Such self-evident seriousness risks bathos if the storytelling isn't up to the task, but Considine (here expanding his BAFTA-winning 2007 short Dog Altogether) proves equal to the challenge he's set himself – of humanising a central character who's introduced giving his own dog a fatal stomping. Even at this early juncture, a journey towards redemption seems on the cards for Mullan's human powder keg, yet Considine's script never makes this a foregone conclusion, in part because the catalyst for change is an encounter with Olivia Colman's charity-shop assistant, whose own horrendous experience of domestic abuse affords Mullan a window of self-knowledge on his previous marital misdeeds.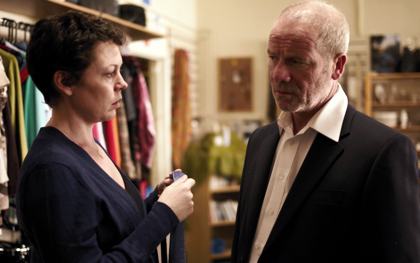 Her husband James (Eddie Marsan), seeming to all and sundry the ideal bourgeois provider but secretly a vicious bully, and Mullan's Joseph, whose upfront aggression is an open book, present different aspects of the weak man overcompensating through domestic oppression; the latter's nickname for his solidly built late spouse – 'tyrannosaur', because her approach, he says, made the crockery shake like something from Jurassic Park – nails a fundamental lack of empathy, a sense of objectification, as the root cause of such violence.
For all the pained concentration on masculinity's shadowy hinterlands, however, it's Colman's brave, affecting and always in-the-moment performance that draws us in, allowing us to understand the sufferings of those women who find themselves on the receiving end with nowhere else to go, and complex enough to suggest a fearsome self-preservation which eventually bonds her with Mullan's battle-scarred survivor.
One moment stands out: battered and only just holding it together in the back of the charity shop, she snaps right back into superficial sweetness and light at the counter when a customer arrives at this worst possible moment. Considine knows it's the sing-songy tone of her voice that's the emotional killer, and keeps the camera in the back room, prime evidence of a genuinely sensitive directorial touch.
Not without its flaws, Tyrannosaur is an auspicious start, and if Considine gains confidence from it, even better may lie ahead.
Considine and Mullan talk to Nick Bradshaw about Tyrannosaur on page 40 of the November 2011 issue of Sight & Sound
See also
Submarine reviewed by Isabel Stevens (April 2011)
Glasgow belongs to me: Peter Mullan talks to Demetrios Matheou about Neds (February 2011)
On a wing and a lark: Shane Meadows talks to Nick Bradshaw about Le Donk and Scor-Zay-Zee (October 2009)
The cruel seaside: Iain Sinclair on Pawel Pawlikowski's Last Resort (March 2001)
A Room for Romeo Brass reviewed by Mark Kermode (February 2000)
Orphans reviewed by Edward Lawrenson (May 1999)