Review / Artists' movies
Unreconstructed:
Phil Collins' Marxism Today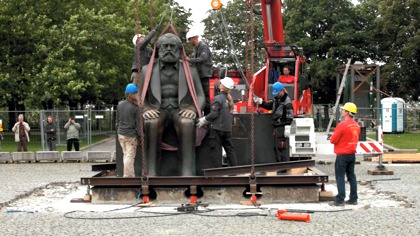 Daniel Trilling weighs the lessons of the past in a two-film portrait of the old East Germany's Communist bygones
---
BFI Gallery, London, UK
4 February-10 April 2011
---
There are two pitfalls awaiting any filmmaker today who tackles the subject of life in the former East Germany. On one hand there's the pull of Ostalgie, the reduction of life under Communism to kitsch memorabilia; on the other there's a compulsion to preface the subject with a denunciation – however sincere – of the crimes of Stalinism.
The two films which make up Phil Collins' Marxism Today (currently the final show at the soon-to-be-scuppered BFI Gallery) cleverly sidestep both. In the first film, a half-hour series of interviews with former teachers of Marxism-Leninism – a compulsory subject for schoolchildren in the GDR – Collins's camera cuts away from the speakers and lingers on various ephemera: old banknotes, a teen magazine for girls, dusty copies of Das Kapital. When the film ends, a second room in the gallery lights up and visitors enter to sit at a series of old-fashioned wooden school benches; from here we watch a lecture on some basic Marxist concepts, delivered to modern-day students by one of the ex-teachers we see in the first film.
Fortunately, the benches are about as far as the GDR theme-park vibe gets. Collins is an artist who uses film to playfully investigate the fault lines of society – previous works have centred on a dance marathon in Ramallah (They Shoot Horses, 2004) and the testimonies of former reality-TV participants (Return of the Real, 2005). Here, in the first film, he focuses in on the subjective experiences of three female ex-teachers to reveal the immense personal and social dislocation that East Germans must have experienced when, almost overnight, their world collapsed. One lost all taste for politics after the Wall fell, discovering instead "the interesting world of dating agencies". Her daughter, also interviewed, was a gymnast who competed at the 1988 Olympics: when she quit a year later, she rapidly put on weight and found herself "a 20-year-old girl who had never been to a disco, suddenly in a body I didn't know." It's hard not to see these stories having an allegorical dimension (East meets West; the formation of a new country; the sudden influx of consumerism), and while Collins's authorial voice is understated, the occasional bursts of dreamy, mournful music do nudge viewers towards thinking beyond their immediate meaning.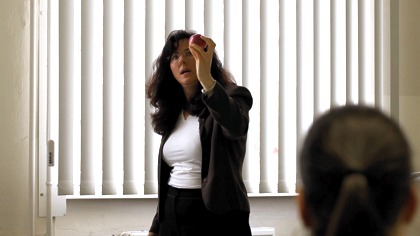 Interspersed with the interview footage are clips from old East German TV programmes about teaching. One, in particular, is a training film for teachers – in which an impossibly handsome and confident male teacher successfully guides his pupils to understanding the superiority of life under Communism. "Exploitation: a term that has become out of date in our country," he tells the class, pointing at the word chalked on a blackboard. At this stage in the exhibition, rather than pass judgement on the merits of one social system or another, we're being invited to think about the gap between ideals and reality.
The most poignant interview is with a teacher who lost her husband (an African, who committed suicide when he feared he would lose his visa), her job and her self-confidence all within the space of a few months during 1989. She says she hasn't worked since: "If I had become a banker, I would have handed all the money out to people."
In this context, the clip which closes the first film – grainy colour television footage of synchronised mass games – is unsettling, more than it is nostalgic or amusing. Hundreds of track-suited figures perform ludicrous gymnastic displays, which provides a poignant emotional coda to the tales of disorientation and disappointment.
It's the second film, though, that gives shape and direction to Collins' excavations of the past. Here, a teacher returns to the classroom for the first time in 20 years and gives a lecture to modern-day students (and, by extension, us) on some basic concepts of Marxism. As she explains the principle that under capitalism value is created by exploiting workers, Collins cuts away to footage of the giant metal statue of Marx that sits near Berlin's Alexanderplatz, suspended mid-air by a crane as it undergoes restoration work. In one way it's not terribly subtle – we're living through a period in which the foundations of global capitalism have been shaken; perhaps it's time to rethink certain concepts – but I think Collins is also saying something about the power of ideas, things that are at once weightless and monumental.
It also suggests how ideas long believed dead and buried can be brought back to life. The film ends by directly challenging the audience, leaving hanging a series of questions posed by the students: "What if we eliminate greed? Where will we find ourselves in 50 years?" We're being invited to take, in the words of Walter Benjamin, "a tiger's leap into what has gone before."
See also
Out of the ether: Daniel Trilling on Hito Steyerl's In Free Fall, a video essay about the uncanny half-life of global capitalism (November 2010)
Polytechnic: early British video art: Colin Perry on an intimist retrospective (September 2010)
Robin Wood, 1931-2009 remembered by Brad Stevens (March 2010)
The Barbarian Invasions reviewed by Philip Kemp (March 2004)
East of Eden: Dina Iordanova on the dangerous nostalgia of Goodbye, Lenin! (August 2003)
I Am Cuba reviewed by Paul Julian Smith (August 1999)