Cannes: big stories, or the bigger picture?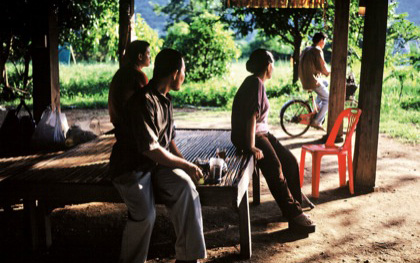 Palme d'Or winner Uncle Boonmee Who Can Recall His Past Lives
---
Cannes, France
May 2010
Sender: Nick James
---
Let's get one thing straight: despite what you might hear elsewhere, this year's Cannes was not a disappointment for everyone, at least not if you love a wide variety of what the cinema can do. While it's true that there was no standout competition film of the hallmark quality, say, of last year's The White Ribbon and The Prophet, or the previous year's The Class, the overall standard was, for me, as high as those years.
Much of the mainstream media's tepid response was forged in the moment a selection so light on Hollywood stars and/or potential causes célèbre was made. These people are paid not to see much beyond Hollywood. The exquisite, if elusive, Palme d'Or winner Uncle Boonmee Who Can Recall His Past Lives has become an obvious focus for this dissatisfaction. But it was one of five films which could equally well have borne the distinction: Mike Leigh's Another Year, Xavier Beauvois' Of Gods and Men, Lee Chang-dong's Poetry and Ukrainian newcomer Sergei Loznitsa's My Joy. That Mahamat-Saleh Haroun's A Screaming Man, Mathieu Amalric's On Tour (of which I am a bigger admirer than most), Rachid Bouchareb's Outside the Law and Kiarostami's Certified Copy were not quite winning material doesn't mean they're not fine films; it mean that the competition was set at a high level, if not quite the highest. Indeed, in terms of genre films, Im Sang-soo's remake of the Korean classic The Housemaid was itself a pretty distinguished exercise in Hitchcockian grand guignol. If I had such a good time, it's perhaps because I am not plagued by people insisting I look for some notion of 'the big story'. In any case, it was there all along: right now the art of the cinema couldn't be healthier.
See also
Cannes 2010: some favourites: Geoff Andrew's pick of the crop (online, May 2010)
Cannes 2010: doom, chills and bewilderment: Nick James on Cannes 2010's Un Certain Regard selection (online, May 2010)
Cannes 2010: time for TV?: Nick James hails Olivier Assayas' small-screen epic Carlos (online, May 2010)
Cannes 2010: side tracks: Geoff Andrew hunkers down with 100 goats in a Calabrian village (online, May 2010)
Cannes 2010: brotherly love: Nick James on Xavier Beauvois' Of Gods and Men (online, May 2010)
Cannes 2010: slow lift-off: Geoff Andrew on Cristi Puiu's Aurora and Mike Leigh's Another Year (online, May 2010)
The best online videos of 2009 including Apichatpong Weerasethakul's Phantoms of Nabua (online, January 2009)
Tropical rocket: Tony Rayns on Apichatpong Weerasethakul's 'Primitive' installation at Liverpool's AND festival (online, September 2009)