The London Film Festival: Quiet Chaos - No sex please, we're Italian comedians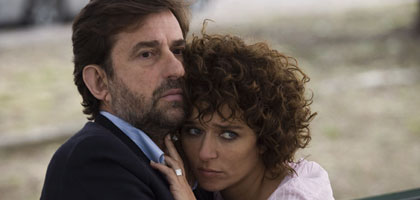 Picture an afternoon on the streets of Rome towards the end of the shooting of Quiet Chaos. The film's director Antonello Luigi Grimaldi is joined in front of the monitor by two of the actors - the film's star Nanni Moretti and Roman Polanski, playing a cameo as a businessman. The three men stand shoulder to shoulder, then they see the absurdity of the situation: three film-makers are fretting over the same scene. Moretti is a Palme d'Or winner and Polanski is an Oscar winner, but it is Grimaldi's opinion that counts here.
"It was kind of funny in a way. Polanski was only in Rome for one day but while he was present on set there were actually three directors checking the scenes," Moretti recalls.
"Polanski's part is a very small but very important one," says Grimaldi. "For this character we needed a director and not an actor. We also thought we needed someone who could embarrass Nanni. Physically speaking, he was perfect for the role."
"Polanski accepted mainly because he wanted to work with Nanni," chimes in producer Domenico Procacci. As the head of Fandango, Procacci also produced Matteo Garrone's Cannes-winning Gomorrah and is one of the driving forces behind the recent renaissance in Italian cinema.
Quiet Chaos was adapted from Sandro Veronesi's highly regarded novel. Moretti's describes it as "the story of a man who at a given point in his life decides to stop". Pietro Paladini (Moretti) is a successful businessman whose wife has died unexpectedly. His way of coping with his overwhelming grief is to sit in the street outside his daughter's school all day long. Pietro puts his job on hold and concentrates on being close to his child. He works in communications, but the only way he can express his grief is by retiring from the world.
Procacci originally offered Quiet Chaos to Moretti to direct. When Moretti refused, Grimaldi was drafted in. "Moretti said that he didn't want all the pressure," the producer recalls. Grimaldi acknowledges that it was daunting to direct a perfectionist who fusses over every last detail: "If Nanni hadn't completely trusted me it could have been a tragedy!"
Moretti co-wrote the screenplay with Laura Paolucci and Francesco Piccolo. They resisted the temptation to write a voiceover to convey Pietro's interior monologue. "We have tried to focus on Paladini without hearing his thoughts," says Grimaldi. "I asked the writers to make sure that he was present throughout the film and there are just two scenes he's not in."
The main difference between the book and the film is that the film is lighter and less steeped in gloom. However, Quiet Chaos explores some very dark themes. Moretti expresses exasperation that the Italian media chose to concentrate on a sex scene towards the end of the movie, treating Quiet Chaos like a latter-day Last Tango in Paris. Moretti contends that, like The Caiman (his most recent movie as director which many regarded as an anti-Berlusconi satire), Quiet Chaos was wilfully misinterpreted. The sex scene may be rough and jarring given Moretti's persona as a folksy comedian who rides around on a Vespa, but the film-makers insist that its inclusion is justified. Even so, Italian critics and church representatives seemed shocked. To the bafflement of the film-makers, the church asked them to "abjure and repent" the scene.
Grimaldi argues that the sex scene is necessary to the development of the story. "It's also in the book. It's an important scene and that's why we wanted to keep it in the film - it symbolises the complete and final healing of Pietro Paladini. It is sex charged with violence and revenge." The death of Paladini's wife occurs while he is saving the life of another woman, Eleonora. The complicated feelings this arouses and Pietro's subsequent aggression towards her culminate in this cathartic sex scene between the two. "That scene is also important for the woman, Eleonora," the director explains. "She owes Pietro, not just because he saved her life, but because he gave her the strength to leave her husband."
Nevertheless, Moretti's participation in such a scene startled audiences. "Some people have compared it to Woody Allen doing a sex scene… and they're right. It's not the kind of situation you normally see Nanni Moretti in. Some people said they felt they were watching their parents making love," the director sighs. "Such reactions were completely unexpected!"