The London Film Festival: 'S&S' 20 Further Recommendations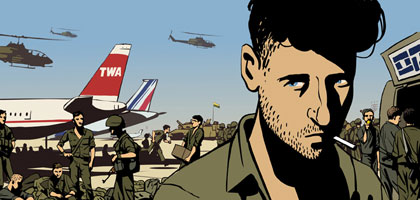 24 City
Jia Zhangke/China 2008
Interviews with former workers at a defunct factory tell a moving de facto history of modern China.
Better Things
Duane Hopkins/UK 2007
A moody, thoughtful and inventive study of Cotswolds anomie among the young and old.
Bullet in the Head
Jaime Rosales/Spain 2008
This tense multi-strand surveillance thriller is based on a real-life Basque-terrorist killing in France.
A Christmas Tale
Arnaud Desplechin/France 2008
Family feuds must be put aside when matriarch Catherine Deneuve urgently needs a bone-marrow match.
Cloud 9
Andreas Dresen/Germany 2008
Sex shakes up the lives of two pensioners in this bravely performed tale of sudden romance.
Goodbye Solo
Ramin Bahrani/USA 2008
Atmospheric tale of an affable Senegalese taxi driver's attempts to befriend a would-be suicide.
Helen
Christine Molloy/UK 2008
Visually stunning portrait of a stand-in for a police reconstruction who is fascinated by the victim she resembles.
Johnny Mad Dog
Jean-Stéphane Sauvaire/France-Belgium-Liberia 2008
This brutal and surreal portrayal of African child soldiers at war grabs audiences by the throat.
Lion's Den
Pablo Trapero/Argentina 2008
Middle-class Julia finds herself bloodied, pregnant and under arrest in this intense prison drama.
Mid-August Lunch
Gianni di Gregorio/ Italy 2008
Deft, feather light comedy about a middle-aged man forced to mind various elderly folk in his apartment.
Modern Life
Raymond Depardon/France 2008
Marvellous humanist interview-based study of Cevennol farmers faced with physical and commercial decline.
Night and Day
Hong Sangsoo/South Korea-France 2008
A Rohmeresque sojourn in Paris complicates the life of a Korean dodging a marijuana rap back home.
Of Time and the City
Terence Davies/UK 2008
Social change in Liverpool magisterially described with wit and well-chosen archive images.
RR
James Benning/USA 2008
43 brilliantly evocative shots of passing trains in rural locations set to musical counterpoint.
The Sky, the Earth and the Rain
José Luis Torres Leiva/Chile 2008
A provocative anti-narrative of island living that's raised the 'nothing happens but weather' bar.
Three Monkeys
Nuri Bilge Ceylan/Turkey-France-Italy 2008
Guilt and betrayal haunt a family after the father is imprisoned in this brooding expressionist triumph.
Touki Bouki
Djibril Diop Mambéty/Senegal 1973
An African masterpiece about rebellious lovers which looks even more vivid and modern after its recent restoration.
Tulpan
Sergey Dvortevoy/Kazakhstan-Germany-Switzerland-Russia 2008
A sailor returns to the steppe determined to marry local girl Tulpan in this bold comedy.
United Red Army
Koji Wakamatsu/Japan 2008
An epic, visceral docu-drama about the extremist student movements of the 1960s and 1970s.
Waltz with Bashir
Ari Fulman/Israel-Germany-France 2008
Captivating, animated Israeli-soldier anecdotes of events leading to the 1982 atrocities in Lebanon.
Wonderful Town
Aditya Assarat/Thailand 2007
An architect in a post-tsunami seaside town starts a thorny affair in this quiet, sensitive melodrama.