The Women
USA/UK 2008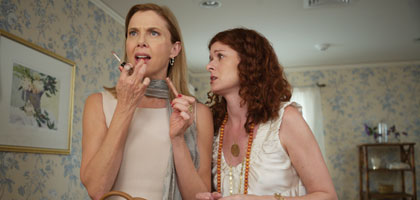 Reviewed by Kate Stables
Synopsis
Our synopses give away the plot in full, including surprise twists.
New York, the present. Ambitious magazine editor Sylvie learns from a manicurist that her best friend Mary's wealthy husband Stephen is having an affair with the gold-digging Crystal, who works behind the perfume counter at Saks. She swears their mutual friend Edie to secrecy. Mary's father fires her from her clothes-designing job with his company. Mary learns of the affair from the manicurist, and is devastated. Her three close friends, including lesbian novelist Alex, confess to knowing already, which humiliates her.
Her wisecracking mother takes her and teen daughter Molly to Maine. Back in New York, Sylvie and Mary they find themselves buying underwear alongside Crystal, Sylvie insists that Mary confront her. Shameless, Crystal stands her ground. Mary's servants hear her arguing with Stephen, demanding a divorce.
Sylvie is pressurised by her publisher to improve the magazine's circulation. Gossip columnist Bailey Smith blackmails her into confirming the rumoured Haines affair, which is splashed all over the papers. Sylvie confesses her betrayal to Mary, and they are estranged. Sylvie befriends Molly, who is avoiding the unhappy Mary. Inspired by meeting 'the Countess', a hardbitten Hollywood agent on a yoga retreat, Mary realises that her aim in life is to design a clothes collection, bankrolled by her mother. Berating her for befriending Molly, Mary finally makes up with Sylvie, who has resigned from her job, ashamed of betraying Mary. They fool the manicurist into telling Crystal that Mary and Stephen are meeting in secret. Mary's first collection is a great success. Stephen sends a plea for reconciliation. Edie goes into labour, and the women rush her to hospital. In the delivery room, as Edie's baby boy is born, Mary agrees to a date with Stephen, on her own terms.
Review
"I've been fired from all my jobs. Wife, mother, daughter - and best friend," wails Meg Ryan's perky, put-upon divorcee Mary Haines, in a blast of self-pity absolutely alien to George Cukor's original belting, biting version of The Women. Diane English's remake of the classic 1939 high-society divorce comedy can muster the star power and the man-free mise en scène of its predecessor. But this shrill, self-indulgent piece swaps Clare Boothe Luce's biting social satire and the crackling, warp-speed dialogue of Cukor's female 'frenemies' for a soft-focus paean to female friendship. Shorn of its barbed attack on the parasitic manicure-and-malice lifestyle of rich wives and gay divorcees, and with Rosalind Russell's false friend and rattling rumour-mill Sylvie transformed into Annette Bening's tediously gutsy go-getter, this de-clawed reincarnation feels superficial and self-satisfied.
Under the guise of 'updating' the film, English, a sitcom veteran and the creator of Murphy Brown, has retooled the gossip-mongering Park Avenue harpies as a svelte sisterhood who rally round when a man wrongs their best friend. Her timing is unfortunate, however, since the Sex and the City movie recently nailed a similar storyline to another glossy, materialistic, four-way 'friendcom', a snappy, high-profile outing that makes English's effort look like a Saks in the City wannabe. Rounding up a designer-clad posse of Hollywood stars does not a 'women's picture' make, particularly when fine actresses like Bening and Cloris Leachman are reduced to frantic mugging in an attempt to animate the film's dull two-shot sequences and sitcom sarcasms. Ryan, sparky during her days as America's Sweetheart, gives a lacklustre performance defined utterly by her curiously girlish and immobile visage (when a Saks manicurist is recounting her husband's betrayal, only Ryan's wobbling lips and eyelids betray emotion) and English's sappy scripting. This is a movie that makes one nostalgic for the smartly sentimental Nora Ephron chick-flicks that rocketed Ryan to stardom, or even for Nancy Meyer's high-gloss brand of middle-aged female farce, as countless scenes of shrieking, soul-baring and hugging succeed one another without a passable wisecrack in sight. Only Candice Bergen's deadpan gag about a passing facelift ("She looks as if she's re-entering the earth's atmosphere") raises a rare chuckle, fuelled in part by the irony of plastic-surgery jokes emanating from a film where every female over ten appears to have had an eye-lift.
English has a televisual taste for issues-of-the-week, so the story also shoehorns in lesbianism (Jada Pinkett Smith's Sapphic authoress, slavering over the hot-bodied Eva Mendes as hardboiled gold-digger Crystal Allen) and some inevitable body-image anxieties for Molly, Mary's teenage daughter. Class divisions are nonetheless not identified as a contemporary issue, so the film's swingeing social unease at a mere 'spritzer girl' daring to snag a stockbroker goes unchallenged. This fatal combination of consciousness-raising and snobbery gives the film an oddly dated air, while its least attractive narrative overhaul is to swap the hilarious 'Jungle Red' tooth-and-claw campaign which the original Mary wages to regain her husband for a self-actualising denouement in which the 2008 version 'finds herself' by launching her own ready-to-wear collection, backed by her mother's inheritance. Apart from providing a readymade excuse to rerun a catwalk show mimicking the famous Adrian interlude in Cukor's movie, this injection of naked you-go-girl narcissism betrays any claim the film might make to represent the dilemmas of the modern woman. If life is a choice between relying on your husband's cash or your mother's to make your dreams come true, womanhood has moved on lamentably little in 70-odd years.
Credits
Directed by

Diane English

Produced by

Victoria Pearman
Mick Jagger
Bill Johnson
Diane English

Written for the screen by

Diane English

Based upon the play by

Clare Boothe Luce and
the 1939 motion picture The Women screenplay by Anita Loos, Jane Murfin

Director of Photography

Anastas Michos

Editor

Tia Nolan

Production Designer

Jane Musky

Music

Mark Isham