The London Film Festival: Ah, Liberty! - Ben Rivers at the Edge of the World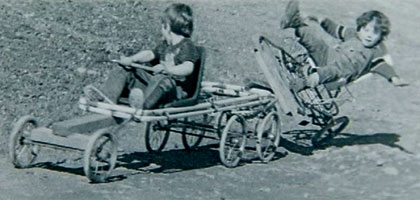 The Experimenta section in the London Film Festival has long been a showcase for more singular visions. This year there's another striking line-up - Straub-Huillet, Guy Debord, James Benning, Pere Portabella - with young British film-maker and former programmer Ben Rivers being an intriguing stand-out. His films, collaged studies of real people in isolated rural environments, have been attracting attention in gallery spaces and international film festivals for several years. Showing at the London Film Festival is his 19-minute film Ah, Liberty!, which won the Tiger Award for Best Short in Rotterdam in January. A mesmerising study of a family living, working and playing on a farm in the Scottish highlands throughout the seasons, it captures an untamed sense of freedom. Rivers is wary, though, of applying the term 'documentary' to his work. "It can suggest an adherence to facts, and a questionable idea of truth," he says. "There's not enough interrogation in documentaries of their own processes. That [interrogation is] what's so great about Jean Rouch - although a lot of that sensibility has been left behind. My own work is based in observation, but I don't adhere to some constraints of documentaries."
The title of the six-film programme 'Ben Rivers at the Edge of the World' measures Rivers' distance from mainstream film-making. He works as a one-man band using a 1970s clockwork Bolex camera, recording his own sound material and editing it together himself. He even processes the film in his kitchen sink. "There's an interesting time constraint with the Bolex; you wind it up and only get a 30-second shot. It creates mini-rules and more concentration and consideration are needed. It makes filming less arbitrary, it helps you think about what you're doing." The finished films have a deliberately unpolished feel, an almost archaic quality. Their fragmented structures and the white flashes you get at the end of a roll draw attention to the materiality of film, but never at the expense of engagement with the subject-matter.
The programme's title also refers to the fact that Ah, Liberty! and others of his films were shot in remote parts of rural Scotland, focusing on people who have chosen to live at a remove from society. "I've always had this idealistic dream of living in a hut somewhere. My films are investigations, seeing how real that ideal is." Yet Rivers doesn't attempt to explain his characters, preferring to observe them and their environments. In Ah, Liberty! it's the kids charging round in strange masks, or the father burning through streams and up hills in a clapped-out car. Rivers' playful, light-handed portraits capture the vividness and energy of his characters and the textures of their world.