The London Film Festival: Rachael Getting Married - Ensemble stars shine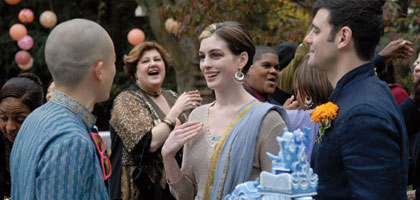 The wedding movie may be a beloved and successful comedy genre, but it has thrown up few films of real quality. Jonathan Demme's charming and acidic new addition does not follow the template of My Best Friend's Wedding and the like, though it does in some ways gently lampoon that other popular genre: the actual wedding video. But the film that it most closely resembles does have near-classic status: Robert Altman's A Wedding. It has the same free-wheeling feel for multi-character action and observation, and is happy to move through locations from one story thread to another. The one difference, though, is that Rachel Getting Married is more interested in examining the claustrophobia of large family occasions and the human need to belong than in the eccentric class-clash vignettes that Altman presented in his film.
Anne Hathaway plays Kym, the unstable and acerbic sister of the bride-to-be, who leaves rehab to join in the big occasion at the Buchman family home where her father, Paul (Bill Irwin), fusses around her. The house is already full of the musician friends of Rachel (Rosemarie DeWitt) and her husband-to-be Sidney (Tunde Adebimpe), and Kym's fragility and self-obsession soon come to the fore, reaching a peak at a pre-wedding supper at which everyone takes turns at the microphone and Kym embarrassingly reveals her volatile past in front of Sidney's family. When Kym discovers she is not down to be Rachel's maid of honour, repressed emotions boil over and we begin to see the outlines of a family tragedy in the past, as well as the contradictions in Kym's enfant terrible persona.
The basis for the homemade feel of this otherwise sophisticated ensemble drama is the discreetly floating cinematography of Declan Quinn's team and a tart and intelligent script by Jenny Lumet (Sidney Lumet's daughter). Though the film could have fallen for all the Sundance Lab pieties that seem to afflict so many recent American family dramas, Lumet deftly undercuts our most lachrymose expectations. A huge variety of live music provides scenes with a succinct emotional undertow. Sincere and plausible performances ensure that the multi-ethnic supporting cast avoids the danger of Coke-ad "We are the world" sentimentality. But the film rests squarely on the superb performances of Hathaway and DeWitt in the roles of the two sisters, and it's also as fun a Friday-night film as My Best Friend's Wedding.