Tangerine dreams: Yto Barrada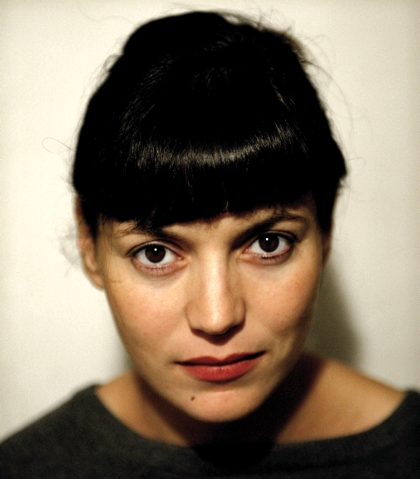 Moroccan artist Yto Barrada tells Ian Francis about her double life running a renovated Tangier cinema
---
This is a revised extended version of an interview in our June 2012 issue, published online 25 May 2012
---
Although it may still be lodged in the West's cultural imagination as a smuggler's playground, a refuge for degenerates and poets, Tangier is almost unrecognisable from the 'Interzone' era of Burroughs and Bowles.
"In a way, Tangier doesn't exist," says artist Yto Barrada. "It's a changing idea as much as a city." Having grown up in the city and then returned some years later, Barrada tends to focus on these changes, from photography series 'The Strait Project', showing how a culture of migration is etched in the cityscape, to her 2009 film Beau Geste, in which a group of men use concrete to reinforce a palm tree in a futile attempt to prevent a patch of land from being redeveloped.
Though there's a dispassionate, documentary stance to this work, Barrada herself is rarely content just to observe. When the art deco Cinema Rif, overlooking the city's Grand Socco square, was threatened with demolition a few years ago, she led a group that took over the lease and transformed it into the Cinémathèque de Tanger. It now presents a large and varied programme of screenings and workshops through the year, as well as accommodating festivals and an archive of North African cinema.
With an exhibition of her work opening at the Ikon Gallery in Birmingham (a city which is itself no stranger to knocking things down and starting again), and at London's Pace Soho, Barrada spoke to me via Skype from the Cinémathèque's lively café.
To run a cinema and practice as an artist seems like quite a juggling act. How do you find the two roles feed off each other?
There was a conflict in the beginning, because of the time that the construction and renovation side took up. Now I can say that they feed each other. Grassroots nonprofit [organisations] like ours are popping up across the region, because the state has left culture orphaned, and artists are among the people who feel a responsibility there. I learned with the Arab Image Foundation [in Beirut] that an artist-run organisation means applying creativity to find solutions to business and practical problems. There really is an 'art' to management – a very difficult one.
The archive is obviously central to the Cinémathèque's work, and reflects your own interest in Morocco's past. Do you feel there's a mission to fill in some of the gaps in film history nationally?
Yes, there was a public service ambition from the beginning, starting with the building – making sure it didn't disappear. There was a worry that projects in Tangier would be turned towards exclusive tourist needs, and at the same time when they're renovating that's when a lot of things are thrown away. The collection started with found materials, deposits from artists, fellow filmmakers from around the country. Now we have a digital archive of over a thousand films, artists' videos and documentaries, and it's growing.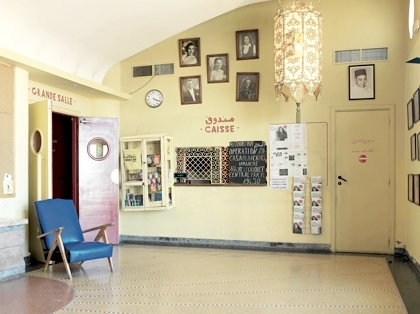 The Cinémathèque de Tanger
You programme a very diverse selection of world cinema. Is it difficult getting prints?
The biggest difficulty we have is getting hold of prints, and with the languages we want. We can bring prints from Europe, but then we have to pay transport, insurance and get diplomatic clearance. It takes three months to get one film, and then Customs block it. If you're a non-profit you have zero power. The only power we have is we're an organised team – we're just bullies! We send faxes, and then after a fax we send chocolates and then flowers, and then we call, and then we stand in their office until we get what we want!
Presumably your international profile gives you some power, though.
Locally, I'm nobody. I have this sort of secret double identity. The authorities, every time I have a meeting with them to get something unblocked – because that's mainly what I do: something's stuck somewhere and I have to go and get it unblocked – they always say the same thing: "You know this kid, she's really well known outside [Morocco]." I'm 40 years old, and it's still the same story! But I think this has more to do with being female than being an artist.
What's the next step for the Cinémathèque?
We don't have a lot of money so we work with a lot of interns: you train them, then they go. I'm getting to a point where I think we need to create the school, the workshop and studios, to go one step beyond to create the staff we need, for us and for other institutions.
We're still in a very neo-colonialist position here. If you're a stenographer or a museum person from France, you can charge whatever you want as long as you come from Europe. You can get hired to work in art magazines if you have a French name – even if you're totally incompetent.
It's sort of shifting, though. Festivals and cultural services are starting to hire local staff, but we don't have anybody trained for outreach or development work. Over the next three years as part of our capacity-building, in order to develop a stronger film archive and arthouse cinema, we need to train the people who will do all this work.
In your film Hand-Me-Downs I enjoyed the contrast between the sunny colonialist cine-film and the gruesome tales in the voiceover. They're presented as part of your own family history. How many of them are rooted in fact?
What is fact, when it comes to family stories? The idea was never to check. My mother and my aunt, when viewing the film, didn't even pay any attention to the fact that the images were not theirs. They just said, "You're totally wrong, that soup wasn't green, it was yellow" – that kind of thing. Now I've got a whole series of family corrections, and I think I'll do a little publication with every story corrected.
Hand-Me-Downs is a good example of how my work and the Cinémathèque meet. We had a letter from a French archive which collects amateur and propaganda films, and when I looked at these home movies I just felt I had to do something with them.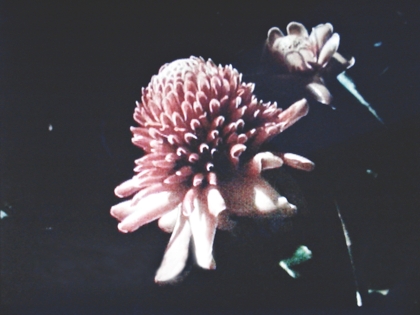 As part of your show at Ikon, a canal boat will be operating as a screening space and café. Is the social dimension of filmgoing important to you?
Perhaps the biggest unanticipated dimension of the Cinémathèque was the social one, in our café and library. It's very important, because social mixing doesn't happen much here. Cafes are mainly for men here, so ours is a shelter, a place of exchange.
Lots of projects are born here. We've tried to make sure that nobody feels excluded, so that lovers have a place to talk and sit, students have a place to do homework. I have a whole bunch of girls playing guitar and studying for their exams across from me right now.
Finally, I wanted to ask you about your name. I understand it comes from a film?
It's from a book by Maurice Le Glay called Itto [adapted into a film in 1934 by Marie Epstein and Jean-Benoit Levy]. It's set during the 1914 Battle of Elhri, an important instance of Morocco's resistance to colonial invasion, and Itto was the real wife of a leader. She figured out a way for her husband to escape the advancing French.
Elhri is one of the stories absent from Moroccan history books, like the Rif War. There's a beautiful landscape [Lalla Itto] in Morocco named after Itto. I have my own hole in my histories, because I fall asleep every time we drive there. I should really go and take some photos. Now there's a little museum there, in memory of the people who died fighting.
RIFFS, an exhibition of Yto Barrada's work, runs at Ikon Gallery in Birmingham until 8 July 2012. The Cinémathèque has also recently published 'Album Cinémathèque de Tanger', a short illustrated history of film in Tangier told through the organisation's own archives.
See also
A Useful Life reviewed by Mar Diestro-Dópido (February 2012)