What goes around:
Margarethe von Trotta's history plays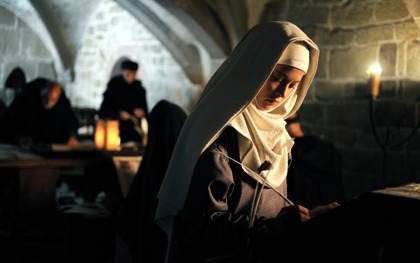 Margarethe von Trotta's Vision: From the Life of Hildegard von Bingen (2009)
Sophie Mayer on the indefatigable feminist of the once-New German Cinema
Political turmoil. Terrorism. Economic shifts. Suspicion between citizens and state – and, following in the footsteps of Fassbinder, the emergence of a new independent film culture. The themes of Margarethe von Trotta's work couldn't be more compelling for a contemporary viewer, nor indeed their handy suggestions for the Big Society – her third feature The Second Awakening of Christa Klages (1978) is based on the true story of a young mother who robbed a bank in order to raise funds to keep open a child-care centre threatened with closure by the government. The Birds Eye View festival's Filmmaker Focus on von Trotta is well-timed.
The programme offers a 'bird's eye view' exactly, showcasing von Trotta's biopics of two remarkable German women: Rosa Luxemburg (1986) and Vision: From the Life of Hildegard von Bingen (2009). Eight centuries apart, each woman – Marxist revolutionary and Benedictine polymath – fought for women's rights in language at once muscular and mystical, and von Trotta's films similarly move from highly dramatic events (often seen in flashback or visions) to eloquent scenes of conversation and emotional closeness to emphasise the flow between the personal and the political.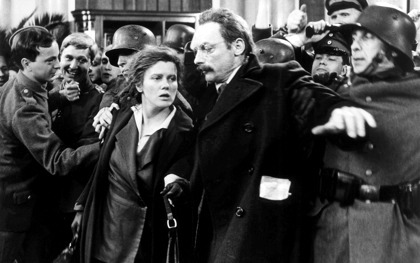 Coalition of Resistance activists looking for inspiration will flock, perhaps, to the screening of Rosa Luxemburg, a chance to see von Trotta's most celebrated, Palme d'Or-winning film and afterwards engage with the famously voluble and generous director in a Q&A. While von Bingen used the church's institutional structure, which offered women education within convents, to spread her vision, Luxemburg was drawn to Marxist philosophy and fought to revolutionise the state in pre-WWI Poland and post-WWI Germany, forming the famous Spartacist League (later the Communist Party of Germany) with Karl Liebknecht in 1915. After the failed Spartacist uprising of 1919, she (along with its other leaders) was captured and murdered. A prolific editor, writer and supporter of a free, critical press, she is commemorated this year by Verso's publication of her passionate letters.
Von Trotta began with a screenplay that Peter Märtesheimer had prepared for her close friend Rainer Werner Fassbinder, but completely rewrote it after researching Luxemburg's writings and speeches – though few quotations appear. Instead Luxemburg (played by von Trotta's regular collaborator Barbara Sukowska, who also played von Bingen) is created through dynamic action and intimate dialogue, interspersed with and interconnected by representations of her dreams and fantasies. These are the poles between which von Trotta's films frequently move as they connect lived experience to utopian ideals and the great sweep of history.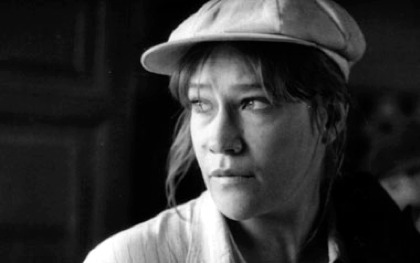 The Second Awakening of Christa Klages
Before her Cannes success with Rosa Luxemburg (for which Sukowska also won the Best Actress award), von Trotta had worked tirelessly and productively as part of what critics labelled the 'New German Cinema' – a clutch of independent, politically astute and stylistically conscious filmmakers who emerged from West Germany in the 1970s. Shot on a shoestring budget, the aforementioned Christa Klages was one of a handful of contemporary films that responded to the saga of the Baader-Meinhof gang – a subject which von Trotta herself addressed repeatedly throughout her career, most notably in 1981's The German Sisters (Die Bleierne Zeit). (That film's two eponymous sisters, Marianne and Juliane, are based on Baader-Meinhof member Gudrun Ensslin and her sister Christiane, whom von Trotta interviewed extensively.) The theme of the possibilities and pitfalls of an articulate woman's passionate rebellion against the repressive forces that entrap her recurs even in her more von Trotta's quietist late 1980s European co-productions such as Three Sisters (Paura e Amore, 1988), an Italian-set contemporary take on Chekov's famous play.
Christa Klages represents another important marker in von Trotta's career: it was her first film made without Volker Schlöndorff, her longtime collaborator and husband. Having played roles for Schlöndorff as well as Fassbinder and others in the exciting and productive circle of the New German Cinema, von Trotta became one of the few women writers and directors producing work in West Germany in the 1970s, initially as Schlöndorff's scenarist and assistant director. Her first film, The Lost Honour of Katharina Blum (1975), about a woman hounded by the media for, unbeknownst to herself, sheltering an internal terrorist, is often credited to Schlöndorff, but already exhibits the tendency that J. Dausa, writing in Sight & Sound in 1979, called the address to German history via "oblique approaches and microcosmic case histories."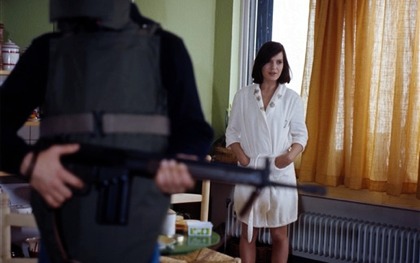 The Lost Honour of Katharina Blum
Predating Ulrike Ottinger and Helke Sander, the next wave of German women directors who were explicitly feminist and radical in form and politics, von Trotta has often been identified with the realist, essentialist and empathetic strand of second-wave feminism. Her work fell out of fashion in the 1990s when, as a committed leftist, she worked to adjust to the new united Germany, but the new century has seen a striking return to form.
She made her return from German TV to cinema with the highly-regarded Rosenstrasse (2003), a moving film about the complexity of political action in uncertain times. It tells the story of a young American woman who is surprised to discover that her mother was a German Jew, and who travels to Germany to meet the elderly woman who protected her mother from the Nazis. Rosenstrasse was the location of a holding site for Jews awaiting deportation and, in 1943, the site of the only successful large-scale demonstration by Germans against Nazi policy during the war. Lena Fischer, the gentile woman whose memories tell the bulk of the film's story in flashback, was a Prussian married to a Jewish man, who used her family connections to meet Goebbels and persuade him to stop the deportations.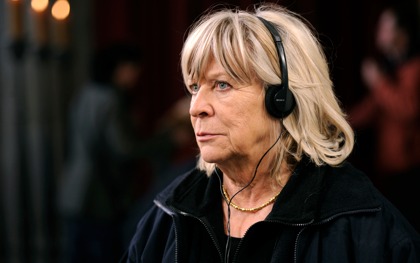 Such instances of articulate courage and ethical singularity are at the heart of von Trotta's oeuvre, and Vision's Hildegard von Bingen, one of the first women in the post-classical era to write and publish philosophy, poetry, plays and (most famously) music, offers another salutary lesson from our shared European past. (Von Trotta, like Luxemburg and von Bingen, is an avowed internationalist.)
Sukowka, who is also a noted singer, brings a haunting grace and steely embodiment to the role; the film itself is neither ethereal nor eroticised (in the manner of so many conventual films), but a lively and living depiction of a community of ambitious women. Music, which often marks moments of emotional closeness in von Trotta's films (witness the Janet Baker recordings in Christa Klages and German Sisters), signals the closeness of the human community, and – in von Bingen's ecological ideas – of humans to the world around them. What could be more immediate and necessary than that?
The Birds Eye View Festival runs 8-17 March at the BFI Southbank, ICA and Southbank Centre. Von Trotta will give a Q&A after the screening of 'Rosa Luxemburg' on 9 March and will introduce 'Vision: From the Life of Hildegard von Bingen' on 10 March, both at the ICA. 'The Letters of Rosa Luxemburg' (Verso) are out now.
---
Correction (10 March 2011): Margarethe von Trotta has cancelled her visit, so instead a video Q&A will follow the screening of Rosa Luxemburg.
---
See also
Memento mori: Jonathan Romney on Xavier Beauvois' Of Gods and Men (January 2011)
Carlos: five hours of the Jackal: David Thompson talks to Olivier Assayas (November 2010)
Everywhere girls?: Sophie Mayer on the strong harvest of female-made films in the 2009 London Film Festival (October 2009)
Radical chic: Andrea Dittgen on The Baader Meinhof Complex (December 2008)
The road goes on forever: Nick Roddick on Wim Wenders' European views of American landscapes (January 2008)
East of Eden: Dina Iordanova on the dangerous nostalgia of Goodbye, Lenin! (August 2003)