Radu Muntean: Three's a crowd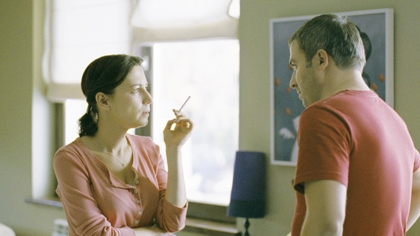 As Tuesday, After Christmas comes to DVD, Carmen Gray talked to its Romanian director about its subtle probing of marriage and morality
---
Web exclusive, 29 May 2012
---
I first saw Radu Muntean's Tuesday, After Christmas in 2010 at the Transilvania International Film Festival, which was still riding the crest of Romanian cinema's swelling world prominence. The buzz there was that the nation had again delivered the goods, with not only that film screening (fresh from its Cannes premiere) but also with the bleak masterpiece Aurora from Cristi Puiu (who'd kick-started his country's so-called New Wave a decade earlier) and The Autobiography of Nicolae Ceauşescu, a stunningly innovative documentary from Andrei Ujica.
Two years on, critical enthusiasm (all three featured prominently in S&S's 2010 end-of-year poll) hasn't translated into UK theatrical releases. While Aurora and Autobiography are admittedly hard sells for a distributor, both clocking in at an uncompromising three hours and having a grim, thematic weightiness that's anathema to all but the most hardcore of cinephiles, Tuesday is more accessibly universal and engaging in its deftly observed portrait of an adultery-rocked marriage. Yet even it has been passed over here as too hard to market. Instead, championing the film's ample merits, Second Run has now released it straight to DVD. I chaired a Q&A with Muntean after the launch screening at London's Riverside Cinema.
Playing out over a couple of days at Christmas, Tuesday sees Paul, a run-of-the-mill married man now greying and sporting a paunch, reach crisis point over the affair he's been having with a pretty 27-year-old dental technician who's been fitting his daughter with braces.
"The film is all about this choice he has," Muntean told the audience. "In trying to achieve happiness he's making a big sacrifice. His relationship with his wife is also not finished – there is still something there. This makes it even more painful."
While its premise may seem slight, the raw emotional force of Tuesday lies in the extent to which its interactions and dialogue ring true. Muntean said nothing was improvised; instead the film's convincing verité emerged from a year of script development and from intense rehearsals. The film was his third collaboration with his regular writing partners Răzvan Rădulescu and Alexandru Baciu (with whom he's recently finished a new screenplay, about which he divulged little). "This was the hardest one," he said of writing Tuesday. "It was kind of personal and each of us has had a different life experience, so it was difficult."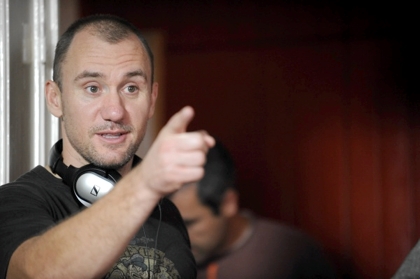 The scenes were filmed chronologically over a three-week shoot to build tension. It didn't hurt the pressure-cooker atmosphere that Mimi Branescu and Mirela Oprisor (who play Paul and his wife Adriana) are married in real life, while Maria Popistasu (the mistress, Raluca) is the wife of one of the co-scriptwriters – her husband penned the opening scene in which the lovers are kidding around in bed. ("It's kind of perverse," laughed Muntean.)
The film's jealous undercurrents weren't without hurdles, particularly when shooting a key scene in the dental office, the only encounter between the two women, filmed in one 11-minute-long, deftly choreographed take. "Mirela was really emotional, and couldn't pretend she didn't know anything was wrong, though at this point the wife is meant to know nothing," Muntean remembered. "You could feel a certain tension from her, which I didn't want." Still, the added intensity pays off later in a climactic confessional scene in the couple's apartment.
While not shying away from portraying the full emotional devastation of Paul's wandering affections, Muntean resists steering us toward a particular reading of the situation. The Tuesday the title refers to – the day Raluca is due back in Bucharest after visiting her family at Christmas, when the consequences of Paul's decision will start to crystallise – still lies in the future at the film's close. This leaves the ending relatively open: the amount of happiness in store for Paul is unclear.
"I don't pretend to know all the answers," said Muntean. "I didn't want to judge the characters or put a certain moral stamp on the film. I don't think any of them are antagonists. You can say Paul is guilty, but [he's] not really for me. He's not a womaniser. He loves his wife, he just happened to fall passionately in love with another woman. It's an impossible choice. It's like cutting off a part of your body if you want to live."
An audience member challenged Muntean's assertion that Paul made any sacrifice, disparaging what she regarded as a markedly male perspective. The director responded: "What happens with these kinds of movies is that everyone interprets them in relation to his own life, his own sensitivity, which I'm okay with… I was trying to maintain a certain equilibrium between the characters and avoid clichés that would simplify the situation."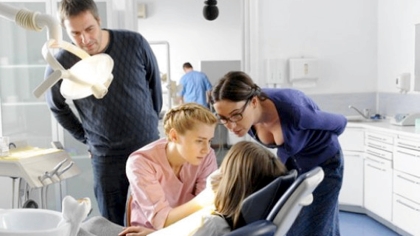 Certainly, Raluca's dental profession is a blackly humorous touch that deflects any erotic glamorisation or the kind of femme fatale shadings often afforded the 'other woman', while Paul's bumbling drift into infidelity is far from calculated. He's set in relief against his friend Cristi, who has a different woman on his arm every other week – a lifestyle Paul and his wife had joked about.
It's not the first time Muntean has explored Paul's type of predicament. His previous film Boogie – another triumph of acute observation – also deals with a married man having second thoughts about settling down.
"When I made Boogie I was thirtysomething and I really felt what the main character did at that point," said the director. "He's somehow between lives; he's happy with his wife and kid but he also wants to be young and free again, without responsibilities. Of course, you can't have both."
With their long takes, wry humour and naturalistic concern with the mundane details of everyday life, both films bear hallmarks of what's now familiar as the Romanian New Wave style, and in their understated realism are far removed from the genre-style thrills of Muntean's 2002 debut Furia.
While his second film The Paper Will Be Blue (2006) drew on his experiences in the army during the 1989 revolution, Muntean has since shied away from his compatriots' preoccupation with dissecting Communist-era life under Ceauşescu, preferring instead the examination of human relationship dilemmas that's not so specific to time and place. He displays typical directorial reluctance to be pigeonholed in relation to a perceived movement.
"I'm not a big fan of labelling. I don't know how we've influenced each other," he said of his contemporaries. "But we were all frustrated by what came before us in Romanian cinema. We have in common the need to make more straightforward and honest films." With the calibre of Romanian directors' exertions displaying no signs of waning, let's hope British audiences show distributors they're willing to back them.
'Tuesday, After Christmas' is out now on DVD from the UK's Second Run, and is reviewed by Michael Brooke in the June 2012 issue of Sight & Sound
See also
Nuns on the verge of a nervous breakdown: Geoff Andrew on Cristian Mungiu's Beyond the Hills (May 2012)
Eastern promises: James Bell finds the Romanian New Wave still rolling on at both the Transilvania Film Festival and the Romanian Film Festival in London (July 2010)
Police, Adjective reviewed by Philip Kemp (October 2010)
The Happiest Girl in the World reviewed by Michael Brooke (June 2010)
Slow lift-off: Geoff Andrew sees Cristi Puiu's Aurora at Cannes (May 2010)
Where there's pomp: Cristian Mungiu talks to Nick Bradshaw about Tales from the Golden Age (November 2009)
California Dreamin' (Endless) reviewed by Kieron Corless (April 2008)
Eastern promise: Nick Roddick on the inspirations behind the Romanian New Wave (October 2007)
4 Months, 3 Weeks and 2 Days reviewed by Ben Walters (January 2008)
The Death of Mr Lazarescu reviewed by Michael Brooke (August 2006)
The Death of Mr Lazarescu previewed by Mark Cousins at the 2005 London Film Festival (November 2005)