Day eight: Exoduses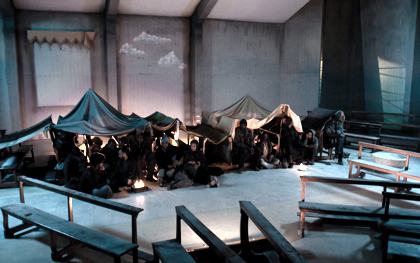 Kieron Corless, 8 September
Film of the day
As the festival enters its final few days the consensus seems to be there's been a fair number of good films, but few truly outstanding ones.
A personal favourite is The Cardboard Village (Il villaggio cartone) by veteran Italian director Ermanno Olmi. As Guido Bonsaver pointed out yesterday, immigration is on the minds of many an Italian director right now (and others in Venice's programme too, as I'll come to below), but what's fascinating about Olmi's film is the grave, decorous but highly incisive manner of its treatment.
The whole film never moves outside a beautiful condemned parish church, bulldozers poised to move in and the distraught elderly priest (played with great delicacy by Michael Lonsdale) resigned to its fate. Out of the blue a group of African immigrants seeks refuge, constructing the titular cardboard village which the priest protects from the exasperated authorities. The Africans' and the priest's plights inform and enrich other, giving new resonance to a profound meditation on faith and political and historical change. Olmi skilfully maps and opens up the church space, intensifying and focusing our gaze, but never raising the dramatic temperature much above a murmur, despite the charged situation and a faction of the immigrants which wants to resort to suicide bombing.
The film's gravitas and poignancy reminded me of Vittoria de Seta's Letter from the Sahara (2006), an aesthetically very different but similarly heartfelt and piercingly direct plea for compassion in Europe's treatment of African immigrants, made by an equally great Italian director in his twilight years.
In its own quiet but utterly rigorous and precise manner, The Cardboard Village has been one of the most confrontational films of the festival. It could be a tough sell in the UK (the last Olmi film to show in Britain was the wonderful One Hundred Nails (2007), and that no further than the London Film Festival), but let's hope some enterprising British distributor gives it a shot.
Movies to home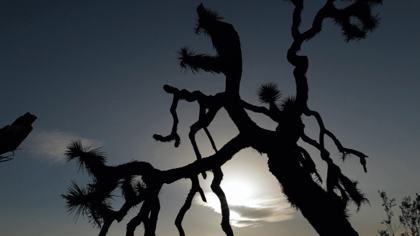 In the Orrizonte section I was also very taken by the documentary Hollywood Talkies (above), directed by Oscar Perez and Maria del Mar de Ribot and produced by Luis Minarro (responsible, through his production company Eddie Saeta, for such recent greats as last year's Aita, as well as this year's Brazilian Venice entry Swirl, fulsomely praised by Neil Young in his day six post).
This film too is about migrants, here Spaniards striking out for California at the birth of the talkies, when the Hollywood studios had begun bringing Spanish actors on set at the end of each to reshoot scenes for the Spanish-language market. It combines group portrait photographs with depopulated fragments of Californian beaches and buildings, while an engaging narration focused in on overlooked individuals and stories.
It's a small film, for sure, and probably won't win any prizes, but I found it compellingly evocative of this vanished era, a poised and moving act of historical recovery. One acquaintance detected a note of anti-Americanism, which I hadn't picked up on, perhaps because the narrator is American, but perhaps I fell for a deliberate attempt to forestall such criticism.
Black and white
A somewhat more brash and overtly confrontational take on the immigrant Other came courtesy of Nicolas Provost, also in Orrizonti. The Invader opens on a woman's naked crotch as she lies on a nudist beach. She slowly gets up and walks to the sea, from where an exhausted African man emerges and locks gazes with her.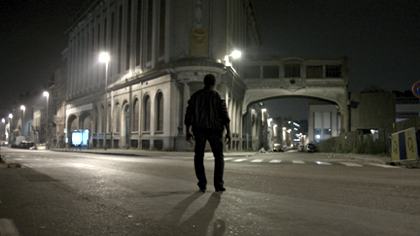 That in-your-face yoking together of race and sex, black and white, pretty much encapsulates everything the film will be about thematically, as well as its self-consciousness and tendency to overstate. Amadou, played brilliantly by Issaka Sawadogo, will seek to turn the tables on brutally exploitative employers, at the same time as pursuing a sexual obsession with a high-flying married white woman. The film had its supporters, and as with that opening there are striking moments; but I never quite believed in the Amadou character, and the revenge story became grimly predictable.
Some must have prizes
As the final weekend looms, thoughts turn to potential prize-winners. There seems to be support for David Cronenberg's A Dangerous Method (also in the London Film Festival), and a strong headwind behind Ann Hui's A Simple Life.
I hope the best film I've seen, Yorgos Lanthimos' Alps, gets something, but I suspect it won't; the majority here seem to have rejected it, at least according to the critical round-up in Variety.
The three British films in competition have been reasonably well received on the whole, particularly Tinker Tailor Soldier Spy, and could certainly figure. But with Ben Rivers and Andrew Kötting still to show in the Orrizonte section, the best of British might be yet to come.
---
« Day seven: Vamps, migrants and apocalypse
Day nine: The sacred and profane »
See also
Memento mori: Jonathan Romney on Xavier Beauvois' Of Gods and Men (January 2011)
Tickets reviewed by Roger Clarke (December 2005)
Family photos: Sukhdev Sandhu on John Akomfrah's Mnemosyne (January 2010)
Now you has jazz: Laura Mulvey on the advent of the talkies (May 1999)
Thunder roads: Michael Atkinson on gangsters, the Great Depression and America's nomad soul (August 2009)
Syriana reviewed by Ryan Gilbey (April 2006)