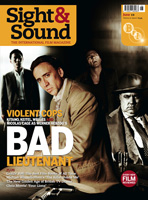 When does a good cop turn bad? Our June issue traces the lineage of corrupt screen police, from Orson Welles' Touch of Evil to Werner Herzog's rococo new The Bad Lieutenant Port of Call: New Orleans. We talk to Herzog and his star Nicolas Cage, before turning to Michael Winterbottom's riff on the genre The Killer Inside Me, a faithfully brutal take on Jim Thompson's hardboiled novel (we also look at the Hollywood career of this booze-soaked prince of pulp). And we also probe Götz Spielmann's Revanche, a richly pensive variant on the cop-and-robber thriller.
The bad cops of The Wire and The Shield are inevitably name-checked in the case studies above: it's a given that they embody a current 'golden age' of US television drama, and some bemoan the absence of comparable ambition on the British small screen. Look again, says Mark Duguid. There's a new generation of gifted TV writers right under our noses, he argues.
We've also been wondering what the best film books ever published might be. In fact we've been polling 51 leading critics and writers to find out: whether or not you agree with their consensus choices, their myriad recommendations are fascinating and inspiring.
We also interview The Girl on the Train's André Techiné and Lebanon's Samuel Maoz, celebrate the painterly camerawork of DP Jack Cardiff, delve into the early-70s paranoia of R.W. Fassbinder's restored TV sci-fi World on a Wire and analyse Tilda Swinton's box-office pull.
We've reviews of 36 new film releases – including Chris Morris's Four Lions, our film of the month – and 21 new DVDs, including reevaluations of Ang Lee's Ride with the Devil and René Clair's The Italian Straw Hat, along with a paean to 1960s US TV series Route 66. And our Books section covers new tomes on Robert Altman, Harun Farocki and children on screen. Dive in!
See also
Subscribe now!
Save £9 on the cover price, get a free DVD and receive new issues hot off the press and direct to your door.
View our archive
Order back issues, or search our online database of reviews and features from the magazine