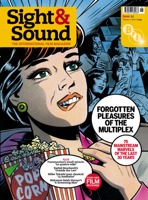 "If you look back at the writings of cinephile critics of [the 1960s and 70s], they were interested in a much broader range of cinema and seem much less defensive about arthouse films than this generation."
— Nick James, June 2011 Editorial
To mark the onset of summer, we've let our critics loose on 75 'forgotten pleasures of the multiplex' – critically and commercially neglected mainstream movies from the past 30 years which we are nominating for their belated day in the sun.
The selections broach 'honest' weepies, French feminist romcoms and latterday Jack Black vehicles, not to mention a short litany of sci-fi fantasias (The Arrival, The Butterfly Effect, The Craft, The Entity); they argue the disquieting ingenuity of Final Destination 3 and the "wit and style" of the Jennifer Aniston vehicle The Switch, and draw glowing comparisons to classics from Lancelot du Lac and Double Indemnity to It Happened One Night and the Marx Brothers. Directorial credits range from David Mamet to Zalman King, with Walter Hill and David N. Twohy each earning two mentions, but – not to be too auteurist about this – Fairuza Balk also stars with two citations from just one writer.
Another June theme is African families subsumed by warfare, whether the Algerian independence struggle in Rachid Bouchareb's Outside the Law or Chad's ongoing civil war in Mahamat-Saleh Haroun's A Screaming Man.
"I wanted to change the usual way of making films about liberation," Bouchareb tells Ali Jafaar, explaining how he modelled his saga of three divergent brothers on gangster and police procedural dramas. (Nonetheless, he says the film met continued hostility in France, half a century after the end of the war.)
Haroun's film continues the director's exploration of African patriarchy with a story of a proud father replaced by his son in his job as a hotel swimming pool attendant. He tells Suzy Gillett how he is fighting for African cinema and the continent's culture of everyday solidarity. "My characters are like lions in a cage," he says. "And at some point lions who are kept locked up for a long time in a circus lose their minds."
"Pythagoras supposedly said that each of us holds within us four consecutive lives, each one enmeshed in the others," Michelangelo Frammartino tells Jonathan Romney. Those four lives – mineral, plant, animal and rational being – constitute the four stages of Frammartino's remarkable, shape-shifting pastoral meditation Le quattro volte, with its intimations of reincarnation born of the ideas of the Calabrian sage. The film is most eye-catching for its anarchic deployment of a large herd of goats – it's "surely the Au Hasard Balthazar of goat movies", writes our reviewer Nick Bradshaw – but it also tells the story of an old goatherd, a fir tree and a charcoal kiln. "It's a political film, because it gives viewers choices," Frammartino says, elaborating on everything from Italian image culture and non-human viewpoints to new theories of biomorphic camouflage.
"To this day," writes Brian Winston, "Direct Cinema's style of handheld, available light and long-take synch shooting, with no added effects… is what the public seems to think of as documentary." The pioneer of that style was the late documentary innovator and evangelist Richard Leacock, who developed the tools and the grammar of that once-exhilarating new approach to reality. Winston analyses his achievements and unpicks the contradictions in Leacock's attempt to provide "the feeling of being there".
Elsewhere in the issue, filmmaker Mike Hodges remembers Elio Petri's game-filled 1970 Investigation of a Citizen Above Suspicion, Jonathan Rosenbaum journeys to the lost continent of neglected Catalan master Pere Portabella and David Thomson giddily recalls his young love for Jerzy Skolimowski's 1970 Deep End, re-released this month. James Bell talks to Love like Poison's Katell Quillévéré, Charles Gant counts the UK takings on recent Werner Herzog releases, and Nick Roddick begs for a more ambitious critical attitude to the complexities of film authorship.
We've reviews of 39 new film releases – including Miike Takashi's unexpectedly classical samurai drama 13 Assassins, our film of the month – and 21 new DVDs, including the surviving silent films of Japanese master Naruse Mikio, Fritz Lang's Indian adventure epic and Vincente Minnelli's Hollywoodites-abroad fable Two Weeks in Another Town. And our Books section ranges from Sydney Chaplin to Kim Newman's Nightmare Movies via the arthouse film renaissance in post-war America.
---
Subscribe today, save £9 on the cover price, get a free DVD and receive new issues hot off the press and direct to your door!
See also
Unknown soldiers: Rachid Bouchareb talks to Ali Jafaar about Days of Glory (April 2007)
Beyond the horizon: Mark Cousins on the New Crowned Hope series of commissions (including Mahamat-Saleh Haroun's Dry Season) (July 2007)
Daratt reviewed by Roy Armes (August 2007)
Abouna reviewed by Philip Kemp (December 2002)
Side tracks: Geoff Andrew sees Le quattro volte at Cannes (May 2010)
I'll Sleep When I'm Dead reviewed by Ryan Gilbey (May 2004)
Deep End reviewed by Nigel Andrews (Monthly Film Bulletin, April 1971)