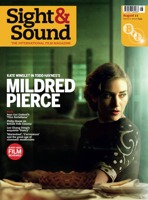 A new Todd Haynes film is always something to shout about, and we're pleased to report that his latest lives up to all our elevated expectations. This month's cover star Kate Winslet plays the eponymous lead in Haynes's remake of Mildred Pierce, Michael Curtiz's noirish 1945 adaptation of James M. Cain's Depression-era source novel, one of Joan Crawford's greatest roles. Haynes' version is in fact not a feature film – at least not yet – but a five-part mini-series for HBO; don't assume any lack of reach or ambition, however – it "offers all the quality and craft the hardest-core cinephile could ask for", says Paul Julian Smith, in the service of an intelligent, involving reconceptualisation of both source novel and earlier film. Haynes speaks at length and in-depth to Isabel Stevens about his motives and methods in adapting such rich material.
From Depression-era America to Europe and Japan in the 1960s – we've three features this month which home in on that decade's incredible flowering of formal modernist experiment, borne aloft by political and philosophical ferment across the globe. Alexander Jacoby explores the legacy of Japanese distributor-turned-producer the Art Theatre Guild, "one of the country's few significant sources of creative filmmaking" throughout the 60s, where the likes of Oshima, Shinoda, Matsumoto and Terayama were given the space and autonomy to challenge society's norms and craft some of their most profound works. "Their visual beauty and imagination remain enthralling for any engaged spectator," Jacoby believes, and you'll have the opportunity to judge for yourself at the BFI Southbank in August.
Concurrently, in Europe, the likes of Michelangelo Antonioni and Alain Resnais were busily overturning every received notion to do with film language and narrative. In our latest entry in the countdown to 2012's Poll of Polls, Robert Koehler advocates passionately on behalf of L'Aventurra, "the greatest of all films in its assertion, exploration and expansion of the concept of the 'open film'… an openness based on a heightened perception of constant change – a dynamic that was for Antonioni the fundamental quality of the post-war world."
Meanwhile, at about the same time in France, Resnais and the writer Alain Robbe-Grillet were dreaming up what Brian Dillon calls 'cinema's greatest hymn to stasis' – Last Year in Marienbad, whose capacity to bemuse, beguile and above all haunt the imagination remains undiminished to this day. Dillon explores the film's aspiring towards the condition of sculpture, while Keith Reader teases out its masochistic undercurrents through the prism of Gilles Deleuze.
Speaking of formal experiment, brace yourself for the latest Jean-Luc Godard opus, Film Socialisme, a poetic essay that will by all accounts call time on – arguably – the greatest career in cinema history. Our writer Gabe Klinger takes on Godard in an aptly patchwork, fragmented manner, through a series of key dates in his life and oeuvre that shed fascinating light on the teeming ideas in this latest, typically gnomic film.
Altogether more conventional in its narrative unfolding, but no less rich or complex, the release of Lee Chang-Dong's Poetry is a cause for celebration – it's the first of his films to be distributed in the UK, despite him being one of the most significant cultural figures in contemporary South Korea, with four other features under his belt, not to mention a few novels. Tony Rayns weighs up Lee's achievement in this latest film, his 'poetic ability to dramatise unspoken thoughts and feelings'. We can safely predict that Poetry will rank very high in our end-of-year poll.
In 'Listen to Britain', Philip Hoare explores the vanishing world of British folk culture evoked by the BFI's new DVD collection of folk films, while folk-singing legend Shirley Collins remembers the pioneering field work of Alan Lomax and Peter Kennedy.
Elsewhere in the mag, we delight in the return of offbeat British indie talent Jamie Thraves with Treacle, Jr., investigate Robert Breer's experimental animation and 'motion sculptures', report on the demise of the Edinburgh film festival, visit the set of Peter Strickland's follow-up to Katalin Varga and remember Ingmar Bergman's cinematographer Gunnar Fischer. And Bergman's daughter Lena fills us in on her father's private viewing habits.
We've also got reviews of 33 new films and 20 DVD releases, including Lars von Trier's The Kingdom 1 and 2, the astonishing, visually ravishing Szindbad from Hungary, and Fassbinder's Despair. Our Books section includes a definitive biography of Boris Karloff, a graphic novel based on the film Born in Flames, a compendium of 100 Silent Films, and a re-evaluation of director James Bridges.
---
Subscribe today, save £9 on the cover price, get a free DVD and receive new issues hot off the press and direct to your door!
See also
Extra images from this issue on Sight & Sound's Flickr gallery
Antonioni: the afterlife: Chris Darke pursues the spirit of the late Italian master through recent films, plays and books (March 2011)
In the realm of Oshima: Alexander Jacoby praises the fiercely modern Japanese films Oshima Nagisa made in the 60s (September 2009)
Geometry of feelings: Guido Bonsaver on Antonioni's L'eclisse and the appeal of the 'anti-Fellini' (July 2005)
I, a man of the image: Michael Witt talks to Jean-Luc Godard (June 2005)
Magnificent obsession: Richard Falcon on Todd Haynes's Far from Heaven (March 2003)