Film of the month: Treacle, Jr.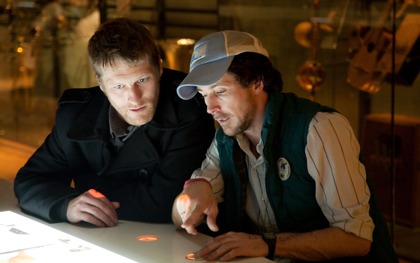 Only the third film Jamie Thraves has managed to get made in over a decade, Treacle, Jr. confirms him as a British filmmaker with a distinctive comic touch and a sympathy for oddball outsiders, says Trevor Johnston
Here's what you'd call genuine independent cinema. Writer-director Jamie Thraves remortgaged his house and persuaded his sister and brother-in-law to co-fund this endearing South London comedy-drama. No Channel 4, no BBC, no distribution pre-sales, just do it. So Thraves gets the freedom to put together the hang-loose film he wants to make, without having producers trying to second-guess its commercial prospects, yet does so at the cost of a certain personal financial stress. At which point, it's imperative to point out that Treacle Jr. is certainly no esoteric indulgence, but a funny/sad story of odd-couple social misfits that has evident audience appeal.
In fact, given its presumably modest budgetary requirements, it's hard to see quite why Thraves had to go the solo route to get it made at all, especially when you cut back to 2000, when a hot young filmmaker off the back of terrific shorts and award-winning music videos turned out The Low Down, a twentysomething slice-of-life that looks now – as it looked then – like one of the defining British films of its era. What's happened between then and now speaks volumes about the UK film industry's relationship with filmmakers who don't quite fit the usual boxes – yet also perhaps about Thraves's own sensibility and how it works with the challenges of feature narrative.
One thing that's abundantly clear from Treacle Jr. is that Thraves is a filmmaker with an abiding set of preoccupations, who puts a personal stamp on all his work. It's crisis-of-masculinity stuff, in a way, focusing on men uneasy with the demands of domestic responsibility, or even social identity as such. In The Low Down Aidan Gillen's commitment-averse prop-maker Frank bristles at being judged by others with the dread question: "So what do you do?" In Thraves's barely released 2008 Patricia Highsmith adaptation The Cry of the Owl, a post-breakdown Paddy Considine finds his greatest happiness at one remove from others, when he's spying unseen on Julia Stiles pottering around her isolated house. This time, the very briefest rendering of suburban husband and father Tom (Tom Fisher) at home with wife, baby, piano and patio doors proves, in the Thravesian universe, enough to have us understanding why he gets the train to London, throws away his phone and credit cards, then starts again – this time on a park bench with a carry-out.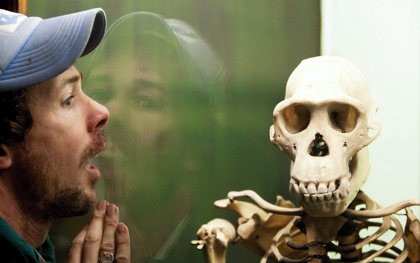 There's scant sentiment or sense of liberation about where this gets Tom, however. Thraves can't help but offer us elegantly framed images of London parks, yet the threat of violence is there. Losing his cash leaves Tom begging for spare change, seeing what used to be his middle-class world from the outside looking in. Not that the film's some social-conscience heart-tugger; instead it's more concerned with the catalytic process that might turn the fugitive Tom around and allow him to work through his fears and insecurities.
Enter Aidan (Aidan Gillen), the sort of over-friendly, socially maladjusted loudmouth any one of us would happily cross the street to avoid. The contrast with the lanky, languorous, softly spoken Tom could hardly be more acute, as the mercurial, nonsense-spewing Aidan sticks limpet-like to his new best friend. "Am I annoying you? 'Cause you can tell me if I am," he says in a voice spraying Donald Duck sibilants. Aidan knows he's a pain in the arse, but he's so indefatigable with it that even Tom eventually comes to appreciate the kindness and vulnerability lurking behind an eminently throttlable exterior. Gillen's characterisation here is light years away from the reserve he showed in The Low Down – a mark of what a gifted (and underused) screen actor he is.
All this plants us in Midnight Cowboy or Fisher King terrain, where the protagonist is saved by a foil who looks to be his social polar opposite – a familiar outline that allows Thraves to get some shape into his screenplay. If you're going to put insecure and hesitant characters centre stage, as Thraves likes to do, the process of dramatic development, ebb and flow, becomes something of a challenge, since a passive protagonist can lose the audience's sympathy or just bring the story to a stop. Back in The Low Down, Thraves's resourceful solution was to have friends and work colleagues amplify the questions of maturity and responsibility at the heart of the story, but with the long-gestating and intriguing-yet-flawed The Cry of the Owl, the serio-comic social portraiture of faux pas-prone Considine proved an uneasy fit with the demands of the murder-themed plotline.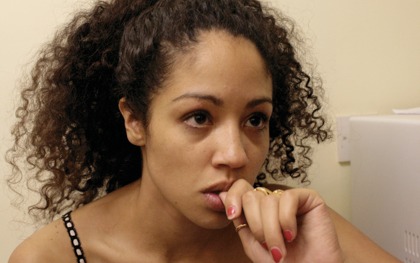 Again with Treacle Jr. – titled after Aidan's pet kitten, thus flagging up the nurturing element of the material – the dynamic between the two men works a treat, yet the story beats are often wobbly, to say the least. While Aidan talks an absolute pile of shite, his fearlessness, generosity, optimism and flashes of self-knowledge cumulatively make an impact on Tom, driving the story along to a touching if somewhat over-telegraphed conclusion. Getting to that point, however, involves a surfeit of coincidence and the machinations of Linda (Riann Steele), a street-hardened hustler who's handy with the mitts and allergic to cats, but remains a far sketchier presence than the men. Moreover, when Thraves replays key lines of dialogue over the story's coda in a bid to underline its emotional impact, you're definitely left with the sense of a filmmaker who knows his big finale needs a bit of help to sustain its would-be warm glow.
The real strength of Treacle Jr., however, lies in what's going on between Tom and Aidan – the character moments of disdain and realisation, tension and acknowledgement. Going right back to his videos for Radiohead ('Just', 1995) and Coldplay ('The Scientist', 2002; 'God Put a Smile upon Your Face', 2003), it's clear that Thraves has always had a thing about men out of step with the society around them – something he's successfully allied to a remarkable knack for making the milieu of a story seem an essential part of its emotional fabric. For sunny, ungentrified Dalston and dark, woody Canada in his first two films, read South-East London here, as Thraves discovers greenery and interesting churches to suggest a lifting of the spirits amidst the prevailing urban grunge. The profile that emerges from his three films over the last 11 years is of a naturally gifted observer – of the micro-detail of social interaction, of the way places and spaces affect us – to whom extended storytelling doesn't yet come quite as easily.
The fact there have only been three films in that time – one of which Thraves partly paid for out of his own pocket – in the end tells its own story, which basically boils down to this: an industry always on the lookout for the hot new indie talent – until their first film underperforms at the box office, from which point they're out on their own. Perhaps it will ever be thus. Sure, Treacle Jr. has its glitches, but it's a lovely film, tender and funny, with a splendidly judged performance from Aidan Gillen, and so much more craft than the usual low-fi, handheld murkfest. It reaffirms that Jamie Thraves really is a special talent. But if you want to see his next film, make sure you catch this one. Simple as that.
See also
Off the rails: Nick Bradshaw blogs about the premieres of Treacle, Jr. and Neds at the London Film Festival (October 2010)
Down in the hole: Kent Jones on The Wire (May 2008)
Lonesome cowboys: Roger Clarke on Brokeback Mountain (January 2006)
Reasons to be cheerful: Ryan Gilbey on Mike Leigh's All or Nothing, Ken Loach's Sweet Sixteen and the state of British cinema (October 2002)
Le Dîner de cons reviewed by Philip Kemp (July 1999)