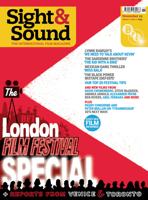 It's autumn, film festival season is here and our November issue dives right in with a 17-page preview of the BFI London Film Festival, as well as reviews of the hits and disappointments at the Venice and Toronto festivals.
Kicking off our coverage of the London Film Festival, Hannah McGill talks to Scottish director Lynne Ramsay, who since emerging in the late 1990s with one of the most astonishing debut features in living memory, Ratcatcher, and causing a similar stir with its follow up, Morvern Caller, has been an absent presence in the British film landscape, stuck for years in development hell on The Lovely Bones (a project which Peter Jackson eventually muscled her off).
But this month she returns with her take on another hit novel, Lionel Shriver's controversial We Need to Talk About Kevin. "It was the first thing I'd read that I thought was really original about a taboo subject: what if you don't like your child?" the director tells Hannah McGill, with whom she talks about the struggles to get the film made ("it's Fitzcarraldo stuff!"), finding the humour in such a dark story and toning down Tilda Swinton's natural exoticism. Swinton may be the film's star, but for our reviewer Tim Robey it's Ezra Miller, who plays Kevin, who, "with his saturnine sneer and mocking sexuality… puts Swinton excitingly through her paces."
"Brothers Jean-Pierre and Luc Dardenne have few equals in terms of consistently magnificent filmmaking," argues Geoff Andrew, who talks to the influential Belgian directors about their latest, The Kid with a Bike, which shows as the Sight & Sound special screening at the LFF.
The film seems a departure for the brothers' work in many ways: it doesn't have an inner-city setting, it was shot in the summer, it features a French star in Cécile de France, and yet, says Andrew, "it's as bracingly honest, lucid and rigorously unsentimental as their other films."
"It's as if we wanted to be less shocking, more straightforward," agree the directors. "But let's see what happens with our next film!"
Bracing is also good word to describe Mexican director Gerardo Naranjo's Miss Bala, a riveting story of a would-be beauty queen who is kidnapped by Mexico's violent drug gangs, which screens at the LFF and also opens nationwide this month. But if the set-up suggests the film will employ stereotypes and facile contrasts, it's in fact a thoughtful and nuanced thriller, and not just yet another document of Latin America's social ills, argues Paul Julian Smith. "There is unaccustomed solemnity in the pace of shooting and cutting," Smith argues, pointing out that "explicit violence is conspicuous by its absence in most of Miss Bala" and that its deceptively simple technique accurately conveys "a society whose citizens are isolated from one another even when they share the same space."
Our coverage of the LFF continues with a roundup of the festival's documentary contingent by Nick Bradshaw, who's especially intrigued by a trio of British films – Simon Pummel's Shock Head Soul, Carol Morley's Dreams of a Life and Richard Jobson's The Somnambulists – that blur the boundaries of the form. "Is this documentary?" Bradshaw asks of Jobson's film, though it's a question that could be asked of many of the documentaries in this year's festival. "There's an ambiguity of means and ends that puts the film on the cusp between fact and polemic."
Form-breaking in a different yet equally exciting way is the unique Dreileben project, a collaboration between three German directors who have each made a feature about the same basic story – a convicted serial killer on the run in woods outside a fictional German town – but told from differing perspectives. Isabel Stevens finds it to be "undoubtedly one of the most ambitious and exciting cinematic events of the year. While the films work on their own they are best viewed as a triptych; together, they offer a splintered, interlinking narrative with characters casually appearing from film to film, but without the gratuitous Iñarittu-style sense of interconnectivity."
Rounding off our LFF preview, S&S Editor Nick James talks to the festival's departing artistic director Sandra Hebron about her nine years in charge, the BFI National Archive's Bryony Dixon finds the newly restored 1928 British silent The First Born awash with Hitchcockian resonances – perhaps unsurprisingly, given that it was written by Hitch's wife and crucial artistic collaborator Alma Reville – and Tony Rayns introduces two Tibetan films that screen at the festival, arguing that "the rise of an ethnically Tibetan cinema is the hottest development in Chinese film… for the first time in 60 years, Tibetan culture is speaking directly to the outside world." Plus we run down our top picks for this year's festival.
Many of the films screening at this year's LFF are still hot from their first unveilings at the earlier Venice and Toronto festivals. Reporting from Venice, Kieron Corless runs through several of these, such as Steve McQueen's Shame, in which Michael Fassbender stars as a sex-and-porn-addicted New Yorker. Corless finds it "big, confident, visually seductive", but also finds something "schematic, even clichéd in the conception of the Fassbender character." For Corless, the most interesting films at this year's Venice festival included Ben Rivers's Two Years at Sea, Aleksandr Sokurov's "technically flawless" Faust and Yorgos Lanthimos's Alps, which impressed for its "grasp of off-kilter psychology, depth and coherence of execution and the brilliance of its governing premise."
At Toronto, Tom Charity gives his verdict on new films by, among others, Alexander Payne, Francis Ford Coppola, Pawel Pawlikowski and David Cronenberg, whose latest, A Dangerous Method, about the relationship between Freud and Jung, he finds "never less than interesting, especially in its witty Oedipal delineation of the great theorists' mentor-pupil relationship," but also disappointingly anti-climactic and bloodless.
Away from the festivals, Nick Bradshaw has a lively encounter with Paddy Considine and Peter Mullan, the irrepressible star of Considine's directorial debut Tyrannosaur, a story about a reformed alcoholic's relationship with a victim of domestic violence. Its gritty story locates the film firmly in the British film tradition, but neither man wanted to make 'social realism', as Considine says: "I didn't want to overshot it and get handheld and swing the camera around – all those methods I thought had become a bit of a shorthand for people not knowing what they wanted."
Finally for this month's features, Ian Christie looks at the state of 3D filmmaking, as, two years on from Avatar, audience fatigue and critical scepticism about 3D may be peaking just as adventurous 3D work is coming our way in the likes of Spielberg's The Adventures of Tintin and Scosese's Hugo. 3D can still become a vital part of a broader audiovisual culture, Christie argues. "Does it have to be all or nothing, as some are urging – on both sides?"
Elsewhere in our November issue, Kim Newman reports on the vile delicacies on offer at this year's FrightFest, Michael Atkinson unearths The Mist in the Palm Trees, a haunting found-footage montage of 20th-century history, Mark Le Fanu visits the locations of Tarkovsky's Stalker and we pay tribute to the late underground American filmmaker George Kuchar.
We review 40 new cinema releases – including our Film of the Month, The Black Power Mixtape 1967-1975, a fascinating documentary crafted from a goldmine of original footage of the Black Power movement found in the archives of Swedish television.
Our DVD reviews include the thrilling Harakiri – "one of the greatest of all Japanese films", according to our reviewer Michael Brooke – an essential new BFI collection of Humphrey Jennings's early work on DVD and Bluray, and Tim Lucas revists Radley Metzger's 1960s erotic cult classic The Lickerish Quartet. And our Books section features reviews of a new look at Japanese avant-garde cinema of the 1960s and 70s, a definitive study of the work of Ken Loach and, last but by no means least, a guide to the often-derided European Western.
---
Subscribe today, save £9 on the cover price, get a free DVD and receive new issues hot off the press and direct to your door!
See also
London Film Festival 2011: 30 recommendations (October 2011)
Ratcatcher reviewed by Charlotte O'Sullivan (November 1999)
Weight of water: Jonathan Romney on the Dardenne brothers and L'Enfant (April 2006)
Naughty new vocabularies for documentary: Demetrios Matheou on Copenhagen's CPH:DOX festival (November 2010)
Sandra Hebron video interview (October 2010)
Ah Liberty!: Kieron Corless on Ben Rivers's short films (November 2008)
Venice Film Festival blog (September 2011)
Women and horror: Mark Pilkington on the gender question in three new films at this year's FrightFest (September 2011)