Film review: Damsels in Distress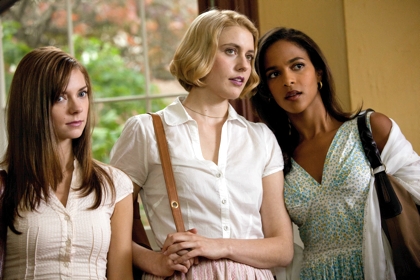 The erstwhile laureate of satires of the American preppie heart, Whit Stillman breaks his 13-year silence with a decidedly tongue-in-cheek college comedy. Kate Stables wonders if its frivolity is for real
---
from our May 2012 issue
---
One of that wave of 1990s indie auteurs whose oeuvre has been stalled by the vagaries of recent film funding, Whit Stillman has just made his first feature in 13 years. Connoisseurs of his gently satirical comedies of manners in which young preppies earnestly debate morality and negotiate romantic obstacles can rest assured. The good news is that little has changed. But then, the bad news is that little has changed. Damsels in Distress, a charming but determinedly fanciful campus comedy in which a bossy quartet of girls try to 'civilise' their boorish male counterparts and find love, registers as a sweetly comic romp, but one stylised (or Stillmanised) to the point of self-parody. The sunny Ivy League landscapes, pastel twinsets and frothy subject-matter combine to create a cutely timeless and technology-free world of dating, dancing and do-gooding.
Taking its cues and its look from movies of a more innocent age, the film chooses to ignore the Facebook and hook-up reality of today's youth. Instead there's a nostalgic, mock-serious, girlish frivolity that makes it feel like 'Clueless Goes to College', as Violet and her acolytes date dim frat boys as a form of social work ("With someone frankly inferior, it's more rewarding") and organise soap donations to smelly male dorms. The slightly jarring note in this world of unfettered whimsy is the film's arch treatment of the girls' Suicide Prevention Centre, where only the certifiably depressed may be treated to Dunkin' Donuts and tap-dancing classes. Sly laughs are wrung from an inept suicide attempt but, despite the whiff of Heathers (1988), there are no blackly comic yucks here.
As usual in Stillman's work, scenes are propelled by verbose streams of opinionated chat, some of them very funny (there's a gloriously straight-faced riff about Cathar beliefs and "non-procreative sex") but others straining for laughs – the running gag about a pushy-parented frat boy who has never learned to recognise colours feels like a discarded Saturday Night Live sketch. You're never quite sure if Damsels in Distress is misfiring as a comedy, or if Stillman's teasing scripting is simply spoofing the genre. In his previous films, discussion often formed a key plot component – an unwisely fabricated tale and a verbal duel between a principled WASP and a Eurotrash womaniser were two of the pivotal points in Metropolitan (1989). Here, both dialogue and plotting are prettily presented but unfocused, and the broadness of the comedy makes the romantic misadventures of Violet and her new recruit Lily appear whisper-thin.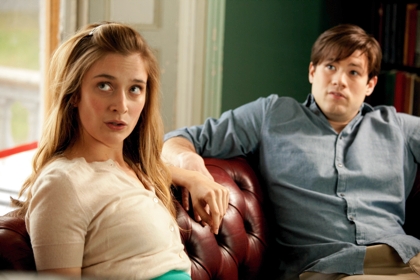 A deliberate flatness in the performances doesn't help, since only Greta Gerwig's Violet (smacking her gags home in deliciously deadpan fashion) can make her affectless delivery appealing, and her lovelorn predicament involving rather than faintly irritating. Her wide-eyed intensity comes into its own during the film's charm-bomb of a finale, an endearingly clunky song-and-dance routine to 'Things Are Looking Up' in which Gerwig dances as gamely but gawkily as Joan Fontaine in the film's 1937 near-namesake A Damsel in Distress.
Whether Stillman's existing fans will enjoy the film's unabashed levity and larkiness or miss the dry social commentary and yuppie heart-searching that marked out Barcelona (1994) and The Last Days of Disco (1998) is anyone's guess. Leaving autobiography behind (the previous trilogy were rooted in Stillman's experience of the debutante circuit, Studio 54 and a stint in Spain) seems to have lessened the director's insight, if not his wit. Newcomers won't notice a certain lack of heart, but those of us who enjoyed Stillman's decade as New York's answer to Eric Rohmer might mourn its absence.
See also
Eccentricities of American college life: Gabe Klinger blogs on Damsels in Distress from the Venice Film Festival (September 2011)
Greenberg reviewed by Nicolas Rapold (July 2010)
Boys' own stories: Henry K Miller on Indiewood aka the Frat Pack (March 2008)
Superbad reviewed by Ryan Gilbey (November 2007)