The Devil Wears Prada
USA 2006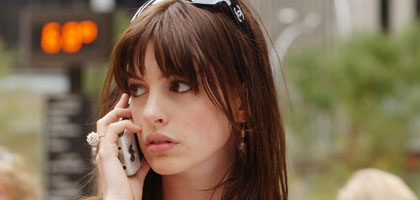 Reviewed by Liese Spencer
Synopsis
Our synopses give away the plot in full, including surprise twists.
New York, the present. Scruffy college graduate Andy Sachs gets a job at fashion magazine Runway as assistant to its exacting editor, Miranda Priestly. Like her colleague, Emily, Andy is constantly on call. When her father comes to stay, Miranda interrupts their dinner with a call from hurricane-hit Miami; Andy must find her a flight to New York. When Andy fails, Miranda is furious. Fearing she will be fired, Andy goes to assistant editor Nigel for advice. He tells her she must take her job seriously, and dresses her in haute couture.
Andy sees little of her friends and boyfriend Nate. One night, at a fashion party, Andy meets famous reporter Christian Thompson and tells him her ambition is to be a journalist. When Miranda orders Andy to get the unpublished manuscript of the new Harry Potter for her daughters, Christian helps her. Working late, Andy misses Nate's birthday party. Miranda tells Andy to come to the Paris shows instead of Emily. As Andy calls to tell her friend about this, Emily is run over by a taxi. Andy and Nate split up.
In Paris, Nigel tells Andy he is leaving Runway for a new job. Miranda reveals she is getting divorced. Andy sleeps with Christian. He tells her that Miranda is going to be ousted from Runway. Andy tries to warn Miranda. At a gala dinner Miranda congratulates a rival for getting what was to be Nigel's new job. Afterwards, Andy throws away her cell phone and walks off. Back in New York, Andy gets back together with Nate and goes for an interview on a newspaper.
Review
A women's version of Wall Street, The Devil Wears Prada is one of those morality tales in which the fun is all to be had on the slippery slide into corruption. Anne Hathaway is Andy Sachs, the modern-day Cinderella who falls through the rabbit hole into a surreal world of insanely well-groomed creatures and incomprehensible social codes. Accompanying Andy on her wide-eyed induction into this bizarre subculture, the viewer finds herself on the VIP guest list for a hidden New York of plush high-rise offices, private parties and Park Avenue apartments. As with fashion insider Lauren Weisberger's original, tell-all novel, the result is a voyeuristic treat. A kinetic opening sequence sets the scene with expensive lingerie slipping onto perfect, nameless bodies across the city. These fetishised objects are the magazine's stilettoed staff (or "clackers", as Andy names them), and the military precision with which they prepare for their working day is neatly contrasted with the heroine's muzzy roll out of bed. While these impeccably put-together fashionistas hail cabs, frumpy Andy walks along the honking street, munching a bagel.
As soon as she arrives in the pale, muted corridors of Runway magazine, we know we can look forward to a makeover moment. And, after some bitchy laughs ("are we doing a before and after I don't know about?" snipes one of Andy's new co-workers), the film doesn't keep us waiting for long. With the help of fairy godfather and assistant editor Stanley Tucci (convincingly camp rather than a scream-queen caricature) Andy is ushered into the magazine's enormous walk-in wardrobe - there's even a brief waft of "aah-aah" heavenly music as the door opens on those designer racks - and for the rest of the movie the audience is treated to a series of adorable new outfits.
It's a commonplace to say that heterosexual women wear fashion not for men but for each other, and The Devil Wears Prada immerses itself in this girl-on-girl world of mutual scrutiny and appreciation. Fitting, then, that the real romance of the film should be not between Andy and her boringly upright college boyfriend, but that between the pliant Andy and her capricious, charismatic boss, Miranda Priestly. Its sado-masochistic nature shows just how corrupted Andy has become: Miranda doesn't actually ask Andy to lick her Manolos, but she might as well do. Andy is Miranda's slave, on call to perform menial tasks 24 hours a day. As her boyfriend says, "the person whose calls you take is the one you're having a relationship with". If Hathaway, with her huge eyes, full lips and long dark hair, is Disney's Snow White come to life, then Meryl Streep, playing Miranda, does an excellent impression of the wicked witch. An ice queen with steel hair, Streep's capricious, all-powerful editor makes impossible demands in a soft, fluty voice, dismissing Andy with a comically understated "that's all". Reputedly styled after the fearsome reputation of American Vogue editor Anna 'nuclear' Wintour, Streep's performance is as supple as a kid glove, evoking both the loneliness and erotic charge of ultimate power with a moue of her mouth or arch of her eyebrow. Like most dictators, at times she appears genuinely mad. As one would expect from a director whose credits include Sex and the City, David Frankel gives New York a lustrous, seductive sheen, moving smoothly between the city's different habitats. Brisk edits whisk us from private fashion shows to gala benefits to 'urban jungle' shoots in Central Park. Needless to say, while they might share the same geography, Andy's two-dimensional friends inhabit a far less glamorous milieu: poky apartments and gloomy, empty restaurants.
Everything moves along swiftly to pumping pop. There's no time to think, which is lucky since there's not much to think about, and even fewer characters to care about (even Andy is too meek to really root for). Instead, you're invited to window-shop the city. Whether as vertiginous grid, or block after block of floating lights, the Manhattan skyline is a dizzying presence. Slick, superficial and enjoyable, The Devil Wears Prada never takes itself too seriously. Satire it's not, but it is peppered with cute one-liners.
Although Andy's eventual moral rehabilitation is entirely predictable, the film doesn't bother pretending this is something anyone wants to see and essays it in the most perfunctory way possible - with an admirable lack of finger-wagging. Andy gets back into her studenty clothes and makes up with her boyfriend before being interviewed by a paternal boss in a drab office. It almost feels like an unhappy ending, a sensation underlined by a scene in which Andy watches Miranda wistfully from afar, like an old lover. The magic is gone. Back to reality.
Credits
Produced by

Wendy Finerman

Screenplay

Aline Brosh McKenna

Based upon the novel by

Lauren Weisberger

Director of Photography

Florian Ballhaus

Film Editor

Mark Livolsi

Production Designer

Jess Gonchor

Music

Theodore Shapiro