NOZONE - The moral maze
DVD review: Eric Rohmer's Six Moral Tales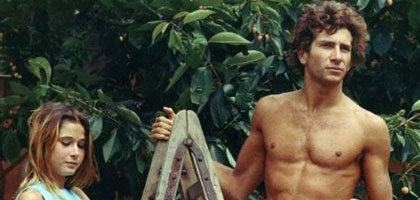 The subtleties of Eric Rohmer are brought to vivid life by a fine new box-set. By Tim Lucas.
Eric Rohmer; Criterion/Region 1; Aspect ratio 1.33:1; Features: Rohmer shorts, interviews with Rohmer and collaborators, critical essays and a book of Rohmer's original stories
The Bakery Girl of Monceau/Suzanne's Career/La Collectionneuse/My Night at Maud's/Claire's Knee/Love in the Afternoon
The six films comprising this series offer different sketches of the same dilemma. A man falls in love with a woman, thereby forming a commitment, either in fact or in principle, and then must navigate safe passage through sexual temptation by relying on (and sometimes discovering) his moral code, proving himself worthy of that love. Rohmer's brand of morality is subjective and non-judgemental; his characters include students and petits bourgeois and the idle rich, Catholics and atheists, singles and marrieds-with-children, and their standards vary. The point is "to thine own self be true" as the series depicts the ways in which thoughtful people can meet themselves in the mazes of their own stratagems, and how their true selves are sometimes at odds with the people they think they are or aspire to be. These films have been available on DVD before, but only in stale-looking, no-frills editions. The DVD label Criterion has come to Rohmer's rescue at last with one of its most welcome and ambitious box sets, one to rival its splendid 'Adventures of Antoine Doinel' François Truffaut set. Each of the films has been meticulously remastered in high bit-rate transfers supervised by Rohmer himself, in his preferred ratio of 1.33:1. Not only are the new transfers exquisite, they offer persuasive validation of the now unfashionable 1.33:1 ratio. The latter two films in the series were composed to allow for 1.66:1 projection; they may look more enveloping when zoom-boxed on a 1.78:1 widescreen set, but they lose much more than they gain - including most of the optional English subtitling.
The new transfers also lend greater pronouncement to Rohmer's rich gallery of characters and his carefully judged uses of colour. Le Collectionneuse is far more vibrant, and My Night at Maud's is one of the most ravishing black-and-white presentations you'll find on disc. The mono soundtracks seem newly alive, with often thematically enriching incidental sounds that lend soul to lonely rooms and scenic lakes alike; it's illuminating to crank up the sound when the films are most quiet, especially after learning from the accompanying supplements that Rohmer's attention to detail includes looping his films with only those background sounds likely to be heard in the specific times and regions that his scenes were shot. The yield of all this technical rejuvenation is that Rohmer's body of work, so often accused of being "filmed radio", becomes more inarguably cinematic. Further considerations are collected in the 56-page booklet On the Moral Tales, which presents essays by five critics and cinematographer Nestor Almendros, along with Rohmer's own 1948 essay, 'For a Talking Cinema'. Given the importance that Rohmer's films place on language, it must be mentioned that Criterion's "new and improved" English subtitles too often seem written to serve quick comprehension rather than the nuance of his original dialogue. The precision of the language and its occasional academic quality (appropriate to an era when people read and discussed books) have been boiled down to something more common and modernist. Everyone in these films sounds alike, regardless of education or background. Eliminated, for example, is much of the grating slang used by Chloé (Zouzou) in Love in the Afternoon; in the new translation, she and Frédéric (Bernard Verley) seem less uneasily matched, and the gulf between them more easily bridged, which disarms the film of some tensions that should be present. Similarly, in My Night at Maud's, a "pretext" becomes an "excuse", and the charming expression "affair of the heart" becomes the less sentimental but more easily scanned "love affair"; while in Le Collectionneuse a "change of opinion" becomes a "change of mind" (not quite the same thing), and some incidental but lengthy Italian dialogue receives no annotation whatsoever.
But Criterion deserves every plaudit for assembling such a thoughtful and wide-ranging resource of supplementary materials. Each feature is accompanied by a Rohmer short, selected for its thematic relevance: The Bakery Girl of Monceau is paired with Presentation or Charlotte and Her Steak (1951), another food-based romantic triangle starring an almost unrecognisable Jean-Luc Godard; Suzanne's Career with Nadja in Paris (1964), a profile of a young female academic; My Night at Maud's with On Pascal, a televised 1965 duologue between a philosopher and a Catholic priest; the youth-oriented Le Collectionneuse with A Modern Coed (1966); Claire's Knee with The Curve (1999), a delightful exploration of art's role in sexual aesthetics and the objectification of desire; and Véronique and Her Dunce (1958) seems related to Love in the Afternoon by the presence of a pretty blonde maths teacher. Adding text to subtext, Criterion includes an exclusive and illuminating 84-minute conversation between Rohmer and his longtime producer, Barbet Schroeder, an hour-long Rohmer interview from 1977 Canadian television, and archival interviews with interested parties from My Night at Maud's and Claire's Knee. It's a perverse pleasure to see the affectionate half-sisters from Claire's Knee, Laurence de Monaghan and Béatrice Romand, argue about what kind of person Rohmer really is. Rounding out the set are trailers for each film.
Seeing the Moral Tales in random order over time in no way compares to the pleasure of watching them back-to-back, as Rohmer intended. Love in the Afternoon contains a dream sequence in which the series' earlier female leads return to tempt its protagonist, a meaningless procession unless viewed this way. Criterion's set thus restores not only the pictorial radiance of these works, but their reinforcement of one another.