DVD review: Valley of the Bees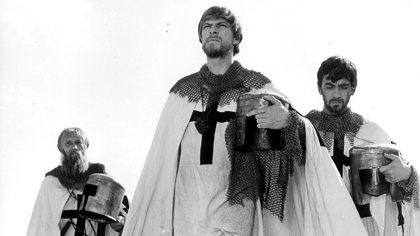 Marketa Lazarová director Frantisek Vlácil was much more than a one-work wonder, says Michael Brooke
The Valley of the Bees
František Vlácil; Czechoslovakia 1967; Second Run/Region 0; Certificate 15; 96 minutes; Aspect Ratio 2.35:1 anamorphic; Features: booklet (MFB 486)
Three years ago, the Second Run label disinterred František Vlácil's Marketa Lazarová (1967), giving one of central European cinema's major masterpieces an extremely belated British release. Despite its ecstatic reception, the film's creator remains in the shadows – so much so that there's now a danger of writing him off as a one-work flash in the pan. Thankfully, half a century after the lyrical children's parable The White Dove (1960) heralded one of Czech cinema's more distinctive voices, 2010 looks set to change things, with two more Vlácil DVDs expected from Second Run and (if present plans come to fruition) BFI Southbank mounting a long-overdue retrospective in the autumn.
Vlácil's domestic critical reputation has long been high. In 1998, just before his death, a Czech critics' poll placed four of his films in the top 50, with Marketa at number one. Internationally, however, he suffered from being a generation older than the young radicals of the Czech New Wave of the 1960s, whose quirky, low-key films made Vlácil's large-scale medieval epics look distinctly unfashionable – though they've arguably dated far less in the intervening decades.
This phase in his career began with The Devil's Trap (1961, currently unavailable except for a tantalising YouTube clip), continued with Marketa Lazarová and concluded with The Valley of the Bees, made relatively rapidly shortly afterwards. Unsurprisingly, the last two have much in common – they share creative personnel (editor, composer, three actors and historical adviser), they're both shot in high-contrast black-and-white Scope, each has an uncommonly tactile sense of place and period, and they're set at a time when paganism was facing a defining challenge from Christianity.
However, the differences are just as marked. While Marketa is a shaggy, slouching beast of a picture, The Valley of the Bees is as controlled as the rules that govern the Order of Teutonic Knights, to which the film's protagonist Ondrej of Vlkov (Petr Cepek) is reluctantly assigned following his father's guilt after nearly killing him in a violent rage over a practical joke. The Order is quickly established as an almost entirely malign entity, with apostates required to commit suicide by hurling themselves to a pack of ravening dogs, the savagery contrasted with the formality of the immediately preceding ritual in which candles are snuffed out and snapped in two. Ondrej's friend and subsequent rival Armin von Heide (Jan Kacer) is in many ways the ideal acolyte, his insular fanaticism growing as he experiences more of the world that Ondrej longs to rejoin.
Though rarely stressed beyond an early mettle-testing scene where both men lie naked on the beach and let the near-freezing tide wash over them, there's also a homoerotic undercurrent here that's most uncharacteristic of central European cinema of the time. What got Vlácil into trouble with the authorities following the August 1968 Soviet invasion, however, was his depiction of a world guided by cruel and arbitrary rules. It's impossible to divine from the actual film whether this was intentional satire, but easy to see why the paranoid might have wished to read it that way – and Vlácil's career, like that of so many compatriots, was temporarily stalled as a result.
Vlácil claimed that he sought inspiration from the 'three Bs': Ingmar Bergman, Robert Bresson and Luis Buñuel. Even without this explicit acknowledgement, it's easy to see what he meant: Virgin Spring (1960) gushes over all Vlácil's medieval films, Bresson looms large in the meticulous control of image and sound (Vlácil is as likely to evoke aural memories of the beehives of Ondrej's childhood home as he is to make use of Zdenek Liska's stark plainchant and simple flute duets), while Buñuel's sardonic spirit animates such conversations as the one in which Armin gladly concedes that if his perfectionist worldview were to be applied in practice, all of humanity would have to be killed. There's also a fourth B: Vlácil's teeming exterior landscapes are, as Herbert Marshall wrote of Tarkovsky's not dissimilar Andrei Rublev, like Brueghels – and are contrasted with unsettlingly symmetrical interiors, the human element in each composition placed dead-centre as though framed for an altarpiece.
Until now, those seeking English-friendly Vlácil DVDs apart from Marketa had to import Facets' editions from the US. While it was good that they were available at all, their presentation was deeply unsatisfactory, their VHS-quality transfers accompanied by ugly and badly synchronised subtitles. The White Dove remains exclusive to Facets for now (thankfully its sparse dialogue makes the subtitle problems less distracting than elsewhere), but Second Run is releasing its own versions of The Valley of the Bees and Vlácil's later post-WWII drama Adelheid (1969).
The latter has yet to be made available for review, but Valley offers such an improvement over the Facets equivalent that there's no contest: the soft, fuzzy, letterboxed picture has been replaced by a pin-sharp anamorphic transfer from a near-pristine print (Second Run took advantage of a recent digital restoration by a group of Czech Vlácil enthusiasts). There are no on-disc extras but the booklet features a longer than usual essay by Czech cinema expert and S&S contributor Peter Hames. And while the label's cover artwork is almost invariably striking and apposite these days, designer Robert Riley has excelled himself here, with three silhouetted acolytes seemingly branded with blood-red crosses, one elongating into the shape of a sword. One feels that Vlácil, no stranger to symbolism, would have thoroughly approved.
See also
The DVDs of 2008 (December 2008)
I Served the King of England reviewed by Geoffrey Macnab (June 2008)