Film review: Cherrybomb
United Kingdom/Ireland 2008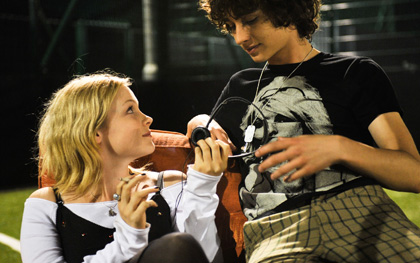 Reviewed by Lisa Mullen
Synopsis
Our synopses give away the plot in full, including surprise twists.
A suburb in Northern Ireland, present day. School-leavers Malachy and Luke are best friends despite their different backgrounds - Malachy's family is solidly middle-class, while Luke lives with his alcoholic father and deals drugs for his brother, a local crime boss. Malachy's temporary job at the Titanic leisure centre is enlivened by the manager's wayward and flirtatious daughter Michelle, newly arrived from London. Both boys want to get her into bed, and she encourages them to compete for her affections. Throughout the long summer, their provincial boredom leads to a series of increasingly reckless stunts: starting fights, spraying graffiti and joyriding in Malachy's father's car.
At first Michelle's father Crilly is distracted by his own affairs, but when he discovers Malachy and Michelle in bed together he furiously tells her that she can no longer live with him. Luke, too, is at crisis point after fighting with his brother and father. Together the three devise a revenge plan, breaking into the Titanic and holding a drug-fuelled party which wrecks the place. In the morning, Crilly discovers the devastation and brutally attacks Malachy. Luke hits Crilly with a metal pole. Crilly is injured but still alive; Luke hits him again, this time killing him. The three youngsters are taken away by police.
Review
It will be a long time before Rupert Grint shakes off the legacy of Ron Weasley, Harry Potter's slightly gormless sidekick in the ongoing blockbuster franchise. But this role is a good place to start his post-Hogwarts career. On paper it might have looked like an unambitious move, especially since his character, Malachy, is again playing second fiddle to a more charismatic star-turn. But on screen it turns out to be an excellent choice, giving him just enough acting to do, and just enough growing up for that matter, to ease him very promisingly into the world of adult roles.
The plot is simple enough: Malachy has just left school and is rebelling against his safe suburban family by hanging out with Luke (Robert Sheehan), a dangerous and apparently futureless local drug dealer. Both boys fall for the charms of Michelle (Kimberley Nixon), the flirty daughter of the manager (James Nesbitt) of the leisure centre where Malachy works, and she encourages them to outdo each other in a series of criminal pranks. What makes this silly teenage game increasingly interesting is that the stakes are completely different for each of the players. Malachy is desperate to prove he can keep up with his cooler and sexier friend, but he can't quite shake off his responsibilities and his family's expectations. On the other hand, Luke's fearlessness is rooted in nihilism rather than joie de vivre, and that makes him push the limits until the greatest threat he poses is to himself. And Michelle's pouty sexual confidence is revealed to be a brittle shell that barely conceals her genuine need to be cherished in the absence of any parental input in her life. Ultimately, what begins as a cheeky, dope-fuelled romp quickly becomes both dark and very real.
This progress from light to darkness is handled with panache by directors Lisa Barros D'Sa and Glenn Leyburn, who work up their apparently glib oceanic theming – the leisure centre is called the Titanic, the local nightclub named the Lifeboat – to create some memorably sub-aquatic atmospheres, often in odd places such as the floodlit sports pitch inhabited by teenage nighthawks who swim in and out of the surrounding blackness. The technology of youth is well imagined too, with text messages popping up as floating captions around the characters as they tap away at their handsets, while the leisure centre itself is perfectly rendered as a hellish artificial Eden.
It's the cast, though, who make this film special. Sheehan gives an utterly mesmerising performance as the troubled Luke, almost bursting out of his skin with frustration and mischief. Nixon, too, is impossible to take your eyes off as she shimmies through her femme fatale act, somehow never losing the sense of her character's troubled undertow. And Nesbitt, who always has a slightly threatening screen presence even when he's playing nice, here simmers and boils to great boo-hiss effect. And what of Ron Weasley? He has, in a way, the least to do in terms of scenery-chewing thespianism –unless you count the Northern Irish accent, which he does perfectly well. But whoever advised him to take this part did a good day's work: Grint is putting down a marker with this film as a convincing, thoughtful and highly effective actor.
See also
An Education reviewed by Kate Stables (November 2009)
Love Exposure reviewed by Trevor Johnston (November 2009)
Back to school: Andrew Roberts on 70 years of UK boarding-school movies (August 2007)
Brick reviewed by Hannah McGill (June 2006)
Harry Potter and the Goblet of Fire reviewed by Jonathan Barnes (January 2006)
Dear Wendy reviewed by Roger Clarke (August 2005)
Ghost World reviewed by Leslie Felperin (December 2001)
Show Me Love reviewed by Liese Spencer (March 2000)
Virtual Sexuality reviewed by Melanie McGrath (August 1999)
Credits
Directed by

Lisa Barros D'Sa
Glenn Leyburn

Produced by

Mark Huffam
Michael Casey
Brian Kirk
Simon Bosanquet

Screenplay

Daragh Carville

Director of Photography

Damien Elliott

Editor

Nick Emerson

Production Designer

David Craig

Music

David Holmes
Stephen Hilton