Film review: Let Me In
USA / United Kingdom / Sweden 2010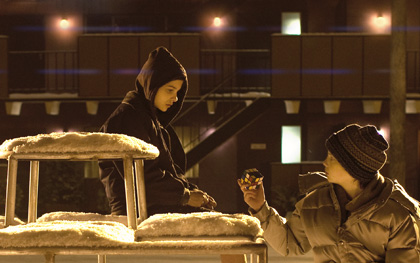 Reviewed by Kim Newman
Synopsis
Our synopses give away the plot in full, including surprise twists.
Los Alamos, New Mexico, 1983. A policeman is puzzled by a murder suspect who has disfigured himself with acid to prevent identification; the man subsequently falls to his death from a hospital window after a girl arrives at reception claiming to be his daughter.
Two weeks earlier. Twelve-year-old Owen shares an apartment with his alcoholic, abusive mother. Abby, apparently a girl of a similar age, has just moved in next door. An older man, Abby's 'father', carjacks a teenager to siphon his blood but bungles the job; Abby, who is a vampire, is forced to hunt for herself.
Owen and Abby become friends. Taking Abby's advice, Owen fights back when Kenny, his school tormentor, next tries to bully him. The older man tries again to get blood, but this time he is captured by police. Abby scales the wall of the hospital, drinks her protector's freely offered blood and drops him to his death. When Owen cuts his finger to make a blood pact with Abby, she is overcome by bloodlust and rushes out to bite Virginia, another neighbour. Owen realises what Abby is, but still wants her to be his girlfriend. In hospital, Virginia turns into a vampire and combusts when exposed to sunlight. When a policeman tracks Abby down, she kills him and seems to leave town. Kenny's brother organises the bullies into trapping Owen in the swimming pool, threatening to cut out one of his eyes unless he stays underwater for three minutes. As Owen struggles, Abby kills his persecutors. Owen becomes Abby's daytime protector.
Review
This is billed as being based on John Ajvide Lindqvist's screenplay for Tomas Alfredson's Let the Right One In (Låt den rätte komma in, 2008), which Lindqvist adapted from his own novel. Matt Reeves' take is a respectful remake (the look is very similar) but it carefully avoids redundancy by slanting the story differently. In transliterating a foreign-language horror hit into an Anglophone movie it doesn't follow the shot-for-shot-with-tiny-tweaks example of [REC] remake Quarantine, though it does lift many scenes verbatim (even carrying over idioms used by the English subtitler). However, in almost every case, staging and emphasis are different.
A few details from the book are not in the Swedish film return (like the hero's incontinence) but writer-director Reeves (Cloverfield) mostly prunes. The novel follows many more characters in depth than the first film, which narrows focus to Oskar and Eli (now Owen and Abby). Reeves further reduces supporting characters to unnamed ciphers the better to enter the enclosed world of the bullied child and his vampire friend. Owen's parents are treated like humans in Tom and Jerry cartoons, his mother never seen face-on, his father a telephone voice. A new plot thread, foreshadowing the climax, has Owen refuse to take part in school swimming because he doesn't want to show his bruised back, which suggests that his mother is also hurting him. Thus his decision to leave home with a monster is less of a hard choice than if his mother were merely overworked. Owen is now a Rear Window-like snoop, peeping at his neighbours – all due to get caught up in Abby's predatory behaviour – through a telescope, which allows them to retain their plot function but keeps them at a distance.
If anything, this is a grimmer reading: as per Lindqvist, Abby genuinely feels for Owen, but the film suggests – via a photo-strip showing that she has been with her current protector since he was Owen's age – that the vampire is going through another iteration of a relationship she has had before and will have again. Reeves plays up the 1980s setting, with evocative pop-music choices, a PacMan arcade game and creepily apt televised speeches from Ronald Reagan, who sounds, with his talk of verities of evil, like the Van Helsing figures in traditional vampire movies. Chloë Grace Moretz ('Hit Girl' from Kick-Ass) and Kodi Smit-McPhee (The Road) are persuasive in their intimate, ambiguous conversations ("Would you still like me if I weren't a girl?"), but this is much more a horror film than Alfredson's version. When gripped with bloodlust, Abby snarls and contorts like Linda Blair in The Exorcist, and her lizard-limbed attacks use the sort of CGI-augmentation found in I Am Legend, which is becoming an overworked 21st-century vampire-movie cliché.
The black Swedish humour is deleted in favour of dread. A poodle no longer interrupts the blood-harvest and the vampire isn't hated by cats. Reeves also omits the shot that suggested (as confirmed by a historical flashback in the novel, which both films drop) that the vampire was born male. To its credit, Let Me In doesn't contradict that reading either, and Moretz's slight, pale, sly monster retains the disturbing, pre-sexual ambiguity that makes the character interesting in the first place. Let Me In isn't as rich or daring as Let the Right One In and seldom improves on it – but it plays better as a horror film, more concentrated in its focus on the creepy and shocking aspects of its unusual love story.
See also
Messiah of Evil reviewed by Tim Lucas (DVD, January 2010)
The films of 2009: including Let the Right One In (January 2010)
The films of 2008: including Let the Right One In (January 2009)
Psychopathia Sexualis reviewed by Tim Lucas (DVD, August 2007)
The Devil's Backbone reviewed by Paul Julian Smith (December 2001)
Ginger Snaps reviewed by Linda Ruth Williams (June 2001)
Six degrees of Nosferatu: Thomas Elsaesser on Shadow of the Vampire and the actual gestation of Murnau's Nosferatu (February 2001)
The Little Vampire reviewed by Christopher Hawkes (November 2000)
Vampires reviewed by Kim Newman (December 1999)
Credits
Directed by

Matt Reeves

Produced by

Simon Oakes
Alex Brunner
Guy East
Tobin Armbrust
Donna Gigliotti
John Nordling
Carl Molinder

Written for the screen by

Matt Reeves
Based on the screenplay and novel Låt den rätte komma in [Let the Right One In] by John Ajvide Lindqvist

Director of Photography

Greig Fraser

Edited by

Stan Salfas

Production Designer

Ford Wheeler

Music

Michael Giacchino