DVD: Dressing for Pleasure - The Films of John Samson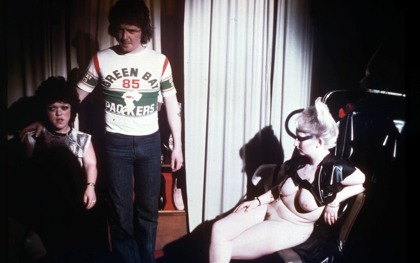 John Samson's documentaries cast the same gentle eye on on trainspotters and fetishists, says Joseph Bevan
Dressing for Pleasure - The Films of John Samson
UK 2010; Screen Edge / Region 2; Certificate E; 150 minutes; Aspect Ratio 1.33:1
John Samson once told Atomage, the magazine that inspired his 1977 bondage documentary Dressing for Pleasure, that his aim was to bring "the ordinary to the extraordinary". The documentaries Samson made in the late 1970s and early 80s go some way to achieving this goal, though not in any grandiose sense - they're notable as warm, loose, even superficially slight affairs. Made cheaply on film school equipment or with wrangled funding, the films aren't unforgettable in any lacerating sense but are instead recalled momentarily, unexpectedly, like a day spent in the company of affectionate strangers.
Samson found his subjects in down-to-earth ways: via small ads in magazines, cold-calling sex shops, meeting railway-preservation enthusiasts in pubs - or contacting Britannia Air on the off chance they might wish to invest in a film on the restoration of a steam engine named Britannia. The films are curiosities - in the best possible sense of the word - showing a gone but familiar Britain of shabby front rooms, care homes and smoke-wreathed pubs.
Samson was born in 1946 to working-class parents in Kilmarnock, Scotland. He worked at the docks on the Clyde and later as a social worker. He went to the National Film School in Beaconsfield, joining a documentary course run by Colin Young, and there met his friend and collaborator Mike Wallington. That period produced two films, Tattoo (1975) and Dressing for Pleasure. The latter, which looked at bondage fetishism and its adoption as an aesthetic by the early punks, features unforced, informal interviews with a genteel underground of bondage specialists and rubber-mackintosh enthusiasts - as well as punk icon Jordan, working behind the counter of Malcolm McLaren and Vivienne Westwood's King's Road shop Sex.
On leaving film school, Samson went on to make Britannia: The Last of the First (1978), about the eponymous steam engine; Arrows (1979), about darts player Eric Bristow; and The Skin Horse (1983), which records a dating night for the disabled. These films were funded in diverse ways, whether via the creative pursuit of corporate sponsorship (as on Britannia) or via patronage by Central Television and Channel 4 (The Skin Horse). There were also contributions from the Eady Levy, which until 1985 redirected a small percentage of the cost of a UK cinema ticket into the production of British short films.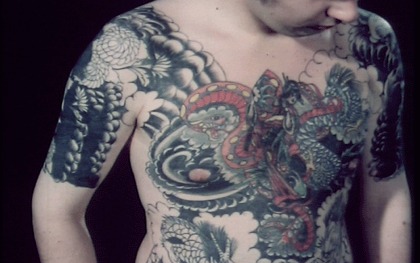 Though The Skin Horse won a Bafta, Samson's films were largely ignored by an industry into which they and their director could never easily fit. Following Samson's death in 2004, they remained all but forgotten until their recent revival thanks to the efforts of his son Robin and his widow, the artist Linda Samson, who organised a retrospective that played at the 2009 London International Documentary Film Festival.
Samson meant to show outsiders as normal people; he understood and utilised the hazy, affectionate comedy that occurs when non-professional people take part in making a film. These self-deflating, egalitarian documentaries are attempts to show his subjects in the act of making the piece with him. Samson used natural charm and a barrage of genial, offscreen conversation to relax his subjects. He always edited each film around a single controlling cinematic idea, often cribbed from American cinema: the darts player as gunslinger, the steam train as a phoenix rising from the flames.
One almost invisible tactic is deployed beautifully in Arrows: through editing, lighting and framing, Samson manages to transform the non-acting denizens of a crowded working-men's club into a choreographed ensemble of character actors and extras, seemingly without their knowledge. The rough alchemy of this passage of film is a triumph of the romantic notion that real life can be beautiful cinema - and of Samson's belief that working people are somehow innately and unselfconsciously creative. It is as if some grace had entered and unlocked the unattended fiction in the room.
These films are notable for the warmth they find at the margins of things; their fundamental decency has not aged. Samson's exploration of what would soon become known as 'subcultures' predated both their tabloid notoriety and the plundering of their aesthetics by a vigilant mainstream. Any rediscovery of these films would really be the rediscovery of the people who populate them - with whom these films represent expressions of a sometimes amused but always genuine solidarity.
Samson never ridicules; instead he manages a half smile, a mild glee, as Eric Bristow downs the pints and chain-smokes fags as if these were his true sports and the darts a mere sideline - or as a simple cut reveals a middle-aged, middle-class, bespectacled talking-head interviewee to be wearing a full, shiny suit of leather. There's a good-natured sweetness to Samson's work that by its very nature can never truly be fashionable - a genuine interest in the world that's engaged rather than voyeuristic or parasitic. This is the same distinction Samson makes between the fetishists and the punks, about whom he was ambivalent. As one of Dressing for Pleasure's rubber-clad subjects explains: "It's the difference between being interested and just being attracted, I suppose."
See also
Submarine reviewed by Isabel Stevens (April 2011)
Bloody Yorkshire: Nick James on the 'Red Riding' trilogy (March 2009)
Ah, Liberty! - Ben Rivers at the Edge of the World: Kieron Corless on Ben Rivers' investigations of Britain's hinterlands (November 2008)
New boots and rants: John Savage on Shane Meadows' This is England (May 2007)
The Notorious Bettie Page reviewed by Linda Ruth Williams (August 2006)
Written on the body: Ryan Gilbey on Young Adam (September 2003)