If Not Us, Who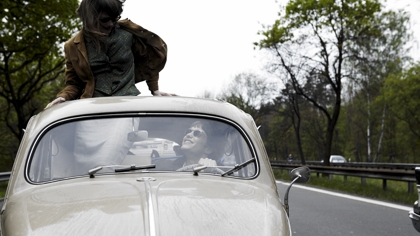 A melancholic addition to the canon of films about Germany's 1960s radicalism, Andres Veiel's biopic of lovers Bernward Vesper and Gudrun Ensslin ponders the rivalry of word and deed, finds Catherine Wheatley
If Not Us, Who
Germany 2011
Director: Andres Veiel
Cast: August Diehl, Lena Lauzemis, Alexander Fehling, Thomas Thieme, Imogen Kogge, Michael Wittenborn, Susanne Lothar, Sebastian Blomberg, Vickie Krieps, Martin Butzke, Christina Hecke, Maria-Victoria Dragus
158 mins | Cert 18
Synopsis
Our synopses give away the plot in full, including surprise twists.
Germany, 1949. Young Bernward Vesper's father shoots his pet cat after it kills and eats a nightingale.
Fifteen years later, Bernward is a promising literature student at Tübingen University, where he meets fellow student Gudrun Ensslin. Together, the two hatch a plan to found a publishing house, with the aim of reprinting the works of Bernward's father, a former darling of the Nazi party whose work has fallen into disrepute. The pair become lovers. By February 1964, they have published a volume on nuclear war, which meets with some success. After Bernward cheats on Gudrun, she attempts suicide. Trying to make a fresh start, they move to Berlin, where Gudrun begins studying for a PhD. She introduces Bernward to a colleague, Klaus Roehler, who is working for the SPD (German Social Democratic Party). As the couple's involvement with the leftwing movement increases, Bernward's Nazi heritage causes tensions. He distances himself from their more extreme activities, preferring propaganda through literature to direct action. Gudrun begins an affair with the charismatic Andreas Baader, and in March 1968 announces that she is leaving Bernward and their infant son. The next day she and Baader are arrested for bombing two department stores.
Review
The latest in an increasingly long line of films to turn an eye to the radical politics of 1960s Germany, documentarist Andres Veiel's debut feature will inevitably invite comparisons with Uli Edel's The Baader Meinhof Complex, separated as the two films are by only four years. And yet subject-matter apart, If Not Us, Who treads an altogether different path, one that takes us on a roundabout journey through the decade to a place that is far more melancholic than Edel's destination, avoiding Bonnie and Clyde-style mythologising to bring us instead a nuanced – perhaps too nuanced – portrait of a generation coming to terms with the sins of its fathers.
As the film opens, a series of black screens spares us the bloody sight of a large ginger tom cat tearing apart a nightingale chick, leaving us with only a flutter of wings to piece together the bird's inevitable destruction. When the action begins in earnest, it is in the aftermath of the cat's ensuing death at the hands of celebrated Nazi author Will Vesper, who admonishes his young son Bernward that "cats are the Jews of the animal kingdom." Some 15 years later, we meet the now adult Bernward, an idealistic young man determined to rescue his father's works from the critical wilderness in which they've languished since WWII. He takes up with a young redhead who introduces him to her sallow, humourless friend Gudrun Ensslin.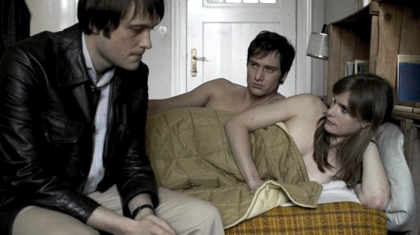 The hard-edged femme fatale of modern-day legend thus slips into Veiel's film as a supporting player: in thrall to the charming and strident Vesper, Ensslin takes a lowly teaching job to support his publishing endeavour, and is so distraught when he cheats on her that she maims her genitals with broken glass and slinks off into the snow to die. It is here that we have our first glimpse of the intemperance, fervour and fragility that characterised the Ensslins' "brightest and most difficult daughter".
The son of a Nazi, Bernward is traumatised by his struggle to reconcile filial affection with the values that his conscience and education tell him are right; Gudrun, however, seems to bear the weight of a nation's guilt on her shoulders. As played with ferocious intensity by Lena Lauzemis, she is a woman of frightening intelligence, terrified by what she perceives is happening around her; everything she does – her marriage to Bernward, affair with Andreas Baader, abandonment of her son and the horrific acts of terrorism – is the desperate scrabbling of a woman aware of her powerlessness against the relentless march of history.
Staged against a rather hokey background of archive footage and jingly-jangly 60s pop songs, Veiel's film at times risks alienating its audience with its overabundance of detail. But at the core of the film is an engaging and hard-fought battle between words and actions, in which both Ensslin and Vesper's relationship and the future of Germany itself are at stake. Baader is no more than a bit-player (albeit an extremely charismatic one), Meinhof nowhere to be seen. Instead, the human consequences of history are wrought on these two poor individuals. The gulf between Ensslin's enduring renown and the erasure of her former lover from film history perhaps stands as a retrospective judgement: in film, at least, actions speak louder than words. Which makes If Not Us, Who a very welcome addition to the canon of radical-political biographies.
See also
What goes around: Sophie Mayer on Margarethe von Trotta's history plays (March 2011)
Criss cross: Michael Brooke on the rich strain of spy films hatched by the Cold War (May 2011)
Carlos: five hours of the Jackal: David Thompson talks to Olivier Assayas (November 2010)
Radical chic: Andrea Dittgen on The Baader Meinhof Complex (December 2008)
Longing reviewed by Catherine Wheatley (June 2007)
East of Eden: Dina Iordanova on the dangerous nostalgia of Goodbye, Lenin! (August 2003)
Good Bye, Lenin! reviewed by Richard Falcon (September 2003)
Credits
Producer

Thomas Kufus

Written by

Andres Veiel

Director of Photography

Judith Kaufmann

Editor

Hansjörg Weissbrich

Art Director

Christian M. Goldbeck

Music

Annette Focks

Sound

Paul Oberle

Costume Designer

Bettina Marx