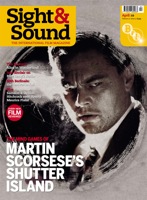 "Madhouses mark the edge of the city and they house terrifyingly damaged patients and worse doctors: Mabuse and Caligari, avatars of endless night. Phantoms cooked up by crazed directors in studio-laboratories break free of the limits of the frame, to confirm the city, this unidentified Berlin, as a labyrinth of signs and symbols, tunnels and cellars beneath nightclubs and ghettoes. Blind troglodytes in caves are printing banknotes. Microphones hidden behind curtains preach apocalypse: exploding planes, torched oil refineries, biological warfare. Plague and the stock market."
— Iain Sinclair riffs on the 1930s Berlin of Fritz Lang's M and The Testament of Dr. Mabuse in our new issue
Our April issue heads Captain Willard-style into the dark psychological interior.
Martin Scorsese's fractured asylum thriller Shutter Island "may be an entertainment culled from low-art pulp fiction, film noir and B movies, raised to a higher level by Scorsese's kineticised classical stylization," writes Graham Fuller in our cover feature, "but it is also a genuine study of madness in which the protagonist conflates the evil he has been exposed to with his own crimes and associative guilt." Fuller finds in this "serious creepshow horror" echoes not only of Scorsese's own earlier paranoiac labyrinths Taxi Driver and After Hours, but also of everything from Pickup on South Street, Kiss Me Deadly and Val Lewton's classic RKO horror cycle to Hitchcock's Spellbound, Sophie's Choice, A Matter of Life and Death and Piranesi's etchings of imaginery prisons. In his review, meanwhile, Jonathan Romney posits the film as "surely Scorsese's The Shining" and "a bracing anomaly" of the CGI age "in which the cinematic perception of reality is riddled with uncertainty."
We dive down the rabbit hole with Tim Burton's Alice in Wonderland – only to find a strangely lapsarian 'Underland' steeped in adult angst and oppression. "We fell in love with [the fantasies of Lewis Carroll, L. Frank Baum and J.M. Barrie] because they were about children and their unfettered imagination, but the movies keep insisting the colourful land of Oz is a bad place to be, and we should settle for the sepia monochrome of Kansas," argues Kim Newman, who also pulls out of his hat comparisons with Batman, Jefferson Airplane, Victorian British gunboat drug-peddling in China, Edward Gorey and Terry Gilliam – the film industry's "Prodigal Brother" to Burton's "Good Son".
In 'Alice Through the Lens', meanwhile, Mark Sinker tracks back from a woodcut image of Alice in Gilliam's Tideland to explore her history of appearances in films and illustrations, starting with the dominant template of John Tenniel's visual accompaniments to Carroll's texts. As Sinker writes: "Together, look and story made a book that could unite surrealists and Disney alike in admiration and imitation."
While Iain Sinclair takes the psychic pulse of Fritz Lang's 1930s Berlin (see above), we sent three writers to this year's edition of the city's film festival. Amongst scanty pickings, one took refuge in US indies and big-name genre thrillers, another in ultra-realist landscape minimalism, and the third in Shimazu Yasujiro revivals from the 1930s.
"More than a love story or youth-against-the-world triumph, Samson & Delilah is a story about the making and breaking of community," writes Sophie Mayer, singing the praises of this Aboriginal knockout about two runaway lovers locked in a rut of glue-sniffing, rage and despair, which swept last year's Australian Film Institute awards. Its director Warwick Thornton discusses Mayer why the movies use dialogue (though maybe not country and western music) too cheaply.
Also in the April issue: an interview with Lion's Den director Pablo Trapero, Chris Petit's ambient road movie Content, the best of the Rotterdam festival, artist Ian Breakwell in retrospective, the triumph of Polish film posters and Mr Busy on the end of the world – part two.
We're reviews of 34 new film releases – including Double Take, a virtuoso montage of Cold War doppelgangers à la Hitchcock, our film of the month – and 23 DVDs, including features on the ongoing Maurice Pialat re-release project, Chinese Fourth Generation film-maker Xie Fei's exceptional Black Snow and Dennis Hopper as a celebrated Irish bushranger in 19th-century Australia in Mad Dog Morgan. And our Books section spans a study of Weimar cinema, an anthology of industrial film, two books on Argentinian cinema and a new biography of 'boy wonder' Irving Thalberg.
See also
Subscribe now!
Save £9 on the cover price, get a free DVD and receive new issues hot off the press and direct to your door.
View our archive
Order back issues, or search our online database of reviews and features from the magazine