Easy raider
DVD review: Mad Dog Morgan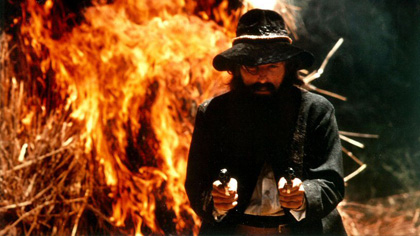 The tale of Mad Dog Morgan pushes all the right buttons (except the anamorphic one), writes Tim Lucas
Mad Dog Morgan
Philippe Mora / Australia 1976; Troma Retro / Region 1; 102 minutes; Aspect Ratio 2.35:1; Features: interviews with Mora, Dennis Hopper, director of photography Mike Molloy and associate producer Richard Brennan, locations featurette, stills gallery, radio interview with Mora, slideshow
A confidant in the DVD industry once told me that the difference between an anamorphic and a non-anamorphic DVD, in terms of actual disc production, is the pushing of a single button – but the cost for pressing that button is $10,000. This explanation makes it all the more difficult to comprehend the special circle of hell that is the DVD with anamorphic menus and featurettes which denies the same favour to the main feature. Such a disc is Troma Retro's Mad Dog Morgan, a two-disc set which furthermore presents itself as some kind of restoration, containing "graphic violence previously censored in North America". It's difficult to ascertain what the film's restoration might gain in terms of running time, because the transfer was evidently sourced from a 25fps PAL tape master, giving the 102-minute feature a running time of slightly more than 98. Even when viewed on a large-screen monitor, the scope image is small enough to obscure details in scenery and nuances of performance and riddled with moiré and noise; meanwhile the anamorphic clips from the film used for illustrative purposes in the supplements are, though only enlarged, at times a revelation. It's an insult to the cinematography of Mike Malloy, John Alcott's camera operator on A Clockwork Orange and Barry Lyndon.
Mad Dog Morgan (simply Mad Dog on screen, based on Margaret Carnegie's biography Morgan) is a historical drama based on the exploits of Irish bushranger (outlaw) Daniel Morgan (Dennis Hopper), whose robberies of wealthy colonists and thwarting of police in mid-19th-century Australia made him a national hero among the burgeoning nation's working-class dispossessed. The film begins when Morgan's initial settlement, shared with Chinese immigrants, becomes the scene of arson and slaughter at the hands of racist raiders. Morgan escapes with his life and robs another settlement of some clothing, commencing an armed hand-to-mouth existence that soon gets him sentenced to six years in prison, where he is branded (M for 'malefactor') by a police sergeant and raped by toothless, strong-armed cellmates. Once freed, he is shot while horse-thieving and wrested back from death's door by Billy (David Gulpilil from Walkabout), an indigenous Australian who becomes a jack o'lantern-grinned sidekick to Hopper's Gold Rush-era Easy Rider.
Writer-director Philippe Mora, making his first dramatic feature after two documentaries, takes an episodic approach to the story, stringing together vignettes of crime and violence with static tableaux of Frank Thring's bald-pated police superintendent vowing Morgan's capture and reprising Madame de Staël's famous remark, "The more I see of men, the more I admire dogs" to a throng of bull terriers. Jack Thompson, Australia's leading macho male star of the 1970s, arrives more than halfway through the picture as Detective Mainwaring, whose orders to bring Morgan back alive are upset by an over-eager officer's trigger finger. It's a thankless, secondary role in a film that Thompson must have known would be widely seen, as indeed it was. However, despite the disc's many claims that Mad Dog Morgan was the first Australian feature acquired for US release, it was preceded in US theatres by Mora's depression-era mashup documentary Brother Can You Spare a Dime (1975).
Mora's subsequent career has gone somewhat disastrously awry, with titles ranging from Howling II: Stirba – Werewolf Bitch to Pterodactyl Woman from Beverly Hills, but this narrative debut is a fine effort that holds up well. It addresses history responsibly and also enshrines its star in a way that honours the then recent memory not only of Easy Rider but also The Last Movie. Despite being saddled with an aggressively fake-looking mariner's beard that grows ever more bedraggled, Hopper gives an honest and ultimately likeable performance, though his bipolar character's sometimes lethal actions seem unpredictable even to himself. One standout moment holds on his soulful, stricken expression as a barmaid (Liza Lee-Atkinson) offers herself, along with his order of an Irish whiskey, by exposing to him the first female nudity he's seen with adult eyes. Hopper's small frame and delicate features actually run counter to a good deal of important dialogue capturing the Darwinian enthusiasms of the time, describing Morgan as a man with "gorilla-like features" (what a Morgan Timothy Carey might have made!) but he gives his all to a blood-burbling death scene, and his postmortem appearance, propped up on a board for a French cameraman, has a chilling Matthew Brady patina of period authenticity. Amazing work, really, from an actor who admits to preparing for the role by drinking so much of Morgan's pet demon, rum, that the alcohol levels in his blood were enough for the arresting officers of the Australian police to declare him legally dead.
This and other lively production stories are recounted with much laughter by Mora and Hopper in a 25-minute interview segment, in which Hopper finally recalls the film as one of his best performances and one of the great artistic experiences of his career. For their definitive accounts of these stories, and a more contextual appreciation of the film's place in the overall scheme of the fledgling Australian film industry, see Mark Hartley's Not Quite Hollywood (2008, Magnet Video), a breathlessly rollicking account of 'Ozploitation' cinema which interviews nearly everyone associated with its 1970s-80s heyday, with Quentin Tarantino as our infectiously enthusiastic guide/critic/historian. It's that rare movie documentary that plays as effectively for neophytes as for seasoned enthusiasts, and you'll pop out the disc with a list of at least a dozen films you absolutely must see.
See also
We have always recycled: Rick Prelinger on Brother, Can You Spare a Dime and the history of found-footage film-making (online, March 2010)
Ballad of the wild boys: Nick Roddick on The Proposition (March 2006)
Don't fence me in: Danny Leigh on Jack Nicholson (May 2003)
Bouquet of barbed wire: Adrian Martin on Rabbit-Proof Fence (November 2002)
Casualties of war: Philip Horne on Apocalypse Now Redux (November 2001)
Soul survivor: Kate Pullinger on Jane Campion and Holy Smoke (October 1999)