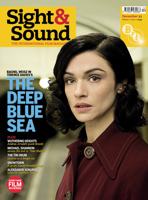 Our December issue cover showcases Terence Davies' first fiction feature since The House of Mirth in 2000: his striking adaptation of Terence Rattigan's play The Deep Blue Sea.
Set in a 1950 London still recovering from the trauma of war, it stars Rachel Weisz as the woman who discovers a profoundly sexual love and abandons her husband.
It's been 11 long years in the wilderness for Davies, apart from his documentary Of Time and the City; this new film marks a triumphant return to drama, and has already received loud acclaim at the San Sebastian, Toronto and London film festivals. "The Rattigan Trust told me, after I'd done a first tentative draft, 'Be radical!'," he tells Geoff Andrew. "So I was."
As well as revealing interviews with Davies, male lead Tom Hiddleston and DP Florian Hoffmeister, we've some privileged behind-the-scenes reportage courtesy of our editor Nick James, who was an extra in Davies' trademark pub-singalong scenes.
'Tis the season for revisionist takes on classics of British fiction, it seems. Andrea Arnold, director of hard-edged contemporary fare such as Fish Tank and Red Road, adapts Emily Brontë's Wuthering Heights for her third film in a manner that might cause purists some consternation, with a black Heathcliff, lots of swearing, sex and violence…
Amy Raphael has the lowdown, and finds the film "brutal, violent and – at times – formidable." But the film's real glory, as Raphael acknowledges, is the cinematography, which finesses a raw poetry entirely in keeping with Brontë's vision of wild love on the moors. "DP Robbie Ryan's cinematography is so poetic it almost steal the film. His imagery captures perfectly the heightened physicality of Cathy's longing for a boy as alienated and isolated as herself."
We round off our coverage of Arnold's film with a survey of previous adaptations of Brontë's masterpiece, including efforts by Bunuel, Rivette, William Wyler and Yoshida Yoshishige.
And it's not just British literary classics being given the film treatment this month, but also German. Aleksandr Sokurov rounds off his tetralogy of power in thrilling style with a version of Goethe's Faust, which took the top prize at Venice in September this year. Ian Christie measures Sokurov's against previous tellings of the Faust tale, places it in the context of Sokurov's own oeuvre, and comes away impressed. "Faust shows Sokurov at the height of his ambition as a filmmaker… he is surely one of the brightest hopes for believing that cinema can still achieve its full potential as a form of 'total art'."
Another German literary classic on film is celebrated in this month's issue. Restored scenes omitted from Volker Schlöndorff's original 1979 version of Günther Grass' surreal, haunted novel The Tin Drum bring a whole new dimension to this picaresque masterpiece of German cinema, believes Geoffrey Macnab. Those extra 20 minutes show "not so much a radical rethink as Schlöndorff clarifying and enlarging the 1979 cut."
It'll be interesting to see how this new version of the film goes down in a Germany much-changed since the original was released, and particularly with younger viewers. As Schlöndorff acknowledges, "I have an 18-year-old daughter and I can see in her and her friends maybe the first generation growing up without any guilt."
As a counterweight to all this high art, we also have a feature on one of the hits of the London Film Festival, Justin Kurzel's Snowtown, a dramatisation of real-life serial killings in a small Australian town that manages to treat the subject seriously and without sensationalism, by focusing on events through the eyes of a perpetrator. The result is bleak and eerie; "detailing a morally warped and self-corrupting social environment from the inside helps explain just how such hideous things could have occurred," suggests our writer James Bell.
Another big hit at festivals of late is Jeff Nichols' apocalyptic Take Shelter, starring Michael Shannon and Jessica Chastain. Nick Pinkerton delves into the film via the persona of actor Shannon, whom he regards as having "made a speciality of men coming undone, expressing rare shades of disquiet."
In Take Shelter Shannon's character Curtis is prey to bad dreams and an irrational fear that some terrible storm is drawing near. As Pinkerton suggests, "Curtis' fear is a flexible metaphor, one that resonates in a time when – don't you feel it? – the world seems to be built on sand."
Heavy stuff, you might say, so we decided to round off our feature coverage with something a little more lighthearted, David Thomson's revisiting of the Gene Kelly musical An American in Paris. The film is the centrepiece of a season of musicals at BFI Southbank – although Thomson's joy at seeing it again is tinged with melancholy, just as in the film. "How did we ever make such silly, carefree beauty? Was it out of an unadorned delight in music and movement? And were we so good at it for 25 years that we then abandoned the notion of movie stories founded in music?"
Elsewhere in this issue, Dylan Cave reconsiders the 1950s British Empire film, Tom Dawson talks to British director Andrew Haigh about his excellent debut feature Weekend, director Paul Tickell revisits Robert Wise's overlooked masterpiece Odds Against Tomorrow and Geoff Brown reports on the silent treasures unveiled at this year's Pordenone Film Festival.
Film of the Month is maverick British director Andrew Kötting's home-movie poem This Our Still Life, given a warmly appreciative reading by novelist and filmmaker Iain Sinclair. There are 39 new films reviewed in total, including Bruce Robinson's much-anticipated The Rum Diary, Philip Seymour Hoffman's directorial debut Jack Goes Boating and Errol Morris' Tabloid.
DVD reviews include a new showcase of Orson Welles's 'first last' film noir Touch of Evil, Ken Loach at the BBC, Andrzej Wajda's Ashes and Diamonds, Michelangelo Antonioni's Identification of a Woman ("a mesmerising, enigmatic work"), Le quattro volte, films by Grigori Kozintsev, and last but certainly not least Our Beloved Month of August by Portuguese maestro Miguel Gomes.
We round off the issue with reviews of books on Maya Deren, 100 Key Musicals and a set of interviews with Clint Eastwood from the late 1970s and early 1980s.
---
Subscribe today, save £9 on the cover price, get a free DVD and receive new issues hot off the press and direct to your door!
See also
Sound and the fury: David Thomson on Terence Davies' The Long Day Closes (April 2007)
Of Time and the City reviewed by Ryan Gilbey (November 2008)
Mean streets: Hannah McGill on Andrea Arnold's Red Road (November 2006)
The House of Mirth reviewed by Kevin Jackson (November 2000)
Father Russia: Julian Graffy on Aleksandr Sokurov's Father and Son (September 2004)
What goes around: Sophie Mayer on Margarethe von Trotta's New German Cinema history plays (March 2011)
Ivul reviewed by Nick Bradshaw (August 2010)
This Filthy Earth reviewed by Peter Matthews (December 2001)