Mario Monicelli: Italy's Dickens?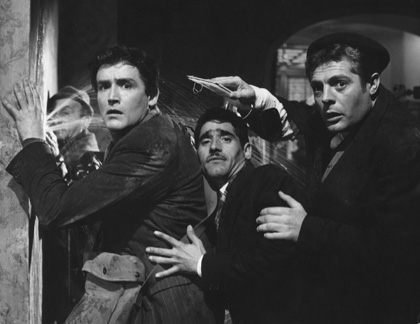 Monicelli's I soliti ignoti
Italian director and screenwriter – pioneer of the 'Comedy Italian Style'
16 May 1915–29 November 2010
---
"All my best films are about failure. Through laughter comes bitterness or desperation […] I don't think I'm a pessimist though, I'm an optimist who enjoys seeing the negative in the positive." — Mario Monicelli
Writing in La Repubblica the day after the 95-year-old director's suicide, Curzio Maltese described Mario Monicelli as "the nation's Balzac", the author of "a gigantic, Italian comédie humaine consisting of dozens of films, many of them masterpieces."
In an interview from 1978, Monicelli revealed that, rather than Balzac, the overriding influence on films such as I soliti ignoti (Persons Unknown, 1958) or I compagni (The Strikers, 1963) was the work of another literary giant of the 19th century: Charles Dickens. In his laying bare of social injustices but also in his humour and characterisation, Dickens was very much the model for Monicelli's often bitterly satirical work.
Born in Viareggio in 1915, Monicelli was a precocious youngster, directing short films while still in his teens. He co-directed his first full feature, I ragazzi della via Paal (The Boys of Via Paal), with Alberto Mondadori and the film was presented at the Venice Film Festival in 1935.
Monicelli served as screenwriter and assistant to the likes of Mario Camerini, Ferdinando Poggioli and Augusto Genina in the late 1930s and early 1940s before his first important collaboration – with director Pietro Germi. He worked on screenplays for films such as Gioventù Perduta (Lost Youth, 1947) and In nome della legge (In The Name of the Law, 1948), a film Monicelli would later describe as the greatest picture on the subject of the Sicilian Mafia.
After Germi, another crucial figure in Monicelli's career was Steno (the artistic name of Stefano Vanzina). The two met in 1949 and went on to co-direct several films such as 1951's Guardie e Ladri (Cops and Robbers), featuring Aldo Fabrizi and famed Neapolitan comic Totò.
"Steno was brilliant as a screenwriter but less so as a director," Monicelli once admitted. "A director needs energy and a strong character, whereas Steno would let himself be led by circumstances, by actors and producers – he was always far too polite." The partnership ended amicably in the mid-1950s and Monicelli set off on his own.
In 1958 he made a film that for many critics and historians is the first example of the Commedia all'italiana (Comedy Italian Style). A pastiche of crime thrillers such as Huston's The Asphalt Jungle (1950) or Dassin's Rififi (1955), Persons Unknown brought together Marcello Mastroianni, Vittorio Gassman, Claudia Cardinale and Totò in a bitter-sweet, typically Monicellian picture, a comic take on what Jean-Pierre Melville later referred to as "the uphill struggle to failure". The film was written by Monicelli together with screenwriters Age, Scarpelli and Suso Cecchi D'Amico and shot by Gianni Di Venanzo, whose striking black-and-white photography anticipates his better-known work on Antonioni's La Notte and Fellini's 8½.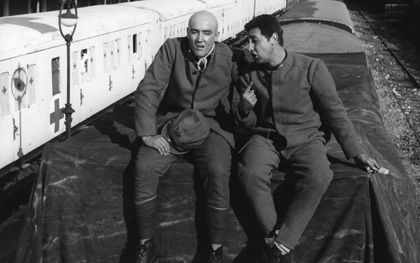 Monicelli's follow-up to Persons Unknown was on a much grander scale – it saw him team up with producer Dino De Laurentiis for a First World War narrative inspired by Guy de Maupassant's 1882 story Deux amis (Two Friends). "What would happen," De Laurentiis wondered, "if we made a film like All Quiet On The Western Front but with two good-for-nothings played by Gassman and [Alberto] Sordi?"
For Monicelli, La grande guerra (The Great War, 1959) was an opportunity – two years after Kubrick's Paths of Glory – to further debunk the patriotic myth of the First World War. The director was keen for the film's two anti-heroes to represent the ordinary Italian soldier catapulted into battle without really understanding why. Predictably, the film quickly attracted controversy. A pocket of critics were incensed that Monicelli had dared to approach the First World War in a comic, supposedly cynical way. However, thanks to more progressive critics as well as government ministers, the film became a success, winning the Golden Lion and leading many to pronounce it best film of 1959.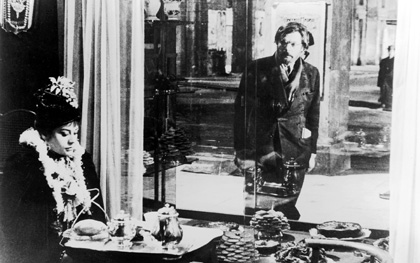 The controversy surrounding The Great War would lead Monicelli to reflect on the role of comic filmmakers in Italy, and how directors such as himself, Luigi Commencini or Dino Risi were seldom held in the same esteem as 'serious' directors. This was confirmed by the reception given in some quarters to I compagni (The Strikers, 1963), a film about exploited textile workers in late-19th century Turin. Luigi Chiarini, an eminent film theorist and – between 1963 and 1968 – director of the Venice Film Festival, decided against showing the film at the event because he believed that a topic such as industrial action should not be treated comically. The film was however widely praised, even receiving an Academy Award nomination for Best Screenplay.
Monicelli's next main project was another historical film, this time set in the Middle Ages, and it would turn out to be one of the best-loved Italian comedies of the 1960s. L'Armata Brancaleone (For Love and Gold, 1966) provided an iconic role for Vittorio Gassman, one he often referred to as his personal favourite. Monicelli, Age and Scarpelli were adamant that the film should avoid the sanitised Hollywood representation of the Middle Ages – it would not shy from depicting the violence, misery and ignorance of the plague-ridden Italy of the tempi bui. The film would spawn a sequel, Brancaleone alle crociate (Brancaleone at the Crusades) in 1970 and can be counted a spiritual progenitor of Monty Python and the Holy Grail (1974).
Firmly grounded in the atmosphere of the late Swinging 1960s, La ragazza con la pistola (The Girl With The Gun, 1968) was significant in providing Antonioni's muse Monica Vitti with her first major comic role. She plays a Sicilian girl who, after being seduced and abandoned, tracks down her seducer to the UK. The film moves through various cities, including Edinburgh, Sheffield, London and Brighton, and co-stars Stanley Baker and Corin Redgrave. It marked a crucial point in Vitti's career, leading as it did to many more comic roles.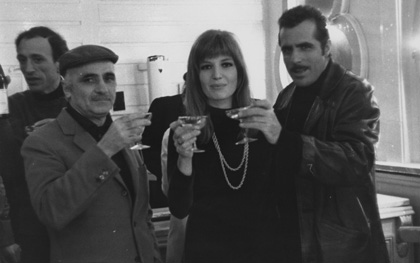 Shooting La ragazza con la pistola
In 1974, Monicelli's old mentor and friend Pietro Germi was preparing Amici Miei (My Friends) – a kind of middle-aged I Vitelloni for the 1970s – but passed away before he could begin shooting. Monicelli finished the film and it turned into a phenomenon, blowing none other than Spielberg's Jaws out of the water at the Italian box office and spawning an obligatory follow-up in 1982.
During the socio-political turmoil of the anni di piombo ('years of lead'), Monicelli made what for many was his most pessimistic film, a drama about a doting father whose life is torn apart by the accidental death of his son during a robbery. Based on the novel by Vincenzo Cerami, Un borghese piccolo piccolo (An Average Little Man, 1977) sees Alberto Sordi and Shelley Winters give extraordinary performances as Giovanni and Amalia Vivaldi, proud parents overwhelmed by grief. With his wife paralysed by loss, Giovanni decides to take matters into his own hands and hunt down his son's killer. Just as Monicelli gave Monica Vitti her first comic role, the director provides the great comic actor Sordi with his first intensely dramatic part.
"In Un borghese, I wanted to investigate the dramatic reality of Italy in the late 1970s," Monicelli remembered. "The thematic and stylistic shift seemed logical and natural. During production, I said that the film would signal the death of the commedia all'italiana. Well, maybe not the death but certainly the transformation and the reversal."
Despite the slow decline of Italian cinema from the early 1980s onwards, Monicelli continued to make films as well as directing for the theatre. Highlights from this period include 1986's Speriamo che sia femmina (Let's Hope It's a Girl), a celebration of womanhood featuring a heavyweight international cast (Liv Ullmann, Catherine Deneuve, Stefania Sandrelli) and 1990's Il male oscuro (Dark Illness) starring Sandrelli, Giancarlo Giannini and Emmauelle Seigner. He made what turned out to be his final feature in 2006. Set during the Second World War, Le rose del deserto (The Roses of the Desert) tells of the wartime experiences of Italian soldiers in Libya and saw the director return to the historical film one last time.
Just weeks before his death, Monicelli had been active in campaigning against cuts to the arts in Italy, even meeting with university students. Vociferously anti-Berlusconi, he claimed in a TV interview earlier in the year that he saw many correlations between Il Cavaliere's Italy and that of Il Duce and that what was needed was "a revolution, something we've never had in this country." Forceful, opinionated and outspoken, Monicelli was also lucid and clear-thinking to the very end. He left behind an extraordinary body of work, richly deserving of wider recognition.
Pasquale Iannone
See also
Italian cinema: maestros and mobsters: Nick Hasted on how a new generation of filmmakers is emerging from the shadows of cinematic nostalgia and political corruption (May 2010)
Restoration comedy: Geoff Andrew interviews Abbas Kiarostami about his Tuscan romance Certified Copy (September 2010)
Trastevere story: Tom Dawson interviews Mid-August Lunch's Gianni Di Gregorio (September 2009)
Prince of darkness: Guido Bonsaver interviews Paolo Sorrentino about Il Divo (April 2009)
Why Fellini? Philip Kemp on il maestro's ambivalent relationship with neorealism (August 2004)
Our friends from Turin: David Forgacs on The Best of Youth (July 2004)
Late Fellini: A clown with wrinkles: Guido Bonsaver reconsiders the director's late works (August 2004)
Aprile reviewed by Chris Wagstaff (April 1999)