Film review: Eccentricities of a Blonde-haired Girl
Portugal/France/Spain/Germany 2009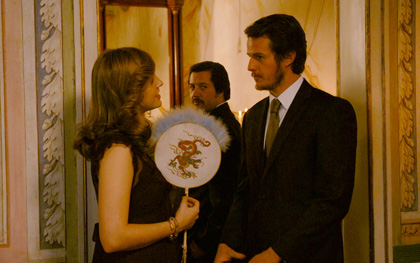 Reviewed by Jonathan Romney
Synopsis
Our synopses give away the plot in full, including surprise twists.
On a train to the Algarve, a young man named Macário tells his story to another passenger
Working as an accountant for his shopkeeper uncle Francisco, Macário is fascinated by a beautiful young woman he sees in the window opposite his office. Through a mutual acquaintance, Macário is able to meet the young woman, Luísa, and her mother Dona Vilaça; he also gets an entrée into Lisbon literary society. He asks Francisco's permission to marry Luísa, but his uncle angrily refuses; Macário leaves his job. Out of the blue, Macário is offered a business proposition: a mission to the Cape Verde islands, from which he returns wealthy. Luísa agrees to marry him, but a friend of Macário's defaults on a business deal, leaving the young man penniless again. Macário tells his uncle he is going on another mission to Cape Verde but this time Francisco makes him a partner in his firm. On the eve of their marriage, Macário and Luísa go shopping; she tries to steal a ring and Macário angrily rejects her.
Review
Given his former notoriety for making gruellingly long and verbose films (most notoriously 1985's seven-hour Claudel adaptation The Satin Slipper), it is a sweet irony that Portuguese veteran Manoel de Oliveira's late period is notable for two films of gem-like brilliance and concision. His Buñuel 'sequel' Belle toujours and Eccentricities of a Blonde-haired Girl both run under 70 minutes and are both lucidly short on prolix philosophising. Both also are built on previous texts – respectively, Belle de jour and a story by 19th-century realist writer Eça de Queiroz. While most of the audience for Belle toujours will know the film that inspired it, I suspect that even in Portugal few modern-day viewers will be familiar with the story adapted here. And yet – even if, like me, you haven't read the original – the constant sense of that story's between-the-lines presence motivates the outright strangeness and hypnotic charm of Eccentricities of a Blonde-haired Girl.
In any case, the eccentricities in question aren't so much those of the hero's blonde love object Luísa – her flaw is a peccadillo that was signalled earlier in the story, if only Macário had paid attention – but rather of the society in which the story is set, and of Oliveira himself. His magnicently perverse ploy is to tell what appears to be a contemporary story while retaining the social mores and literary conventions that are (presumably) carried over from the Eça original, resulting in a fascinating discrepancy between the film we watch and the archaic text we sense hidden behind it. The debt to the 19th-century conte moral is signalled by the opening, in which Macário urgently but politely starts pouring out his heart to a fellow passenger (Oliveira's longstanding muse Leonor Silveira) on a train: a standard framing device of the period, executed here with pointedly archaic formality.
In fact, the story that follows feels as if it owes less to 19th-century romanticism than to the far older codes of courtly love. Macário can only contemplate his beloved from a distance – framed portrait-like in her window – and must undergo a quest, a test of his fortitude, before he can claim her. The real eccentricity depicted here is that of the suitor who cannot know his beloved, indeed refuses to really know her, instead fixating on her idealised image as she toys with the erotic fetish of a feathered fan.
The story concludes with a bitter ironic twist, as Macário concludes – in what seems, to modern eyes, a shocking fit of judgemental pique – that she wasn't worthy of him in the first place. Other period conventions make the story almost nonsensical as a present-day tale: the lofty, almost godlike authority of Macário's forbidding uncle Francisco; the formal setting of the salon at which the couple may appropriately meet; the snobbery of Francisco's complaint that Macário has let "poor people" (Luísa and her mother) enter his shop; and assorted allusions to a sentimental romanticism that would have been considered comically dated in Eça's day. There is also the wonderful comic discrepancy between Macário's supposedly epic quest to Cape Verde – which, two centuries ago, would have meant an extended sea voyage – and the present-day mundanity of simply flying there by Portuguese airline TAP.
The film's sober formalism – long takes, exaggeratedly static compositions, claustrophobic interiors – is leavened with touches of Oliveira's characteristic comic perversity, notably Macário's sudden goofy dance in his office, only subsequently explained as his joy on learning that he and Luísa share an acquaintance who can introduce them. The director also treats himself to an entirely digressive tribute to Portuguese art and letters in which actor Luís Miguel Cintra – an Oliveira regular – appears as himself, reciting the poet Pessoa. Oliveira pointedly salutes Eça de Queiroz himself, in a visit to the house dedicated to him, where a display case holds figurines of characters from the author's novels – a collection that could, theoretically, include the very characters we're watching, framed themselves in a mise en abîme.
Catarina Wallenstein, her ripely flirty looks suggesting a young Drew Barrymore, is perfect casting as Luísa, whose subtly knowing expression suggests any siren-like promise one might read into it, while Ricardo Trêpa, the director's grandson, is effective, if appropriately a touch wooden, as a sympathetic but essentially pompous young fool.
See also
Game for a century: Manoel de Oliveira talks to Jonathan Romney (December 2008)
Our Beloved Month of August reviewed by Jonathan Romney (February 2010)
Crossing the threshold: Pedro Costa interviewed by Kieron Corless (October 2009)
Colossal Youth reviewed by Jonathan Romney (June 2008)
Theatre of complicity: Geoffrey Nowell-Smith on Catherine Deneuve (April 2005)
Credits
A film by

Manoel de Oliveira

Produced by

François D'Artémare
Maria João Mayer
Luis Miñarro

Producer

Les Films de L'Après-Midi:
Clémentine Mourão-Ferreira

Adapted and Updated by

Manoel de Oliveira
A tribute to the family of [José María] Eça de Queiroz, the author of this story

Director of Photography

Sabine Lancelin

Editors

Manoel de Oliveira
Catherine Krassovsky

Art Directors

Christian Marti
José Pedro Penha