DVD review: Walkabout + Picnic at Hanging Rock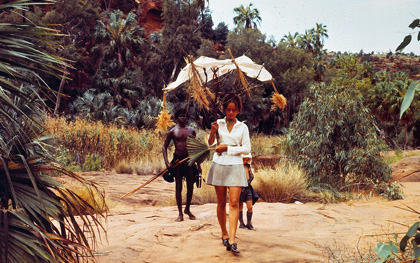 Unfathomably old and vast, the Outback offers the perfect setting for film as fable or allegory, writes James Bell
Walkabout (pictured)
Nicolas Roeg; Australia 1971; Criterion / Region 1 DVD / Region A Blu-ray; 100 minutes; Aspect Ratio 1.78:1; Features: audio commentary by Roeg and Jenny Agutter, video interviews with Agutter and Luc Roeg, Gulpilil – One Red Blood documentary, booklet, original trailer
Picnic at Hanging Rock
Peter Weir; Australia 1975; Second Sight / Region B Blu-ray; 102 minutes; Aspect Ratio 16:9; Features: A Dream within a Dream documentary, 1975 on-set documentary, Joan Lindsay interview, The Day of St Valentine, scenes deleted for the director's cut
The idea that the otherworldly, ancient landscape of the Australian interior has been somehow impenetrable to its country's more recent settlers, the vast majority of whom live in the towns that cling to the safety of the coast, has been one that has long occupied the Australian imagination, explored in books and films by Australians and outsiders alike. D.H. Lawrence wrote in his 1923 novel Kangaroo: "[There was the town of Sydney]… lying mysteriously within the Australian underdark, that peculiar lost, weary aloofness of Australia… it didn't seem to be real, it seemed to be sprinkled on the surface of a darkness into which it never penetrated." In the mid-1800s, there was a sense that Australia's white settlers would only truly have taken root in the new land once it had been traversed from coast to coast, and a series of often tragic attempts were made (most famously by Burke and Wills) before it was finally achieved by John McDouall Stuart in 1861.
The Outback is so unfathomably old and vast, so empty and so perilous, that it's a perfect setting for allegorical tales that seem to exist outside of reality and history. Nicolas Roeg, in Walkabout (1971), his debut as sole director after years as a celebrated cinematographer and then co-director of Performance (1970), explored that sense more vividly than any film-maker before or since. Perhaps it demanded the clarity of the 'expatriate gaze', for in Walkabout the Englishman Roeg captures the feeling of the Outback as a place divorced from time – an infinite wilderness in which to set the fable-like story of a teenage girl (Jenny Agutter) and her younger brother (the director's son Luc Roeg) who become lost before being rescued by a teenage Aboriginal boy (David Gulpilil) on his own rite-of-passage walkabout.
The film is based on a 1959 children's novel by James Vance Marshall, and was adapted by Edward Bond, who famously provided only a 14-page script. Bond had told Roeg that he wanted to write about a journey, which impressed the director, because it was not about a plot, but looser and more like life: a journey through incidents, landscape, people.
Indeed, a summary of the plot only hints at the many layers of the film. Roeg takes the story and from it fashions a piece of 'pure' cinema through the use of mesmerising images of the landscape, dramatic shifts to the subjective points of view of its characters, and the jarring juxtapositions in editing for which he would become well known. On the one hand it is a simple adventure story; but it is also a coming-of-age tale and a comment on the disconnect in western society, with the Outback as the Edenic, innocent land before the fall. Throughout, the film summons in the viewer a sense of nostalgic reverie – of looking back and remembering the wonder taken in small things during childhood, from rolling down a sand dune to imagining explorers crossing the desert by camel. The famous scene in which the 17-year-old Agutter swims naked in a rock pool is at once a display of nascent sexuality directed at the character played by David Gulpilil, and a last gasp of childhood innocence before the onset of coy modesty imposed by the strictures of 'proper' adult behaviour.
It took a foreign director to show the possibility of sexual attraction between a white girl and an Aboriginal boy, for as a number of commentators note in a documentary on Gulpilil's life included on Criterion's typically exemplary new release, it simply wouldn't then have been culturally permissible for an Australian director to do so. Previously, if at all, Aboriginals had been called on to play only dutiful 'yes, boss' roles, or their parts were taken by white actors in blackface.
That Walkabout was a watershed moment in this respect owed much to Gulpilil's magnetic presence. The film marked the start of his involvement in wider Australian life, and a career that would see him become the most visible spokesman of Aboriginal community and culture as a dancer ('the black Nureyev'), and as an actor in many films, including Storm Boy, Crocodile Dundee (which he now slams as "bullshit"), and more recently The Tracker and Ten Canoes.
Walkabout pointed to a new path for Australian cinema, and its poetic mood and undercurrents of adolescent sexuality are inescapably felt in Peter Weir's Picnic at Hanging Rock, which became a breakthrough film for the local industry when it was released to great acclaim four years later, and is now available in a pin-sharp new Blu-ray transfer that does justice to its sumptuous cinematography. Based on a novel by Joan Lindsay, it is set in 1900 and revolves around the unexplained disappearance of four students of a prim girls' school while on a picnic at the eponymous rock. Though not in the Outback, the rock, which rises ominously out of pastoral countryside, is a signifier of the older, pre-colonised Australia, and a reminder of how tenuously the Victorian attitudes of the school sit with the rugged realities of the country. Some of the rock's contortions hauntingly resemble faces; there are ancestral ghosts watching over this supposedly empty landscape, they seem to say, but they are not those of the country's new settlers.
See also
Easy raider: Tim Lucas on Mad Dog Morgan (DVD, April 2010)
Ballad of the wild boys: Nick Roddick on The Proposition (March 2006)
Bouquet of barbed wire: Adrian Martin on Rabbit-Proof Fence (November 2002)
Death and the maidens: Graham Fuller on The Virgin Suicides (April 2000)
Soul survivor: Kate Pullinger on Jane Campion and Holy Smoke (October 1999)