DVD: A Blonde in Love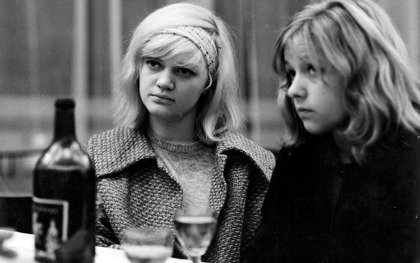 Geoffrey Macnab relishes the humour and humanity of Milos Forman's film about love in a Cold War climate
A Blonde in Love
Milos Forman; Czechoslovakia 1965; Second Run / Region 2; Certificate 15; 81 minutes; Aspect Ratio 1.33:1; Features: booklet with essay by Michael Brooke
The Czech writer-director Ivan Passer (who co-scripted A Blonde in Love) tells some very colourful stories about his school days at the King George College in Podebrady, a small spa town to the east of Prague. Here, a 13th-century fortress was turned into a boarding school in 1945; the founder was Lady Baden-Powell, wife of the man who started the Scout Movement, and the 70 pupils included problem kids, war orphans and the sons of foreign diplomats. Milos Forman was there, as was Václav Havel (future president of the Czech Republic but a keen student boxer in those days), the Polish filmmaker Jerzy Skolimowski and the animator Paul Fierlinger. Forman, Passer recalls, was a ferociously competitive child who once challenged him to a duel to see who could stand in a corner with a book on their head for the longest. They stood for hours, neither one prepared to lose.
Watching A Blonde in Love (released by Second Run in a restored, digitally remastered version), it's easy to be reminded of Passer's yarns about the young Forman. It plays like a cross between a 1960s New Wave film and an Ealing comedy. As in Ealing films, there is a wry, subversive attitude towards bureaucracy: Zruc, the factory town where the story is largely set, has a ratio of 16 women to every man. In a wonderful early scene, pettifogging civil servants discuss the town's problems – two thousand girls live there, all without boyfriends. "Girls, rosebuds! You understand? Youth," an official explains to the Comrade Mayor. That's why a consignment of soldiers is sent to the town for a special dance. To the girls' disappointment, however, they are all reservists – middle-aged, overweight and tending to baldness.
Cinematographer Miroslav Ondrícek shoots the dance in vérité style. The camera darts between the tables where soldiers and girls sit warily opposite one another. At one point, a bespectacled and very tubby soldier takes off his wedding ring and hides it in his pocket as he prepares to dance with one of the girls; almost inevitably, the ring falls out of his pocket, and the camera follows it as it rolls across the dance floor, through a sea of legs, and ends up under the chair of one of the women. The soldier crawls after it and ends up beneath the table, rummaging around beside the women's feet – the humour is wonderfully deadpan and understated.
It's just one example of Forman's genius for homing in on seemingly minor and banal details that turn out to be both comic and very revealing. The scene in which the 'blonde', Andula (Hana Brejchová), makes love with the young quaffed-up musician Milda (Vladimír Pucholt) is shot in a surprisingly frank way, but there is nothing overwrought or voyeuristic about it. Forman leavens what could have seemed an awkward moment by putting as much emphasis on Milda's hapless attempts to close the blinds as on the lovemaking. "It was," Ken Loach has said, describing what enraptured him about the films of Forman and his contemporaries, "the unmelodramatic way they observed people with some sense of shared humanity."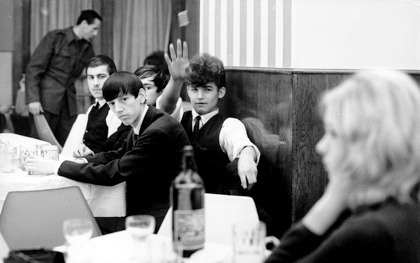 A Blonde in Love is a deceptive film, since the world it depicts with such gentle irony is really very bleak – the girls work long hours at their factory jobs in this remote provincial town. It may open with a young woman singing a rock 'n' roll song on an acoustic guitar, but in this grey, damp-looking corner of communist-era Czechoslovakia there are few hints of the Beatles or the Stones. The women may have jobs, but that doesn't mean they have independence.
As Michael Brooke points out in an introductory essay to the film included with the DVD release, Forman first had the idea for the movie in the late 1950s after meeting a girl carrying a suitcase late at night in Prague. She had come in search of a man with whom she'd had a one-night stand. Unlike this woman, Andula knows where Milda lives – the problem is that his parents live there too, and he has neglected to tell them anything about her. They quickly quash her romantic notions about eloping or living with him.
In the 1960s, when the Czech film industry was under Soviet control, filmmakers such as Forman and Jiri Menzel deliberately made intimate and comical dramas about everyday characters. Forman proclaimed that he wasn't interested in "grand manner" or "operatic emotion", and that the best stories were rooted in ordinary behaviour. His films were cherished by Czech audiences – Passer claimed that when he and Forman went into exile in the late 1960s they didn't have the proper papers, but the border guard was such a fan of Forman's that he waved them through.
Forman has gone on to make some very distinguished films in the west (most recently 2006's underrated Goya's Ghosts). Nonetheless, films such as Ragtime (1981), Amadeus (1984), Valmont (1989) and even the celebrated One Flew over the Cuckoo's Nest (1975) don't have the simplicity or arguably the perceptiveness of A Blonde in Love. Sometimes, in his work in the US, Forman has indulged in "grand manner" and "operatic emotion", and the mischief and playfulness that Passer spotted in him when they were schoolchildren haven't been a hallmark of his Hollywood career. A Blonde in Love, like Menzel's Closely Observed Trains (1966), hasn't dated at all, and its humour, finely honed social observation, eroticism and mild subversiveness remain as fresh today as in the mid-1960s.
See also
Poles together: Michael Brooke dips his toes in the absurdist worlds of Polish comic favourites Andrzej and Janusz Kondratiuk (March 2011)
Out of the past: Michael Brooke on the visionary medieval epics – and more – of Czech director Frantisek Vlácil (September 2010)
I Served the King of England reviewed by Geoffrey Macnab (June 2008)
Milos Forman's top ten films (2002)
A Blonde in Love chosen for our 2002 Top Ten Films poll by four critics and directors (2002)
Man on the Moon reviewed by Leslie Felperin (April 2000)