Film review: Country Strong
USA 2010
Reviewed by Nick Pinkerton
Synopsis
Our synopses give away the plot in full, including surprise twists.
The American South, the present. Country-music star Kelly Canter is in rehab, trying to forget a disastrous Dallas show where she drunkenly toppled off the stage and miscarried a five-month pregnancy.
While drying out, Kelly becomes intimate with Beau Hutton, a handsome orderly who also plays the Nashville honky-tonks. This displeases her manager-husband James, who prematurely decides to push Kelly back on the road, headlining a three-city Texas tour ending in Dallas, to exorcise demons. James fills out the bill alongside Chiles Stanton, a former beauty queen who aspires to country stardom.
On the road, tensions become apparent: Kelly and James's marriage is troubled by unspoken resentments; Kelly and Beau carry on their affair behind James's back; and Beau has a deepening flirtation with Chiles. Kelly fumbles the first two dates, binge drinking while backs are turned.
Beau's attentions shift to Chiles; he asks her to abandon her 'country pop' and the limelight. Kelly and James seem on the brink of reconciliation after she pulls herself together and shows a glimmer of her old star charisma while visiting a sick child for a PR appearance. After passing on life lessons to Chiles, Kelly takes the stage in fine form at the Dallas gig. As her seemingly assured comeback is celebrated, Kelly swallows a cocktail of pills backstage and dies.
Beau returns to playing in obscure barrooms. Chiles eventually joins him for an onstage duet.
Review
The corners of this straight-ahead melodrama's love rectangle are briskly drawn out by writer/director Shana Feste (The Greatest). There's Gwyneth Paltrow's foundered diva Kelly Canter; Tim McGraw's husband-manager James, smothering every affectionate impulse; Garrett Hedlund's sensitive 'jes folks' stud Beau; and Leighton Meester's former Miss Dallas, Chiles Stanton, who thinks being called "a country Barbie" a high compliment.
On a three-city Texas tour, these characters cycle through a succession of dressing rooms, press junkets, hotel suites and recording studios. The movie repeats multiple variations on the following scene: one couple combines, a third party walks in, someone stomps out. Not the most complex square-dance steps, but they keep the cast circulating and allow each their moment of screen time.
Likely given the greenlight after Crazy Heart proved that the honky-tonk movie had an audience yet, Country Strong has a radio-ready soundtrack curated by Feste and Randall Poster, with the leads singing their own parts – the counterintuitive exception is certifiable music star McGraw, unheard from until the closing credits. Paltrow belts out the climactic title tune, but Hedlund, a game bass-baritone, gets the biggest workload.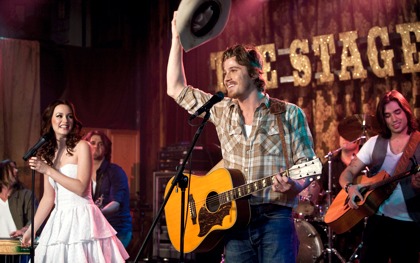 The most affecting scenes in Country Strong sublimate passion and filter relationships through song, sometimes quite resourcefully. Kelly and Beau are introduced in her rehab suite, working out lyrics together; later, Kelly improvises a tune for a sick child she's visiting on a PR chore, and the viewer, watching her through her husband's eyes, sees a glimpse of her better self. Beau and Chiles' courtship likewise develops through co-writing and duet – performing their song 'Give in to Me', they are playful and receptive, nibbling into each other's lines.
One of the ongoing narratives of country music is the ambiguous demarcation between Nashville-industrial 'countrypolitan' production and homespun 'outlaw' authenticity. This becomes an opposites-attract push-pull in Country Strong when Beau, billed by critics (inaccurately) as "the next Townes Van Zandt", flirts with Chiles, "the next Carrie Underwood". This provides a couple of good lines – teaching her the finer points of songwriting, Beau offers, "You can't just fill in a with a noun America loves" – but when Chiles makes her final appearance, 'cured' of big hair and big ambitions, it's a sacrifice of character to the anti-fame platitudes the movie defaults to when out of its depths. (It should be noted that aside from some second-unit shots, mostly Texas-set Country Strong is a Nashville production.)
Fatal fame is likewise the scapegoat in the Canters' crack-up. Kelly's first breakdown, broadcast to an anticipating arena audience over a gigantic TV, gets the gist of Paltrow's exhibitionistic, pathetic role. Kelly's 'drinking thing' is spectacle, her bottomless troubles a shaft into which the script shines little light. McGraw's hangdog, much cuckolded husband has a certain touching dolour, possibly pharmaceutical in origin (spurning his wife's advances, James explains, "I took an Ambien"), but save glancing moments there is as little privileged perspective into this relationship as into Kelly's with the crucifix she prominently wears.
If McGraw had been armed with a microphone, perhaps the movie could have gained something in symmetry; if Kelly had a grounding in social history, perhaps she could better be believed. As it is, anything this woman does is surprising – is it the booze talking, or a screenwriter's contrivance?
See also
Gainsbourg reviewed by Ginette Vincendeau (August 2010)
The Singer reviewed by Ginette Vincendeau (October 2007)
Ray reviewed by Sam Davies (February 2005)
Family album: Jonathan Romney on the glum family of Wes Anderson's The Royal Tenenbaums (March 2002)
O Brother, Where Art Thou? reviewed by Kevin Jackson (October 2000)
Credits
Directed by

Shana Feste

Produced by

Jenno Topping
Tobey Maguire

Written by

Shana Feste

Director of Photography

John Bailey

Edited by

Carol Littleton
Conor O'Neill

Production Designer

David J. Bomba

Music

Michael Brook