Film review: Third Star
UK 2010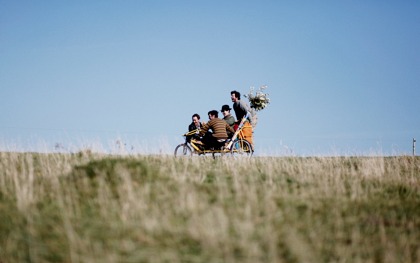 Reviewed by Kate Stables
Synopsis
Our synopses give away the plot in full, including surprise twists.
Pembrokeshire, present day. Terminal cancer sufferer James sets off on a trip to Barafundle Bay with best friends Bill, Davy and Miles. After getting involved in a brawl in a pub garden, they hike towards their destination, James riding in an improvised cart. Reckless with morphine and dope, James reproaches Bill for accepting a life of second-bests. An impromptu firework display burns one of their tents. James taunts Davy, who acts as his carer, and is told off by the others. James's wheelchair-wagon is lost over a cliff during an argument with the arrogant Miles, but he wants to continue nevertheless. As the friends piggyback James across the uneven terrain, tensions flare up: Bill admits that his girlfriend is pregnant; Miles and Davy fight; Miles admits that James's illness disgusted him, and that his business is collapsing. Arriving at Barafundle Bay, Miles confesses that he is sleeping with James's sister.
James tells his friends that he intends to drown himself, and the three try to talk him out of it. At dawn, they let him swim out but go after him. Davy gets cramp and Bill takes him back. James asks Miles to help him end his life. Miles holds him while he drowns, and brings his body back to the beach.
Review
A cross-breed of that species of cancer movie in which terminal patients take one last journey (of The Bucket List or Hawks variety) and the in-memoriam road-trip of Last Orders or Faulkner's As I Lay Dying, this bantering and mildly mawkish Welsh buddy movie delivers a double dose of manly sentimentality. Its unique selling point is that terminally ill 29-year-old James (Benedict Cumberbatch) is alive and acutely opinionated about the inevitable insights into male relationships and the fragility of life, which emerge as his three best friends take one last hike to Barafundle Bay, pushing him in a customised wheelchair-cum-wagon. But it inexplicably fails to make much of this dramatically until the last few scenes, when James presents the trio with the kind of meaty moral and emotional challenge the film could have used an hour earlier.
Determinedly upbeat and cheerfully laddish in tone, as if resolved not to be a disease-drama, debut screenwriter Vaughan Sivell's script uses up its first third on joshing exchanges intended to establish the men's bond. Where a more adventurous film might have worked in a welter of shifting alliances, surprises and reversals early on (think of what The Big Chill crammed into one funeral weekend), Third Star takes its time. Eccentrically picturesque encounters (a brawl in a pub garden with locals mysteriously clad in fancy-dress, an obstructive ferryman whose trips are "£3 single, £6.50 return") are carefully inserted to vary the cycle of happy teasing and veiled tension.
Director Hattie Dalton, shooting her first feature, varies the handsome outdoor visuals by dropping into high-class home-video footage for some of the gambolling, which gives these scenes the air of a mid-priced mobile-phone commercial. The striking quirkiness of her Bafta-winning short The Banker (2004) is disappointingly absent, apart from Hugh Bonneville's passing beachcomber, caught hunting a long-lost cargo of Star Wars figurines. It's all pleasantly handled, thoroughly good-looking and far from clumsy, but the neatly demarcated characters and issues (competent Bill, caring Davy and arrogant Miles, reproached in turn by James for making the thirtysomething compromises about love and work that he will never face himself) feel slickly schematic. Even the comic business of a tent accidentally torched by fireworks seems deliberately placed, a gesture to lighten the increasingly quarrelsome tone.
Cumberbatch, thankfully, finds a welcome poignancy, not within James's morphine-muffled illness but in his insatiable urge to scratch his friends' failings till they bleed. An actor of great subtlety, he infuses his jokey, prickly exchanges with a melancholy that makes James's righteous truth-telling an act born of unbearable frustration. He sets the bar high, however, and only JJ Feild's bluff, straight-talking Miles, whose high-achieving reputation is dismantled in a series of revelations you can see coming from the other side of Barafundle Bay, can match him in the film's increasingly fraught later scenes.
Once these two take over the emotional heavy lifting, one realises that Dalton's sensitive direction and cinematographer Carlos Catalan's gorgeous, mutable Pembrokeshire landscapes have been responsible for giving a burnished, wistful veneer to the pretty but predictable scenes that built up to the film's climax. Underneath Third Star's classy cladding, which camouflages its maudlin streak and conventional melodramatic underpinnings, there lies a TV movie first and last.
See also
One for the Road reviewed by Liese Spencer (July 2004)
Hold Back the Night reviewed by Philip Kemp (January 2000)
Credits
Director

Hatti Dalton

Producers

Vaughan Sivell
Kelly Broad

Writer

Vaughan Sivell

Director of Photography

Carlos Catalan

Editor

Peter Christelis

Production Designer

Richard Campling

Composer

Stephen Hilton

Production Sound Mixer

Tim White

Costume Designer

Marianne Agertoft