Film review: Drive
USA 2011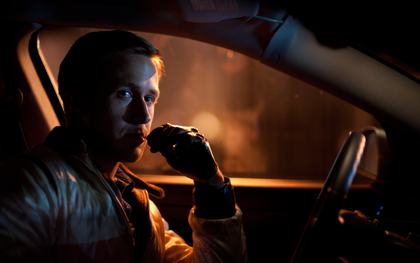 Reviewed by Wally Hammond
Synopsis
Our synopses give away the plot in full, including surprise twists.
Los Angeles, the present. Driver is a mechanic at a stock-car garage owned by his friend Shannon. He takes a phlegmatic approach to the two moonlighting jobs usually arranged for him by Shannon – doing stunts for movies, and as a getaway driver for local robbers. Shannon has ambitions to set up a stock-car racing team utilising Driver's skills; he negotiates for a sizeable loan from financier Rose, at the pizzeria run by Nino (real name Izzy), who is later revealed as a bitter and volatile would-be mafioso.
Driver's casual meetings with his neighbour Irene and her young son lead to a growing attachment to the pair, and a motive for helping when Irene's husband Standard, newly released from jail, is forced to take part in a raid on a pawnshop. The raid goes wrong, and Standard is killed. After being chased by unidentified pursuers, Driver gets away with the bag containing a large amount of cash. Driver correctly guesses that it is drug money.
Driver intercepts one of Izzy's henchmen tailing Irene; to her shock, he violently attacks him. Rose, in a separate incident, also reveals his violent capacities, spearing a fork into the eye of another of Izzy's men. Driver tails Izzy's car, forcing him off the coast road and drowning him in the sea. Realising that the money belongs to Rose, Driver arranges a meeting where the two fight and Rose dies.
Review
The films of Danish-born, New York-raised director Nicolas Winding Refn – from his reputation-making debut Pusher (1996) to his brutal, would-be redemptive medieval saga Valhalla Rising (2009) – have hitherto attacked the phenomenon of male machismo and male violence with considerable relish and explicitness (though this reviewer would have to see Refn's 2007 Miss Marple TV film to be quite certain).
His latest, Drive, is a genre film: a more or less conventional Los Angeles-set hot-rod/getaway-driver movie with neo-noir decoration – albeit satisfying enough on its own terms, with well-staged, attention-grabbing chase sequences, a cool-for-cats central performance from Ryan Gosling as mechanic/stuntman/getaway-man Driver, atmospheric cinematography by Newton Thomas Sigel, and a tension-enhancing use of music and sound design (if you can tolerate the rumbles and synth-music). It could be Refn's best film to date, if strangely his most anonymous. Anonymous, that is, if you ignore the film's attitude towards – often latent – male frailty, malevolence or perversion.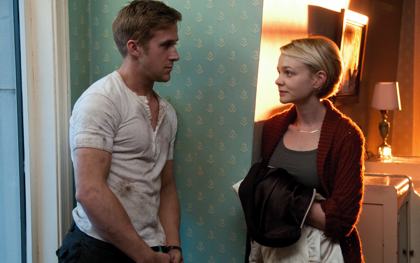 In Refn terms, too, the film is old-fashioned and classically derivative. It's adapted by Hossein Amini from a novel by James Sallis, himself a master of neo-noir pulp. The tenor of Gosling's performance and the mastery and self-possession of Driver's characterisation deliberately harp back to the 1960s and 1970s studies in sexy-cool given by such as Ryan O'Neal, Steve McQueen and Paul Newman rather than, thankfully, the recent retreads offered by Vin Diesel and Nicolas Cage.
Driver's innocent Marlowe-esque chivalry towards Carey Mulligan's bob-haired neighbour Irene betrays the DNA of the gentle knights of the Raymond Chandler round table, just as his silent, streamlined professionalism suggests the lonely integrity of Jean-Pierre Melville's school of samurais. Likewise, Driver's Ripley-esque synthesis of honour and criminality derives from the clear borrowings from Patricia Highsmith in Sallis's source novel, providing Driver with some sense of discernible motivation, something conspicuously absent in Refn's previous work.
That said, some continuities are also discernible: Refn's essential moral neutrality or inscrutability, say, or his inability, or unwillingness, to escape the bounds of all-male society or to fashion fully sympathetic portrayals of women. You can sense he's trying, with a sequence of coy looks and suggestive glances, to conjure up some atmosphere of heat and attraction as Driver and Irene dally in the apartment or day-trip with her son, mini-Malick-style, in the LA canal marshes. But Mulligan still comes across at best as a plot contrivance, at worst a cipher.
Refn does better with Gosling, who – despite his every non-word and struck pose being hung on by Sigel's camera – avoids seeming effete or overly self-conscious. Best of all are seasoned pros Albert Brooks and Bryan Cranston, who downplay nicely their sense of, respectively, menace and subjection.
All these elements are, naturally, but distractions for hot-wheel movie buffs (if not fans of modern noir). So it must be said that the one-time experimental tyro makes a fair fist at the action scenes and applies a Tarantino-style precision to the mechanics of crime and violence – Driver's clever use of police radio, for instance, or another character's nifty ingenuity in eye-forking an assailant. Tough guys, mean machines, double-dealing, death and destruction: it's a simplistic, nihilistic world, with little room for love or redemption. Sadly, it's also one that seems – to offer mixed praise – to fit Refn's talents like a wheel and leather glove.
See also
Peter Yates, 1929-2011: Nick James remembers the director of Bullitt (February 2011)
Natural selection: Jonathan Romney on Refn's Pusher trilogy (March 2006)
It Happened One Night: Mark Olsen on Collateral (October 2004)
I'll Sleep When I'm Dead reviewed by Ryan Gilbey (May 2004)
Read My Lips reviewed by Richard Falcon (June 2002)
Credits
Director

Nicolas Winding Refn

Produced by

Marc Platt
Adam Siegel
John Palermo
Gigi Pritzker
Michel Litvak

Screenplay

Hossein Amini
Based on the book by James Sallis

Director of Photography

Newton Thomas Sigel

Editor

Matthew Newman

Production Designer

Beth Mickle

Music

Cliff Martinez

Sound Design

Lon Bender
Victor Ray Ennis

Costume Designer

Erin Benach

Stunt Co-ordinator

Darrin Prescott