Film review: Tinker Tailor Soldier Spy
United Kingdom/France/Germany 2011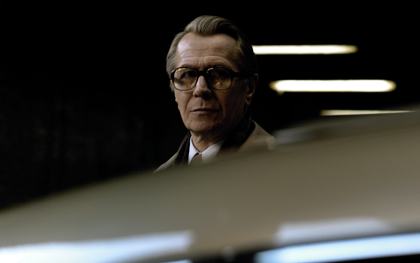 Reviewed by Philip Kemp
Synopsis
Our synopses give away the plot in full, including surprise twists.
London, 1973. Control, head of the British Secret Service HQ known as 'the Circus', sends senior agent Jim Prideaux to Budapest to meet a supposed dissident. Hungarian and Russian security are waiting for Prideaux and he is gunned down and interrogated. Control resigns along with his right-hand man George Smiley, and soon afterwards dies in hospital. Smiley, now in retirement, is approached by under-secretary Oliver Lacon who confirms what Control had suspected: that there is a Soviet mole in the top echelons of the Circus, believed to be one of four men: Percy Alleline, now heading the Circus, Bill Haydon, Roy Bland or Toby Esterhase. Smiley is charged with rooting out the mole; to assist him he calls in Peter Guillam, head of the Service's strong-arm 'scalphunters' unit.
One of Guillam's operatives, Ricki Tarr, makes contact. On a mission to Istanbul Tarr met Soviet trade delegate Irina; they became lovers. Irina told Tarr she knew the identity of the London mole and would reveal it to Control, but was then spirited away by the Russians. Tarr, suspected of being a double agent, went on the run. Smiley sends Guillam to purloin crucial documents from the Circus, while he visits ex-colleagues Connie Sachs, former head of personnel, and Jerry Westerby, who was duty officer on the night Prideaux was shot. He also tracks down the crippled Prideaux, secretly repatriated by his old friend Bill Haydon and now teaching at a Devon school.
Under Alleline, the Circus is preoccupied with Operation Witchcraft, which is supposedly extracting vital Soviet information via London-based cultural attaché Polyakov. Smiley realises that the crucial information is travelling the other way, fed to Polyakov by the mole. He and Guillam pressure Esterhase into revealing the address of the safe house where the transactions take place. Tarr travels to Paris and sends a coded message to flush out the mole, while Smiley and his team bug the safe house. The mole, caught in conversation with Polyakov, proves to be Bill Haydon. Held for interrogation at an army camp, Haydon is shot dead by Prideaux. Smiley takes over as head of the Circus.
Review
In the hands of Let the Right One In director Tomas Alfredson, this feature adaptation preserves, even enhances, the atmosphere of mistrust and cynical insecurity in John le Carré's spy-catcher novel, says Philip Kemp
Tomas Alfredson's take on Tinker Tailor Soldier Spy runs up against much the same double jeopardy as Julian Jarrold's recent movie version of Brideshead Revisited: inevitable, invidious comparisons not only with a classic original novel but with a much admired TV series. If the new film makes a stronger showing than Jarrold's, it's thanks to a crack cast, tight scripting and Alfredson's direction, bringing to it something of the cool control and refusal to sensationalise that made his breakthrough movie Let the Right One In so exceptional. Once again he deploys a scrupulously restricted palette, shooting mainly in subdued greys and browns that perfectly fit John le Carré's disenchanted world of espionage and treachery. Even so, memories of the 1979 BBC TV series are unlikely to be expunged.
That seven-part series, scripted by Arthur Hopcraft and directed by John Irvin, ran some 290 minutes. With less than half the running time at their disposal, Alfredson and his screenwriters have kept all the essentials of the original, in which the quietly unassuming George Smiley patiently smokes out a Soviet mole lurking in the British Secret Service, losing only a few incidental scenes and telescoping one or two characters. A couple of overseas venues are changed, but not so it matters. What's preserved, perhaps even enhanced, is the pervasive atmosphere of mistrust and cynical insecurity – a world in which the mole opts for betrayal as "an aesthetic choice as much as a moral one" and Smiley tells his Soviet counterpart Karla that "there's as little worth on your side as there is on mine".
Given that Alec Guinness's performance as Smiley is reckoned a peak of his career, much of the interest focuses on Gary Oldman's reinterpretation of the role. He's a harder-edged actor than Guinness, with none of his predecessor's knack for emollient self-effacement. (In the novel, le Carré describes Smiley as "by appearance one of London's meek who do not inherit the earth", which sums up Guinness's portrayal to perfection.) Oldman's Smiley shares the quiet watchfulness, the use of silence to unnerve and elicit the information he's after; but his reading of the character is tougher, more abrasive, now and then allowing his contempt to show through the mask of discreet reticence. Where Guinness's Smiley always seemed internally gnawed by the consciousness of his wife's multiple infidelities, Oldman gives the impression that cuckoldry has simply become part of his prevailing climate – regrettable but not worthy of preoccupation. It's even possible – as it never was with Guinness – to imagine him getting his own back with the occasional fling on the side.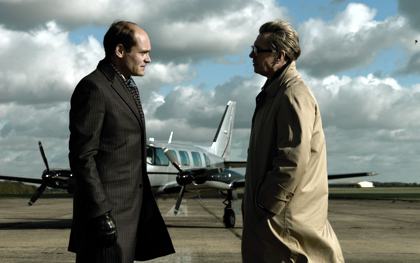 Alfredson skilfully weaves in his multiple flashbacks, often returning to the same events from revealingly different angles – the shooting of a British agent in Budapest that sparks off the whole intrigue, an office party that gradually takes on ever more ominous undertones. A rare misfire in the imagery – the idea that Control (John Hurt, touchingly frail and irascible) would have set up five chess pieces with photographs of the suspected moles clumsily sticky-taped to them – can be overlooked with a shrug. Where the film loses out, having had to shoehorn a convoluted plot into a restricted running time, is in the denouement. Since we spend most of the time with Smiley and his chief sidekick, Benedict Cumberbatch's febrile Peter Guillam, none of the potential moles has the scope to establish himself much beyond a bit part; so the final unmasking, to which the whole film should be building, lacks both dramatic and emotional impact, and the ending feels fudged. But as always with le Carré, the quarry matters less than the hunt; and the hunt is gripping.
See also
Criss cross: Michael Brooke on a season of Cold War spy films from both sides of the Wall (May 2011)
War, lust, spies And quaint conceits: Nick James on Ang Lee's spy movie Lust, Caution and its Golden Lion win at the Venice Film Festival (November 2007)
The Lives of Others reviewed by Geoffrey Macnab (May 2007)
Send in the clowns: Rob White on the original TV series of Tinker, Tailor, Soldier, Spy (October 2000)
The illusion of mastery: Thomas Elsaesser puts the case for the Fritz Lang's Dr Mabuse trilogy as a radical critique of surveillance culture (January 2000)
The Vienna project: Peter Wollen on the true story behind The Third Man (July 1999)
Credits
Director

Tomas Alfredson

Produced by

Tim Bevan
Eric Fellner
Robyn Slovo

Screenplay

Bridget O'Connor
Peter Straughan
Based on the novel by John le Carré

Director of Photography

Hoyte van Hoytema

Editor

Dino Jonsäter

Production Designer

Maria Djurkovic

Music

Alberto Igelesias

Costume Designer

Jacqueline Durran