Persona non grata: Lars von Trier's Nazi rebellion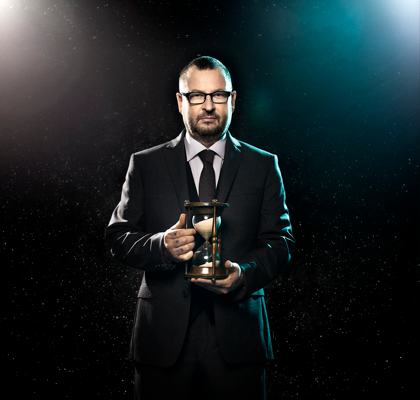 Lars von Trier's controversial outburst in Cannes this year was not entirely out of character, finds Nick James
Before I went to Copenhagen in July to interview Lars von Trier, I had never met the director, but he and his films had been the cause of a few flashpoints in my professional life. Once, in a flippant mood, I asked the much-missed actress Katrin Cartlidge (she died young in 2002), who had then just returned from the set of Breaking the Waves, if von Trier wasn't a little mad. She jumped so far down my throat that I felt like a dyspeptic snake. Her loyalty to him has been echoed by other British members of his crews I've met.
One of the most memorable editions of Cannes I've attended was in 2000, when Dancer in the Dark became the subject of fierce debate. The generations of critics divided right down the middle. Veterans thought it inept as a musical – Philip French of The Observer, for instance, was full of loathing for it – but several young British reviewers argued fiercely in its favour. (For me it was a patchy experimental success.) In 2009, the day after my Cannes room-mate Jonathan Romney had panned Antichrist, I goaded him, insisting that if he really wanted to annoy von Trier he should have given it a "middling" review.
All this illustrates that it's not only filmmakers who say stupid or provocative things at film festivals. But what von Trier said at the Cannes press conference for Melancholia earlier this year was in a different league. He said: "For a long time I thought I was a Jew and I was happy to be a Jew. Then I met [Danish Jewish director] Susanne Bier and I wasn't so happy. But then I found out I was actually a Nazi. My family were German, and that also gave me some pleasure. What can I say? I understand Hitler. He did some wrong things, yes absolutely, but I can see him sitting there in his bunker at the end… I sympathise with him, yes, a little bit… I don't mean I'm in favour of World War II, and I am not against Jews, not even Susanne Bier. I am very much in favour of them. All Jews. Well, Israel is a pain in the ass but… how can I get out of this sentence… OK, I'm a Nazi."
Despite most of the film critics present thinking it was just another instance of von Trier trying too hard to provoke and talking himself into a corner, this speech got him declared persona non grata by the festival.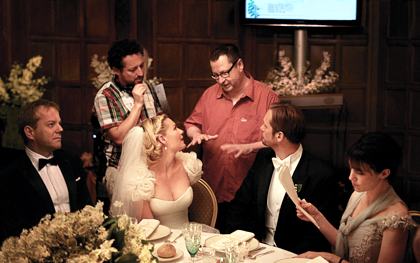 Von Trier on the set of Melancholia
It's a kind of provocation that I'm familiar with. In punk clubs in the 1970s, I knew teenagers who wore Nazi stuff purely to wind up well-meaning liberal hippies. They all stopped when the truly Nazi skinhead thug bands came on to the scene. The David Bowie-era art-school generation (my own) was all too open to the "fascinating fascism" trend identified by Susan Sontag. Bowie himself had a brief period of reputedly cocaine-fuelled fascist fantasies; Bryan Ferry has said unfortunate things about Nazi imagery. Nazis remain a focal point for satire. As I write, the Jake or Dinos Chapman show at the White Cube gallery in Mayfair has a room full of skeleton dummies wearing black SS-style uniforms with smiley face armbands. As Jake Chapman has said, they use Nazis because they're the ultimate bad guys.
You can get away with that kind of thing in London because the British have a history of savage satire, and Hitler's legions didn't make it across the channel. But it's quite impossible for the French to tolerate such provocation. Perhaps this has something to do with the war guilt the French themselves bear: during the Nazi occupation of France, French police rounded up thousands of Jews, who were held in the Vélodrome d'Hiver and the Drancy internment camp before being shipped off to Auschwitz. Add to that grim historic responsibility John Galliano's appalling anti-semitic rant in Paris last February when he was the creative director of the classic French fashion house Christian Dior, and you can see why Cannes took von Trier's words so seriously.
Quotations from the director in Stig Björkman's interview book Trier on von Trier might, if read harshly, implicate him further in the Nazi-sympathiser mire. At one point in its pages von Trier talks about his fascination with Liliana Cavani's 1974 film The Night Porter: "It's still a film that means a lot to me. As I said, I was very influenced by David Bowie at the time, and he used to go about in a Nazi uniform. I was trying to imitate him. It was all part of my rebellion against my mother, I think, this business of ostentatiously going about in military uniform. She'd been in the Danish resistance during the war."
But doesn't this quote rather point to a more plausible psychology for von Trier's rambling act of career suicide in Cannes? As the book shows us, he grew up believing he was half-Jewish on his father Ulf Trier's side (although strictly speaking Jewishness is determined by the mother), but was told by his mother Inger on her deathbed that another man was in fact his biological father. His mother was a communist who brought von Trier up, he says, to be a "free individual". She was "a firm believer in liberal childcare and in the child's right to make its own decisions… she wanted me to live up to a succession of creative and artistic ideals that she hadn't been able to achieve." She wanted him to speak freely, but she herself hid the truth for decades. None of this excuses von Trier's jocular excesses, but it might explain why he doesn't know when he's gone too far.
Lars von Trier talks to Nick James about Melancholia (as well as his Nazi gaffe) in the October 2011 issue of Sight & Sound
See also
Cannes auteurs AOC?: Jonathan Romney blogs on Melancholia's Cannes premiere (May 2011)
The wild bunch: Mark Cousins introduces Sight & Sound's top 50 'mad, bad and dangerous' directors (September 2009)
Manderlay reviewed by Ryan Gilbey (March 2006)
Dancer in the Dark reviewed by Peter Matthews (October 2000)
How do you solve a problem like von Trier?: José Arroyo on the director's Dancer in the Dark (September 2000)
The Idiots reviewed by Xan Brooks (May 1999)