On Ken Loach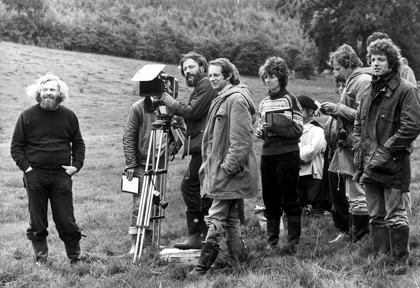 As the BFI launches a major Ken Loach retrospective, Antonia Bird, Luc Dardenne, Tony Hibbert, Peter Kosminsky and Jimmy McGovern pay tribute to the director's work over a career spanning almost half a century
Antonia Bird

Director of 'The Hamburg Cell', 'Face' and 'Priest'
For me he's a hero, because as a filmmaker he has utmost integrity. He's stuck to his beliefs, he's made films about things that matter deeply to our society, and he's continuously done it through his career. It's just incredibly impressive that he's never deviated from what he wanted to say about the world.
I found The Navigators [2001] the most profoundly moving piece of television drama – probably the best in the last 15 years. It was about something that was real, it was beautifully made, the acting was great, and it was completely captivating and engaging. It wasn't boring or banging it on the head – it was entering into people's world and lives and work.
During the 1980s, when nobody would employ him, he made a documentary called The Red and the Blue [1983]. It's so simple: he just filmed at the Labour party conference and Tory party conference, but the way he edited and intercut between the two was world-class. It opened my eyes to what you can do with documentary material, without voiceover, without telling the audience what to think or what to feel.
I was very active during the miners' strike, and that was how I locked on to Loach. We had a big miners' support group in Bethnal Green, and I got hold of the films that had been banned and we showed them publicly in Bethnal Green and Bow, and got a massive audience – it was fantastic.
I think probably one of the big reasons that I've managed to keep going is Ken's influence. The fact that he manages to make a film nearly every year I just find completely inspiring. He's an inspiration and a role model – and a very kind and good man as well.
Luc Dardenne

Co-writer and co-director of 'Rosetta', 'The Son' and 'The Child'
The first Ken Loach film I saw was Family Life, in 1973 or 74. I remember feeling indignation at Juliet's situation, and compassion and comradeship for her. I've never forgotten her name and I've always admired this film – its immediacy, urgency and freedom. In the mid-70s I also saw Kes. Its sudden ending – the boy burying his kestrel – is unforgettable. This boy and his bird stay with you for a long time after the film is over. Another moment in that film that my brother and I often talk about is the football-match scene, with the PE teacher [Brian Glover] who sees himself as Bobby Charlton. It's marvellous! Only Ken Loach could film that.
But the film of his I most admire is Raining Stones [1993], a dense film, penetrating and accurate in its realism. It's a masterpiece. The construction of the film around the protagonist's 'idiotic' obsession is extraordinary. It manages to denounce the brutal exploitation of the underclasses, their humiliation, and at the same time to identify their refusal of divine justice in that magnificent scene where the priest absolves Bob of murder.
It's not for me or my brother to say what the influence of Ken Loach on our filmmaking has been – that's up to the critics. That said, it's true that Loach's characters come from the same background as ours, even if his perspective on his characters' situations is more 'political' than ours. Ken also has a wonderful sense of humour, and we don't really. But the African immigrant construction worker in our film The Promise had migrated there from Loach's Riff-Raff, which we'd seen a few years earlier.
Loach's use of actors is obviously another reason why we find his films so affecting. He often works with non-professional actors – unknown faces who lend his films a documentary effect. I don't know precisely how Loach works with them, but on screen his actors seem so authentic, so alive, as if they were completely unaware of the camera. This last remark might seem strange, but in today's cinema there are so many actors who play for the camera – it reaches a point where this game stops them from really being there.
It was thanks to the French producer Pascal Caucheteux that our company Les Films du Fleuve started co-producing Ken Loach's films. The first film we worked on was Looking for Eric. Pascal knew that we love football, just as he does and just as Ken does. This shared passion for the sport was the starting-point for our collaboration. Of course, Pascal also knew that we admired Loach's films.
Guy Hibbert

Writer of 'Five Minutes to Heaven', 'Omagh' and 'May 33rd'
Two things stick out in my mind. Obviously Cathy Come Home, but the other one is The Price of Coal [1977], two films for Play for Today which I thought at the time were two of the finest pieces I'd seen on television – and probably still are. There was a feeling at the time that those kind of television films were the National Theatre of Britain. Twelve million people watched Cathy Come Home, and it had such an effect on people, in a way that's almost impossible for television now. These dramas really grabbed you – a nation talking to a nation.
I wrote a TV film called Bad Girl [1992] about a woman whose children are taken away by social services. I thought, "I need to see Cathy Come Home again." And I was amazed at how lively it was. Actually there's humour in it. What I discovered was that when Loach is at his best, it's not about a loser who loses – it's about a winner who loses. The ingredient that makes his best films is the humour – it gives it all a humanity.
I'm from a middle-class background, and if you're sitting at home watching your parents' television and something like Cathy Come Home or The Price of Coal comes on, you're opened up to a world you don't know anything about – you've had no experience of it, but it feels very real and truthful and purposeful, and worthy of a national debate. And I think that's a huge contribution. I think it was absolutely dynamic what he was doing on television. And I've always thought that if you could aspire to that, then that's what the attraction of television is – beyond any other medium.
Peter Kosminsky

Writer-director of 'The Promise', 'Britz' and 'The Government Inspector'
Watching Days of Hope was the single thing that most powerfully motivated me to become a filmmaker. The thing that struck me at the time was the power of the medium as he demonstrated it. There was one particular scene: no speeches, no exposition – it was purely done through a raucous scene of soldiers in a pub, and the transformation caused by a song. All you wanted to know about what was really going on in the minds of these young recruits – really little more than potential cannon fodder, and they knew it by that stage of [World War I] – had just been laid bare, far more eloquently than could have been done in an article or a novel.
One thing you can say about Ken is he's always on the side of the little guy, the underdog, and his characters are usually essentially fairly honourable – ordinary individuals placed in an extraordinary situation. I've always found that type of storytelling very moving and very compelling. And Ken has always understood that. He was way ahead of everyone, really. That's what makes Days of Hope so powerful to me. And that's where I think his skill lies: his ability to get under the skin of the ordinary guy and – by putting that man or woman or child in an extraordinary situation – to tell us something about the human condition.
I feel a particular loyalty and passion for Loach because he set me on the road that 30 years later has become my life. There can be nobody more important as an influence and as a kind of guru figure for me.
Jimmy McGovern

Writer of 'Hillsborough' and the writer/creator of 'Cracker' and 'The Street'
I've always thought Ken was the best by far. I think TV drama at its best convinces you that what you're seeing on screen is actually happening. And there's nobody better than Ken for that. Just the reek of authenticity – it's that that makes him stand out.
That big scene in Land and Freedom, where they talk about collectivising the land and how they're going to organise it – it's just a debate. Every rule in the book says you cut that scene. I would never attempt to write that scene. And yet you watch it, and it's mesmerising. I think that's because of the way he's cast it – he's got people who've lived it. They look real, they sound real, it means a lot to them.
Another scene: in Riff-Raff, with Ricky Tomlinson in a bath, and the Arab women walk in. Afterwards Ricky says, "They don't see much of the old white sausage over there, do they?" I'm watching this with my mouth open. That's not politically correct in any way whatsoever, but it's so human and so funny. Ken can be so political, but he can portray the working class as they are.
As a writer, nobody talks to you for 18 months, but when you have a thing coming out, the journalists descend, and they all want you to say something out of line. This has happened to me constantly throughout my life! I said something to a journalist about Downton Abbey – which I do not like – and it all descended upon me. And this email came out of the blue from Ken. It might get Ken into trouble if I told you what it said, but it was very supportive, very rude – and very, very funny.
I'd do anything for Ken. I've tried to get him – I've planned strategies to get him – but he does his own thing with his own people. I'd give my right arm to work with him, but I think every other writer would as well.
---
Interviews by Mark Duguid, Ed McGown, Geoffrey Macnab and Gemma Starkey. These are fuller versions of interviews that appear (with the exception of Guy Hibbert's) in the October 2011 issue of Sight & Sound, accompanying John Hill's essay 'Ken Loach: The Social Navigator' and Michael Brooke's exploration of Loach's long-surpressed 'Save the Children Fund Film'.
John Hill's book 'Ken Loach: The Politics of Film and Television' is published by BFI Publishing. The DVD box-set 'Ken Loach at the BBC' is out now. 'Kes' is now in cinemas on re-release. A Ken Loach retrospective plays until 12 October at BFI Southbank, London
See also
Ken Loach essay contest for young writers (July 2011)
The Wind That Shakes the Barley reviewed by Edward Lawrenson (July 2006)
Tickets reviewed by Roger Clarke (December 2005)
The best music in film: an interview with Loach for our special themed issue (September 2004)
11'09"01 September 11 reviewed by Peter Matthews (January 2003)
Ken Loach's top ten films chosen for our 2002 Greatest Films poll
Bread and Roses reviewed by Peter Matthews (May 2001)
Kes reviewed by Jack Ibberson (Autumn 1969)