Film review: In Darkness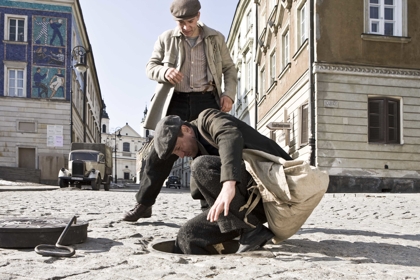 Agnieszka Holland's third engagement with the terrors of WWII is a hard-hitting portrait of national and class divisions amongst fugitive Jews in the sewers of the Lwów ghetto. By Michael Brooke
Andrzej Wajda's Kanal (1957) was post-war Polish cinema's first major masterpiece, a clammily claustrophobic World War II drama set mainly in the Warsaw sewers. With her latest film, Agnieszka Holland (Wajda's assistant in the 1970s) has made a similar descent, and although the Lwów sewers harbour fugitive Jews instead of Polish resistance fighters, the films have much in common. In fact, In Darkness turns out to be a stronger 'Wajda' film than anything Wajda himself has made recently, including the disappointingly low-key Katyn (2007).
Despite David Shamoon's initially English-language script and Holland's extensive Hollywood experience, she has refused to go down the linguistic route taken by Schindler's List (1993) or The Pianist (2002), insisting that the characters speak Polish, German, Hebrew, Ukrainian and associated dialects instead. This emphasises the film's most distinctive theme: that Eastern Europe's persecuted minorities often only had mutual Nazi hatred in common, and that even notionally homogeneous ethnic groups were sharply divided by nationality and class.
Sewer worker and petty thief Leopold Socha (a splendidly weaselly Robert Wieckiewicz, whose muscular lead performance anchors the film) only agrees to hide 'Yids' in 'his' tunnels in exchange for a daily rate exceeding the one-off reward that he'd get from the Gestapo for turning them in. He's fully aware of their likely fate, as he's already witnessed a group of naked women being rounded up in the forest prior to their offscreen (but clearly audible) execution.
Anyone familiar with Holland's previous WWII-era films Angry Harvest (1985) or Europa Europa (1990) will recognise her sardonically ambivalent approach here, and Socha is a worthy successor to Leon Wolny (Armin Mueller-Stahl) or Solomon Perel (Marco Hofschneider). Another inescapable comparison is with his equally real-life contemporary Oskar Schindler, whose feat Socha parallelled by preserving a handful of Jews in sewers for the 14 months separating the Lwów ghetto's liquidation and the Red Army's arrival.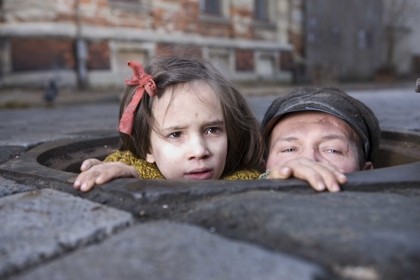 Holland, herself a descendant of victims of the Warsaw ghetto liquidation, is understandably disinclined to soft-pedal their ordeal. One of the fugitives, Mania Keller, is so revolted by the sewers that she prefers the more controlled horrors of a concentration camp instead, while the children devise games to facilitate imaginative escapes. Bringing Samuel Beckett's metaphor of the gravedigger's forceps to horribly vivid life, a baby is born underground, posing a hideous dilemma (noise echoes far and wide in the tunnels), and the baby is itself the product of an adulterous liaison that permanently ruptured one of the families just before the descent. Socha has an equally hard time keeping a lid (or manhole) on his secret: a slip-up by his daughter Stefcia in front of his Gestapo-collaborating Ukrainian friend Bortnik nearly causes disaster.
Where In Darkness falls down in comparison to Kanal is that it is sometimes prey to the now familiar tropes of the 'Holocaust film'. A random killing occurs beside a concentration-camp orchestra playing a Strauss waltz, and Socha's conversion from cynical opportunist to morally upright saviour comes after a murder finally hits home (an exact equivalent of Schindler's encounter with the red-coated girl, albeit without the gimmicky colour effects). There's some equally clunky symbolism in the devastating flood that interrupts Stefcia's communion, or the intrusive introduction of Purcell's 'Dido's Lament' at a point that's already emotionally overloaded. But these are countered by a gratifyingly dispassionate refusal to sanctify the film's often dislikeable 'victims' as they squabble, abuse, threaten and even copulate with one another (the film is strikingly earthy, above and below ground), while avoiding the attention of understandably inquisitive rats. Though the film's factual basis dictates an upbeat ending, much of the journey is appropriately and memorably grim.
See also
Lest we forget: Andrzej Wajda talks to Michael Brooke and Kamila Kuc about Katyn (June 2008)
Degraded dupes: Amy Taubin on Steven Soderbergh's The Good German (March 2007)
Amen. reviewed by Geoffrey Macnab (August 2002)
Camp comedy: Slavoj Zizek on Holocaust comedies (April 2000)
The Last Days reviewed by Mark Cousins (November 1999)
Life is Beautiful reviewed by Colin MacCabe (February 1999)