Film review: The Girl with the Dragon Tattoo
Sweden/Denmark/Germany 2009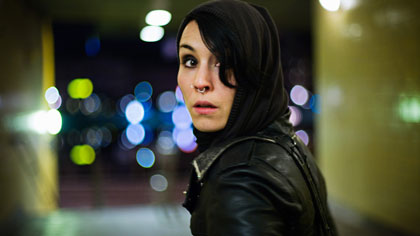 Reviewed by Lisa Mullen
Synopsis
Our synopses give away the plot in full, including surprise twists.
Sweden, present day. Mikael Blomkvist, an investigative journalist, has been convicted of libelling a corrupt businessman. While awaiting his prison sentence, he takes a job offered to him by elderly recluse Henrik Vanger. Vanger is haunted by the disappearance of his great-niece Harriet, who vanished from the wealthy Vanger family's island retreat in 1966. Blomkvist moves to the island and begins to search the archives for clues.
He is helped by Lisbeth Salander, a punky computer hacker who lives under state supervision after a violent childhood. When her appointed guardian abuses his power and exploits her sexually, her revenge is swift: she secretly videos him raping her, then blackmails him, beats him up and tattoos the words 'I am a sadistic pig and a rapist' on his stomach.
The two investigators join forces and begin a tentative relationship. Together they find proof that Harriet is living in Australia; in 1966 she discovered that her father and brother Martin were raping and murdering young girls, and she killed her father in self-defence. Martin still lives on the island and has befriended Blomkvist; he attempts to kill Blomkvist, who is saved by Salander.
Blomkvist returns to his old life, armed with proof that the libel conviction was a set-up. Salander – helping herself to the corrupt businessman's fortune – makes a new start under a false name.
Review
Fans of Stieg Larsson's Millennium trilogy, of which The Girl with the Dragon Tattoo is the first instalment, will find Niels Arden Oplev's treatment reassuringly faithful to the international bestseller. Perhaps surprisingly, there's been no attempt to smooth over the peculiarities of a plot which, as well as operating as a highly effective thriller, centres on the odd, almost non-verbal relationship between middle-aged investigative reporter Mikael Blomkvist (Michael Nyqvist) and Lisbeth Salander (Noomi Rapace), a young lesbian computer hacker with Asperger-type socialisation problems, when they join forces to solve the mystery of a girl who disappeared more than 40 years ago. The Swedish title of both book and film, which translates as 'Men Who Hate Women', gives an early indication of the dark undertow that gives this serial-killer suspenser its philosophical framework: not only is the missing girl, Harriet Vanger, the key to a grim secret at the heart of the wealthy Vanger clan, but the tiny Salander herself – a ward of state following a violent incident in her childhood – is vulnerable to victimisation by those who are tempted to see her as a defenceless waif.
Waif, however, she is not: resourceful and fiercely motivated by self-preservation, she is capable of matching and exceeding the brutality of anyone who attacks her. Her narrative plays with the kind of abused-woman revenge fantasy that has provided the engine for plenty of feminist or quasi-feminist films; but unlike most heroines, there's nothing cute about Salander, even when played by the delicately pretty Rapace. Her ambiguous and unresolved relationship with Blomkvist – a red-blooded Scandinavian with wide-ranging sexual appetites and no particular desire to commit – has an accidental quality that's a refreshing antidote to the constraints of boy-meets-girl convention, yet perhaps carries a faint whiff of the kind of male wish-fulfilment the narrative elsewhere seeks to expose as exploitation.
This sort of hair-splitting, though, proves difficult to sustain as the film picks up its devastating momentum. As the unlikely duo start to investigate Harriet's disappearance, they discover an intricate puzzle involving strange names and numbers noted in the back of a diary, a collection of dried flowers, and a series of photographs which, when flicked in sequence, becomes a film. Such a cold case involves blowing dust off plenty of yellowing box files, but without the virtual sleuthing of a computer expert the pieces can't be put together; in fact, beyond the ultraviolence, the story is arguably as much about the artisanal nobility of research – and the way information can be withheld or revealed by different types of archive – as it is about rape and murder.
This is a film that luxuriates in detail, finding the relief of rationality there when the realm of human relations becomes too bleak. The slickly plotted mystery, the deft interweaving of Salander's backstory with the secrets of the Vanger dynasty and the relentless pace of the leads, clues, revelations and cliffhangers make for a brilliantly satisfying whodunit. But more than that, the atmosphere of stinking corruption just beneath the veneer of a supposedly progressive society makes this a piece of genuine Swedish gothic, unsettling in its inconsolable political pessimism.
See also
Sweden, Heaven and Hell reviewed by Tim Lucas (November 2008)
A Hole in My Heart reviewed by Ryan Gilbey (February 2005)
Songs from the Second Floor reviewed by Michael Bracewell (Film of the Month, March 2001)
Credits
Director

Niels Arden Oplev

Producer

Søren Stærmose

Screenplay

Nicolaj Arcel
Rasmus Heisterberg
Based on the novel Män som hatar kvinnor ['Men Who Hate Women'] from the Millennium series by Stieg Larsson

Director of Photography

Eric Kress

Editor

Anne Østerud

Production Designer

Niels Sejer

Music

Jacob Groth