DVD: Szindbád
Hungary 1971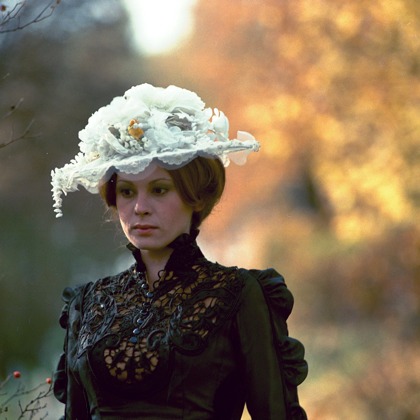 Reviewed by Michael Atkinson
Review
Michael Atkinson marvels at the swoonsome beauty of a revived gem of 1970s Hungarian cinema
Szindbád
Zoltán Huszárik; Hungary 1971; Second Run / Region 0 PAL; 90 minutes; Aspect Ratio 1.85:1 anamorphic; Features: Peter Strickland video interview, Michael Brooke booklet essay
International film culture is not quite a shrinking global village just yet – we can easily be surprised by what films command the love and respect of their native viewerships, which often don't obey the taste dictates of Cannes or the BFI or Hollywood. Sure, the Japanese rather mundanely hold The Seven Samurai as their number one, but the Hungarian cultural community, known for contrariness, selected their country's best in 2000, amid the rich troves of Jancsós, Mészároses, Makks, Szabós and Tarrs, and arrived at a film few outside Hungary had seen or heard about, Zoltán Huszárik's Szindbád, made in 1971. (The Czechs did something similar in their championing of Vlácil's Marketa Lazarová – also on DVD from Second Run – but then again, how many Hungarians or Czechs retain front-brain intimacy with The Italian Job?)
A layered, rum-soaked torte of a movie, adapted from stories by the revered-at-home, proudly untranslatable author Gyula Krúdy, Szindbád comes off virtually as an anti-Jancsó – in the Art Film heyday, elaborate tracking and widescreen compositions and brooding long shots were something of a standard, especially in Eastern Europe. But Szindbád, seemingly as a riposte to Jancsó's contemporaneous monumentalism, is a montage frenzy, evoking the hero's dying moments via a hectic, timeline-skittering assemblage of impressions, memories, microscopic details, abrupt zooms and free associations, many of them only a few frames long, and all of them dripping with regret.
Krúdy's semi-autobiographical protagonist, named after the Arabian Nights swashbuckler, is a fin-de-siècle womaniser and libertine, and as the writer is often defined as Hungary's Proust and/or Joyce (every European country seemed to have one in the early century), his adventures are highly self-conscious and philosophical, given to epicurean ideas and Romantic debates about fate and love and meaning. Huszárik and his co-screenwriter János Tóth took the volumes of original tales and scrambled them into an Alzheimer's-y ricochet, weaving the character's adult life out of stray threads and scraps of memory, beginning with massive close-ups (of embers, icons, food oil, flames, babbling water) that are all keys to remembering particular incidents in his life. The fragmented incidents themselves are almost all liaisons and rendezvous, seductions and debates about matters of the heart, with the eponymous rake (Zoltán Latinovits) sullenly strolling around the landscapes and 19th-century rooms in a more or less constant state of romantic exhaustion.
Huszárik's strategy is of a piece both with the film's time and place and with Krúdy's zeitgeist – a modernist postmodernism dictated by the vagaries of subliminal connectedness; often a meal or a flower or a woman's face will trigger a memory at another point in Szindbád's history, and sometimes only the amount of grey in his hair cues us as to when it might've taken place. Likewise, we are in something like a state of suspension, sometimes forgetting and then reminding ourselves of the film's diegetic now – Szindbád dying, glimpsed at the beginning set adrift on the snowy hills in a cart – even as the tumult of images and women and set pieces skitter on, rarely bothering to evoke the consciousness to which we are privy. It is Proustian in spirit, more so perhaps even than Raúl Ruiz's Time Regained (1999).
Appropriately, it's also a beautiful film, alive with the earthen, gritty, sun-scorched textures of the 1960s and 1970s, painterly but not simply pretty, with a late-evening pilgrimage by candlelight that settles in your memory, and possibly the loveliest ice-skating sequence ever put on film. For all its narrative antipathy, Huszárik's movie conjures up a densely imagined place and time; Szindbád is nothing if not a deft dose of subjective time-travel. Given its structure, which finds the actors and drops of rain equally interesting, performance is only a matter of presence and impression, but for Hungarians there seem to be fewer pleasures riper and more powerful than the ultra-cool Latinovits, the culture's combined Jack Nicholson/Zbigniew Cybulski, who like Cybulski ended his life under a train, igniting a pop-romantic martyrdom legend that persists today and for which Szindbád is a key totem.
The well of pivotal, generational wonders that emerged from the 1960s-70s New Wave period may be, it seems, bottomless, and viewing them as they're unearthed for us, aching with youthful invention so many years later, is itself a special brand of cinephilia. As it did with Marketa Lazarová, Second Run pulls Huszárik's beloved touchstone out of its exclusively Magyar shrine with a spit-perfect restoration and transfer; what I'd seen on a cruddy Kino VHS decades ago, which left me scratching my scalp, bursts into life on DVD. The ancillary goodies are homegrown British (perhaps a Hungarian perspective would've been useful), comprised first of an epic and exhaustive essay by Michael Brooke, exploring Krúdy's and Huszárik's histories as well as the film, and a video interview with Katalin Varga writer/director Peter Strickland, who is only an articulate fan but who knows his way around both the New Wave aesthetics and Eastern European territories.
See also
Allonsanfàn: Michael Brooke resurrects the Taviani's 1974 picaresque yarn about ineffectual insurrectionists in post-Napoleonic Italy (July 2011)
Out of the past: Michael Brooke on the visionary late Czech director Frantisek Vlácil (September 2010)
Time Regained reviewed by Keith Reader (January 2000)