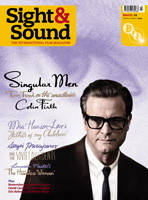 "People in my films always act as though nothing bad is happening"
– Lucrecia Martel
We didn't plan it this way, but an air of bereavement hangs over our March issue: the month's best movies, it turns out, define themselves around death, disappearance and loss.
Gucci designer turned film director Tom Ford fell in love with Christopher Isherwood's canonical gay novel A Single Man about the same time as he met his long-term partner – some 23 years ago, he tells Roger Clarke. A somber and (inevitably) well-dressed portrait of an ex-pat teacher in California arranging his suicide in the wake of his partner's sudden death, Ford's long-harboured, haunting adaptation is built around what our reviewer Kate Stables calls a "pearl of a performance" by Colin Firth. "I can't think of another film that somehow captures the nuances of a long-term gay relationship, even a posthumous one," writes Clarke.
"Insightful and demystificatory, Father of My Children reminds us that the most revealing films about the movie business tend to focus on threatened or actual failure," writes Jonathan Romney of French actress-turned-director's Mia Hansen-Løve's potent second feature, inspired by the life of film producer Humbert Balsan. No mere self-regarding inside job, it's also "a film that offers the rare tang of unvarnished ordinary life you find in certain Eric Rohmer films" – or for our reviewer Ryan Gilbey, a film of "slow-burning emotional impact", concerned not only with harassed professionals but with father/daughter relationships and "how families reconvene after a schism or tragedy." We also run an interview with Hansen-Løve and her leading man, the even more urbanely named Louis-Do de Lencquesaing.
Lucrecia Martel is notably less taken with the sanctuary of family life. "All my hope, in fact, is invested in the dysfunctional family," the leading light of the new Argentine cinema tells Demetrios Matheou. Martel's new film The Headless Woman – an eerie, enigmatic hit-and-run drama in which bourgeois family-values form a conspiracy of silence around the discombobulated protagonist – underlines the many ways in which "a society eschews social responsibility," writes our reviewer Maria Delgado. She judges the film "ultimately the most enigmatic, accomplished and rewarding" of Martel's three features to date. In her interview Martel meanwhile discusses medical instruments, memories of dictatorship and her sense that "the reality we live in is not natural."
The Soviet authorities' charge sheet against Georgian / Ukrainian / Armenian folk magician Sergei Parajanov, whom they jailed for four years in the 1970s, reportedly included "incitement to suicide" alongside homosexuality, pornography, art trafficking and currency speculation. But as Ian Christie explains upon the occasion of a travelling retrospective of Parajanov's films, his real crimes were his nonconformist breaches of the strictures of socialist realism: his complex nationalism, poetic blurring of past and present and the way he made art "prodigiously, naively, magically". Christie also profiles Parajanov's fellow dissident Soviet film-makers including Kira Muratova, Alexander Sokurov and Andrei Khrzanovksy.
After our end-of-year and end-of-decade surveys, March is also when we close the book on 2009 with our obituaries for the cinema's departed, including John Hughes, David Carradine, Kathleen Byron, Muraki Yoshiro and Robin Wood.
Also in the March issue: Nick James on Max Ophuls' revived Letter from an Unknown Woman, Kent Jones on Vittorio de Seca's restored 1950s Italian documentaries, Sukhdev Sandhu on John Akomfrah's Midlands elegy Mnemosyne and Jonathan Romney on the late Eric Rohmer. Plus festival reports from Sundance and Gíjon, news of Jacques Audiard's rising box-office fortunes and Nick Roddick on the plight of Hollywood's studio dinosaurs.
We've reviews of 38 new film releases – including Korean writer-director Yang Ik-june's hard-boiled debut Breathless – and 18 new DVD releases, including Fritz Lang's Manhunt, Japanese cult spook movie House and Roberto Rossellini's war trilogy. And our Books section roams from Jerry Lewis to the art of the essay film via the complete film writings of Manny Farber and the stories behind famous moments in film.
See also
Subscribe now!
Save £9 on the cover price, get a free DVD and receive new issues hot off the press and direct to your door.
View our archive
Order back issues, or search our online database of reviews and features from the magazine