Film review: The Debt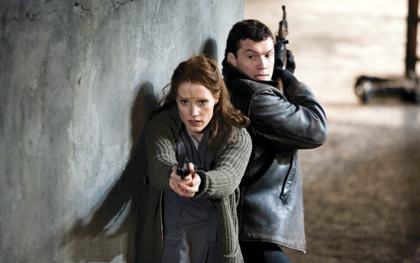 A sturdy psychological suspense thriller about a botched Mossad kidnap mission, The Debt focusses intriguingly on the dilemmas of a female lead agent until an implausible last act, says Kate Stables
John Madden, chiefly celebrated as a purveyor of quality period dramas and for eliciting award-winning work from his actors (his 1998 film Shakespeare in Love provided both Gwyneth Paltrow and Judi Dench with Oscars), is not an obvious choice to helm a thriller. But The Debt, a psychological genre piece which picks over the fallout from a 1965 Mossad mission whose real truths emerge 30 years on, turns out to be a surprisingly good fit for him. A remake of Israeli director Assaf Bernstein's 2007 thriller Ha-Hov, it's as much a relationship drama as an action piece. There's a hint of the crunchy complexity of 1970s thrillers like The Parallax View in the recurring themes of guilt, deception and political expediency, but the exigencies of weaving together two timeframes and utilising two casts mean that psychological and emotional depth are suggested rather than fully achieved. The result is a sturdy, often suspenseful piece, but one that delivers less than it promises.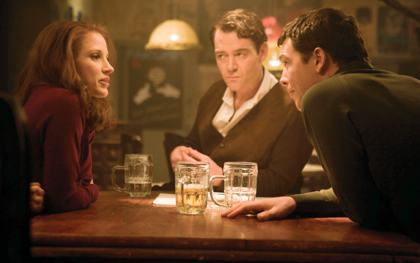 Working from a script by Matthew Vaughn and Jane Goldman, Madden keeps the film's flashback structure intriguing rather than irritating, using healthy slabs of story in a way that doesn't suggest key details are being wilfully withheld. The central section of the film, which recounts the ill-fated mission of three young Mossad agents to kidnap a Nazi surgeon, pulls off the difficult trick of being both tense and full of emotional texture, as rookie agent Rachel enters into a love triangle with bumptious Stephan and the diffident David.
Jessica Chastain, who plays Rachel as a woman pulled taut as a bowstring, is the film's secret weapon, radiating hurt as David dodges a kiss, or barely suppressed fear as Vogel, an infamous concentration-camp doctor now practising as a gynaecologist, examines her intimately. Having a woman as the fulcrum of a thriller is unusual, even nowadays, but here Rachel's dilemmas as both a young and older woman drive the plot, and Chastain and Helen Mirren, furrowed with guilt as the older Rachel, take full advantage of it. Their narrative prominence means that their male co-stars take a back seat – probably the best place for Sam Worthington's slightly blank David, though it short-changes Ciarán Hinds, seen briefly as David's tortured older self.
Hinds's appearance reminds one, perhaps unhelpfully, that Munich (2005), in which he also appeared, similarly combined Mossad-mission genre action with chewy questions of revenge and justice, but managed it rather more adroitly despite working with a real-life story. By comparison The Debt's narrative peaks prematurely at the two-thirds mark, when a key plot point is revealed. Attempting to top this by sending the older Rachel on a final Bourne-style mission is a curious misstep from which the film never recovers. Opting for a punchy if increasingly implausible finale that favours high-octane redemption over realism, it suggests that ultimately The Debt chose the wrong payoff.
See also
Five hours of the jackal: David Thompson on Olivier Assayas's Carlos, a biopic of the legendary terrorist (November 2010)
Island of lost souls: Graham Fuller on Martin Scorsese's Shutter Island (April 2010)
The International reviewed by Samuel Wigley (March 2009)
One Day in September reviewed by Peter Matthews (June 2000)
Enemy of the State reviewed by Kim Newman (January 1999)